It's a cold one here in Minneapolis, which makes it the perfect time for comfort food!!
I'm a huge fan of macaroni and cheese, but as much as I hate to admit it, to me the ideal texture is closer to Velveeta Shells and Cheese than the typical dried-out baked version. I'm firmly a stovetop macaroni gal, but sometimes, the baked version is just what's needed. That's why I'm so excited to share this recipe with you – it's a baked macaroni and cheese that's made with real ingredients, AND is just a little bit creamy! The best of both worlds.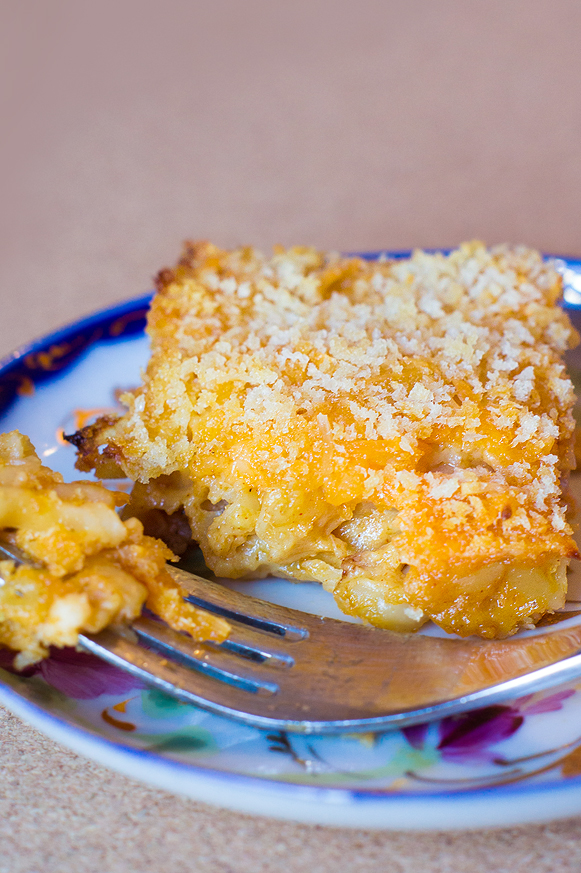 I love this stuff so much we actually served this as a side on Christmas, and of course, everyone loved it!
Well, minus the kiddos who still think Kraft is the only Mac n' Cheese game in town, but they'll figure it someday… I'm sure it breaks our niece's and nephew's' hearts when I say there's macaroni and cheese for dinner and there's no blue box in sight, but I love that this recipe uses real food. No "cheese product",  no powder, no foil packets. Totally indulgent, but made from wholesome ingredients.
Another thing I absolutely love about it is that it can be assembled ahead of time, which makes it great for holidays or larger gatherings – just put the ingredients together and pop it in the fridge until you're cooking. No need to bake it right away and then attempt to re-heat it, only for it to barely reach lukewarm AND get all dried out, transforming your hard work into "gummy tubes of failure coated in hard orange stuff that resembles cheese."
…But enough about all of those OTHER baked macaroni and cheese recipes. This one?  She's a keeper!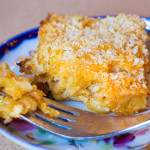 Baked Macaroni and Cheese
Ingredients
8

oz

pasta

macaroni or other small shaped noodle

3

Tbsp

salted butter

3

Tbsp

all-purpose flour

1

Tbsp

mustard powder

1

teaspoon

paprika

1/2

cup

onion

minced or pureed in food processor

3

cups

milk or half and half

1

egg

large

9

ounces

cheddar-jack cheese

grated

1

tsp

kosher salt

1/2

tsp

black pepper
Topping
3

ounces

cheddar-jack cheese

grated

3

Tbsp

salted butter

melted

1

cup

panko or breadcrumbs
Instructions
Cook pasta until al-dente. Melt the butter in a saucepan over medium heat. Add flour, and cook until the mixture is pale and yellow. Add mustard, paprika and onion and cook 1-2 minutes. Add milk, and cook at medium-high until slightly thickened, about 7-8 minutes. Remove from the heat.

In a small bowl, beat the egg, then drizzle 1/2c of the milk mixture, whisking constantly. Then, add the egg mixture into to the remaining milk mixture. Stir in cheese, salt and pepper. Fold in the macaroni, then place in a 4-quart casserole dish.

Sprinkle with the remaining cheese. Toss the breadcrumbs with the butter and sprinkle evenly over the top.

Bake at 350 for 30 minutes.
Recipe Notes
Adapted from Alton Brown