Hey, it's me, Leesha, your favorite Chocolate Chip Cookie Specialist, back again with a batch of, you guessed it, Chocolate Chip Cookies! But not just any Chocolate Chip Cookies – these are super chewy, almost like those guilty-pleasure store-bought ones.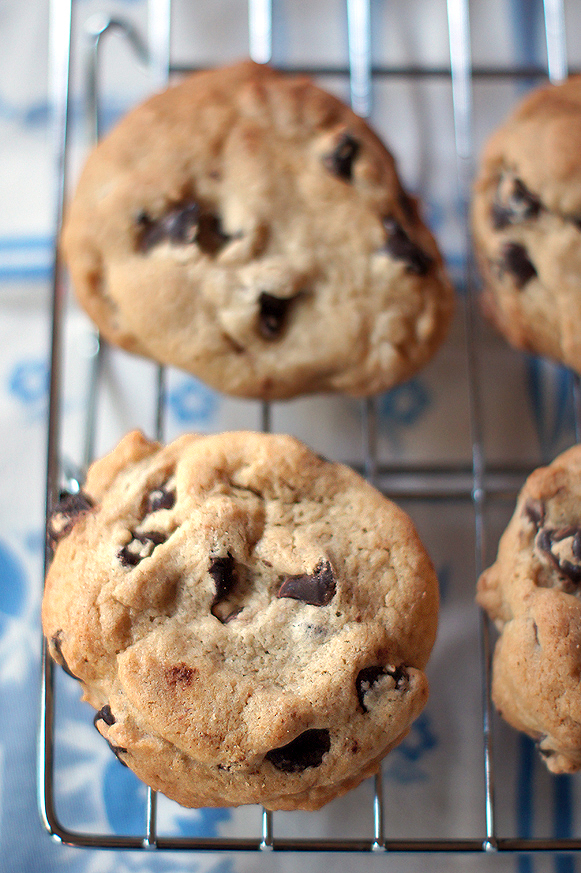 Once again, the occasion for these was delivering a welcome basket to new neighbors. This time, they're right across the street in the most adorable little bungalow! We live in a neighborhood that's made up mostly of big old Victorian-style homes, but this particular house was built in 1917 as a second dwelling on the same lot as a bigger home for the daughter of a well-to-do businessman. You can kind of see in the photo that it's squished right up next to two larger houses, and that's why – it was built for the same family on a shared lot. Anyway, I am totally obsessed with the house, especially the tile work. The kitchen is positively charming with its mint tile, and the bathroom is done in an adorable pink and brown.
Oh, plus the new neighbors are super awesome, too! Thankfully, the cookie recipe I selected for their welcome basket was a total success this time around. Giving mediocre cookies to such awesome people would be unacceptable. Then again, should that even have been a concern? When has that dreamboat Alton Brown ever let us down? 😉
This recipe is neat for two reasons – one, the cookies come out nice and chewy in a way that almost reminds me of Chewy Chips Ahoy! if you can believe that. Two, you may recognize the recipe – as it turns out, this just the standard Toll House recipe with a few minor tweaks AND a secret ingredient that really takes them over the top. You'll never guess what it is. (I'll wait.)
Nope! Bread flour.
The higher protein content in the bread flour causes these to come out extra chewy. If you were to go to the other extreme and replace it with something lighter, like cake flour, you'd get the opposite effect and have a fluffier cookie. Sometimes folks will even mix the two. SCIENCE!
Anyway, these are a new favorite, courtesy of my kitchen-crush, Alton Brown. Enjoy!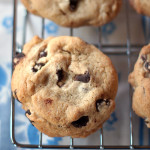 Alton Brown's Chewy Chocolate Chip Cookies (Chocolate Chip Cookie #9)
Ingredients
8

oz

unsalted butter

12

oz

bread flour

1

teaspoon

kosher salt

1

teaspoon

baking soda

2

oz

granulated sugar

8

oz

light brown sugar

1

large egg

1

large egg yolk

2

tablespoons

milk

1 1/2

teaspoons

vanilla extract

12

ounces

semisweet chocolate chips
Instructions
Melt butter, then set aside to cool slightly.

In a medium bowl (or paper plate), sift together flour, salt and baking soda.

Pour butter into a mixer bowl. Add sugars and beat at medium speed with the paddle attachment for 2 minutes.

In another bowl, whisk together egg and egg yolk, milk, and vanilla extract.

Set mixer to slow or stir, and slowly add the egg mixture. Mix until thoroughly combined.

Gradually add the dry ingredients at medium speed, scraping the bowl as necessary.

Return the speed to stir and add chocolate chips.

Chill dough for 1 hour.

Heat oven to 375. Scoop the dough into 1 1/2-ounce portions onto parchment or a silpat. Bake for 15 minutes, rotating the pans if necessary.

Cool cookies on a cooling rack and allow to cool for at least 5 minutes before serving.

Yields approximately 2 dozen cookies.
Recipe Notes
Photos from Mayhem in the Kitchen!
Recipe adapted from Alton Brown