I know what you're thinking. Doesn't this woman ever get sick of chocolate chip cookies??
Well, no, I don't. 🙂 But here's the thing – my neighborhood does old-fashioned welcome baskets for our new neighbors, complete with freshly baked cookies. I'm the head of the welcoming committee, so guess who always ends up making the cookies? (Darn!)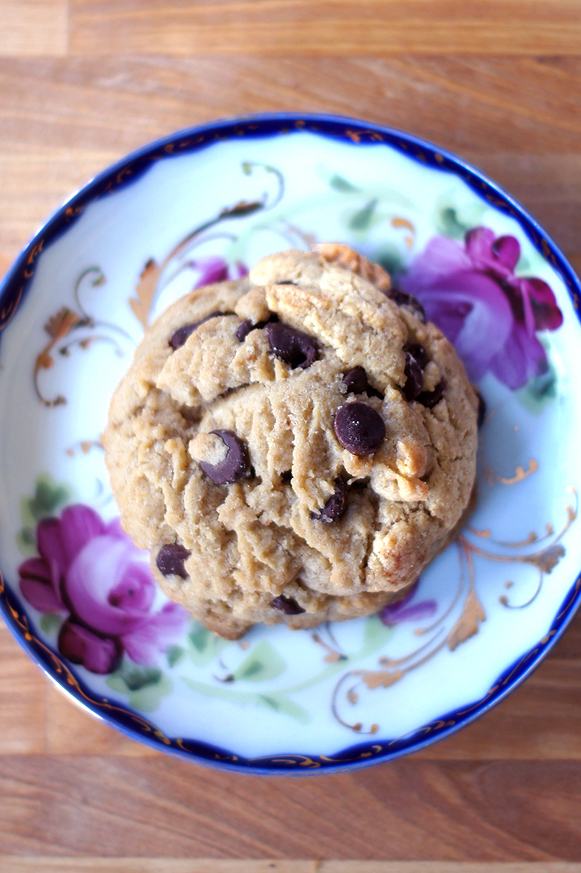 For the first few baskets I tried to get super inventive with my recipe choices, but I quickly realized that oddball cookie selections aren't the greatest thing to give people you're meeting for the first time. It's a pretty big jump to assume the new neighbors don't have dietary restrictions and would happily eat whatever batch of cookies is presented to them, and that's not even taking preferences into consideration. So, I've honed in on regular old chocolate chip cookies because who doesn't like chocolate chip?! Obviously it doesn't help for those who are vegan, paleo, lactose intolerant, or gluten free… but at least we don't have to worry about those pesky peanut allergies that seem so common these days.
Since I've been making cookies at least once a month, lately I've been choosing recipes more or less at random from around the web, and digging into my lesser-used cookbooks for their take on this classic cookie. I thought it was getting a bit repetitive posting chocolate chip cookies all of the time, but then I figured what the heck, I might as well share these recipes with you guys!
This most recent recipe came out of my Better Homes and Gardens binder cookbook. I seldom turn to this cookbook for baked goods, but since I've been on this chocolate chip tear, I figured I'd give it a try. Unfortunately, this recipe isn't my favorite – it produces a crunchy cookie, and in my case one that didn't spread as much as I thought it should. Flavor-wise, these aren't my favorite either – the lack of salt in the recipe produces a cookie that lacks depth. In the end though, it's still a chocolate chip cookie, so realistically, it has to still be pretty good, right? 🙂
Also, I'm certain that many of you out there grew up with this recipe and have fond memories of it. That alone makes it a recipe worth posting!! To me, a chocolate chip cookie is half taste, and half feelings – doesn't a warm cookie right out of the oven just give you the warm fuzzies? <3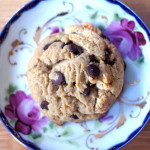 Our Best Basic Chocolate Chip Cookies from Better Homes and Gardens
Ingredients
1/2

cup

shortening

1/2

cup

butter

1/2

cup

granulated sugar

1

cup

packed brown sugar

1/2

teaspoon

baking soda

2

eggs

1

teaspoon

vanilla

2 1/2

cups

all-purpose flour

2

cups

semisweet chocolate pieces

1 1/2

cups

chopped walnuts

pecans, or hazelnuts (optional)
Instructions
Beat shortening and butter with an electric mixer for 30 seconds. Add brown sugar, granulated sugar, and baking soda. Beat mixture until combined. Beat in the eggs and vanilla. Add flour and beat with the mixer, switching to a wooden spoon and stirring by hand if necessary. Stir in chocolate chips and nuts.

Drop dough by rounded teaspoons onto an ungreased cookie sheet. Bake at 375 for 8 to 10 minutes or until edges are lightly browned. Cool on a wire rack.

Yields about 5 dozen cookies.
Recipe Notes
Photos from Mayhem in the Kitchen! Recipe adapted from Better Homes and Gardens New Cook Book