Once again I'm here making chocolate chip cookies for the neighbors, and I knew I needed to share the joy with you guys!
These cookies were the last ditch effort in a line of cookie related fiascos – first I was steered wrong by several internet recipes that could not possibly have been tested. Then, I discovered just how uneven my new oven can be (more on that later.)
Finally I became fed up, and went with a Martha Stewart recipe. Martha would never let us down!
Seriously, why didn't I just go with my gut and check in with Martha to begin with? These cookies are lovely – gooey straight out of the oven, chewy once they've cooled.
The Kirkland chocolate chip bag recipe is still very much my go-to, but I could definitely see that changing after having these. They are SO good! The recipe is very thorough, so I offer you only one tip  — You don't want these to go flat, so be careful not to over-mix the dough. Beyond that, they're foolproof. 🙂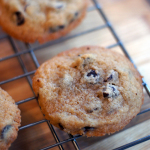 Chewy Chocolate Chip Cookies
Ingredients
2 1/4

cups

all-purpose flour

1/2

teaspoon

baking soda

1

cup

2 sticks unsalted butter, room temperature

1/2

cup

granulated sugar

1

cup

packed light-brown sugar

1

teaspoon

coarse salt

2

teaspoons

pure vanilla extract

2

large eggs

2

cups

about 12 ounces semisweet and/or milk chocolate chips
Instructions
Whisk together the flour and baking soda in a small bowl and set aside. Combine the butter with both sugars; beat on medium speed until light and fluffy. Reduce speed to low; add the salt, vanilla, and eggs. Beat until well mixed, about 1 minute. Add flour mixture; mix until just combined. Do not over-mix. Stir in the chocolate chips with a wooden spoon.

Drop heaping tablespoons of dough onto baking sheets lined with parchment paper.

Bake until golden around the edges, but still soft in the center, 8 to 10 minutes. Allow to cool on baking sheet 1 to 2 minutes then transfer to a wire rack.
Recipe Notes
Photos from Mayhem in the Kitchen! Recipe from Martha Stewart's Cookies: The Very Best Treats to Bake and to Share