Earlier this week a coworker requested cronuts for his birthday, and while I really wanted to oblige,  there simply weren't enough hours left in the day to get it done. Oh, also, my husband has been asking me to make him croissants for months, so making cronuts for someone else probably wouldn't have gone over so well. 🙂
My coworker didn't have a second choice request, so once I got home I figured I would try to make something with the ingredients I had on hand. I was a little worried I wouldn't come up with anything, but I dug through the pantry and found coconut milk, maraschino cherries, and chocolate chips – – all the makings of a black forest cake! Perfect!
It was already late in the evening by the time we finished dinner, so rather than going through all of the extra steps of icing a layer cake, I opted to put the batter into a bundt pan. I knew this could be a dangerous move, so I greased the pan extra generously hoping that would help the cake to release easily.
I got the cake out of the oven at 11:30pm which is past my bedtime! Desperately wanting to go to bed, I waited all of 4 minutes before I flipped the pan over onto the cooling rack. Huge mistake. Half of the cake released, while half remained at the bottom of the pan. I tried to carefully remove the pieces that were stuck, hoping that perhaps I could piece them back onto the cake and cover it with some ganache, but mostly I just scratched up my pan.
After a few minutes of this I had cake crumbs under my nails, I was tired, and I was frustrated. I threw the crumbs back into the pan, put some foil over it, and called it a night.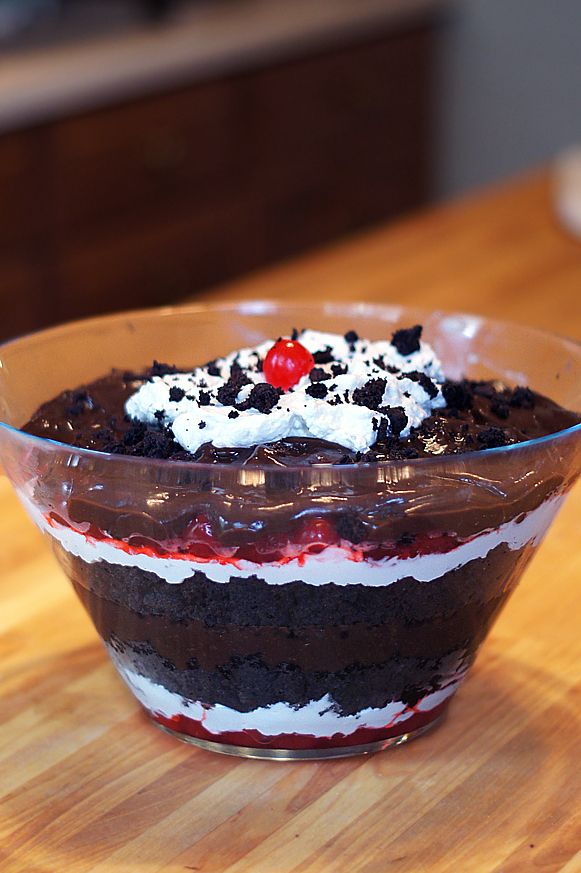 I popped out of bed at 6am the next morning and quickly showered, hoping that things would somehow look better when I got down to the kitchen. I started to think that perhaps I could just dust that puppy with some powdered sugar and be off!
Yeah, not so much. The gooey top of the cake was still stuck to the bottom of the pan, looking as pathetic as ever. On the bright side, the crumbs were delicious! At this point I decided I had two options – transform what I had, or toss it and head out for donuts. I really didn't want to waste the cake, but I also didn't have much on hand to work with AND I was short on time.
So, at 6:30am I made a mad dash and returned from the grocery store with milk, instant pudding mix, heavy whipping cream, and a croissant for my husband.  I tossed the whipping cream into the stand mixer with vanilla and a little powdered sugar and let it do its thing while I made the instant pudding. Once both of those were done I started layering ingredients into a clear bowl, alternating pudding, whipped cream, cherries, and cake. In just a few minutes, my cake disaster was starting to look like… a thing! Birthday saved!
I love making trifles – they're super easy, and if you bring one of these to a pot luck, you can basically guarantee you'll come back with an empty bowl. This version is a little different from trifles I've made in the past because if I'm actually planning ahead I'll choose a denser cake (like a brownie or pound cake) but it still turned out absolutely fantastic. Chocolate and cherries are wonderful together, and after a few hours, the cake and pudding start to blend into something completely new and extra delicious.
So, if you find yourself with a cake emergency like I did, no one will be the wiser, but this is totally good enough to make on purpose! 😀
PS – this cake recipe is excellent as long as you don't get impatient like I did! Just follow the directions for the cake portion, then sprinkle it with a little powdered sugar!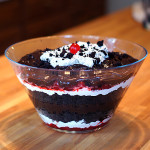 Black Forest Trifle
Ingredients
Cake
2

cups

milk

1/2

cup

butter

softened

4

eggs

large

1 1/2

cups

granulated sugar

1 1/2

teaspoons

baking powder

1

teaspoon

baking soda

3/4

teaspoon

salt

2

teaspoons

vanilla extract

3/4

cup

dark cocoa powder

2 1/2

cups

all purpose flour

1/4

cup

maraschino cherry juice

1/2

cup

maraschino cherries

chopped

1

cup

semisweet chocolate chips
Fillings
1

pint

heavy whipping cream

1/4

cup

powdered sugar

1

tsp

vanilla extract

1

jar maraschino cherries

enough to line the circumference of your bowl twice, approx 10oz

1

large

5.1oz box instant pudding, prepared according to package instructions
Instructions
Cake
Place all ingredients except chocolate chips and cherries in a mixer. Beat for 4 minutes, stopping to scrape down the sides. Fold in cherries and chocolate chips. Pour batter into a well-greased bundt pan. Bake at 350 for 40-50 minutes or until tests done.
Filling
Combine whipping cream, powdered sugar, and vanilla. Whip until stiff peaks form.

In a separate bowl, prepare pudding according to package directions.
Assembly
Allow cake to cool completely, then cut or crumble into bite-sized pieces. Place a ring of maraschino cherries at the bottom corner of a large clear bowl or trifle dish. Alternate layers of pudding, whipped cream, and cake, taking care to make each layer distinct. Just before the last layer, place another ring of cherries around the circumference of the dish, then cover with the next layer. Garnish with a dollop of whipped cream, crumbled cake, and a single cherry. If possible, refrigerate for 30 minutes prior to serving.