Is anyone else as obsessed as I am with the fancy goat cheese spreads at Whole Foods? They are soooo stinkin' delicious! I love that you get sweet, salty, and spicy all in one bite. My only complaint is that they have a hefty price tag to match.
This afternoon I came across a great deal on goat cheese at Costco, and had an idea – what if I make my own goat cheese spread??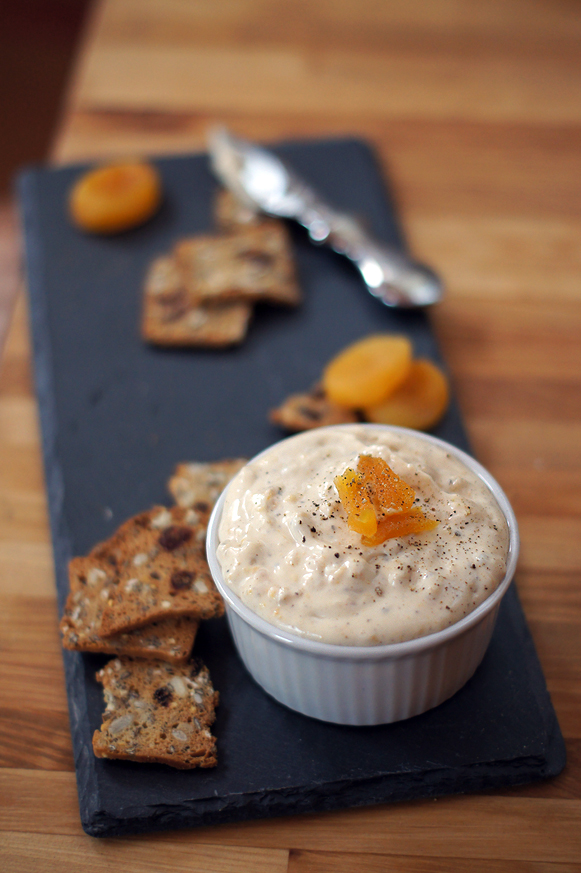 When I got home from the store I pulled out the tub of the real stuff, and discovered that the ingredients list was even simpler than I thought – cream cheese, goat cheese, apricot preserves, apricots, pepper, and salt. With a list like that, they might as well have given me a darn recipe!
While I had an ingredients list, obviously I had to wing the quantities. Since cream cheese was listed first, I started by tossing an 8 ounce block of cream cheese into my food processor and worked my way down the list, adding each ingredient into the food processor and pulsing until it was combined. The other super awesome thing about this recipe, beyond it being so tasty and (comparatively) inexpensive, is that the food processor makes it completely effortless. It was basically the easiest thing ever. You could absolutely make this while on your way out the door to a party, or just before guests arrive, and you'd have ONE bowl to clean and only a few minutes invested.
I'm not sure how I got so lucky on my first attempt, but this really does taste like the real thing. If you love the Whole Foods version, you need to give it at try. If you've never had the Whole Foods version, skip it, save yourself some cash, and enjoy this one instead!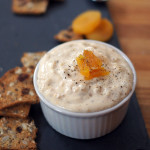 Apricot Goat Cheese Spread (Whole Foods copycat)
Ingredients
8

oz

cream cheese

7

oz

goat cheese

4

oz

apricot preserves or jam

3

oz

dried apricots

1

tsp

pepper

dash salt
Instructions
Place cream cheese, goat cheese, and preserves into a food processor or blender. Pulse until smooth. Add apricots, salt, and pepper, and pulse until apricots are chopped into small pieces. Refrigerate until firm. Serve with crackers or bread.