One thing I didn't mention about our vacation is how well we ate. Holy moly, did we eat.
While in Las Vegas we hit up two of our favorite buffets – Spice Market Buffet at Planet Hollywood, and Carnival World Buffet at Rio, (our other favorite is The Buffet at Wynn) plus we tried Le Village Buffet at Paris, and had a nice dinner at Wing Lei at Wynn. While at the Grand Canyon we had a lovely anniversary dinner part deux at El Tovar, breakfast at the Bright Angel Lodge, and even made a stop off at the Roadkill Cafe while on the way there. Not to mention a few less memorable stops. Oh, and road trip snacks. Eating. Lots of it.
As you might imagine, since we got home, I've been really craving fresh and healthy food. Simultaneously, probably due to all of the dessert we ate on vacation, my sweet tooth has been, at times, insatiable.
Thankfully, this chocolate dipped citrus fruit has really been hitting the spot, so I can feel just a little better about that.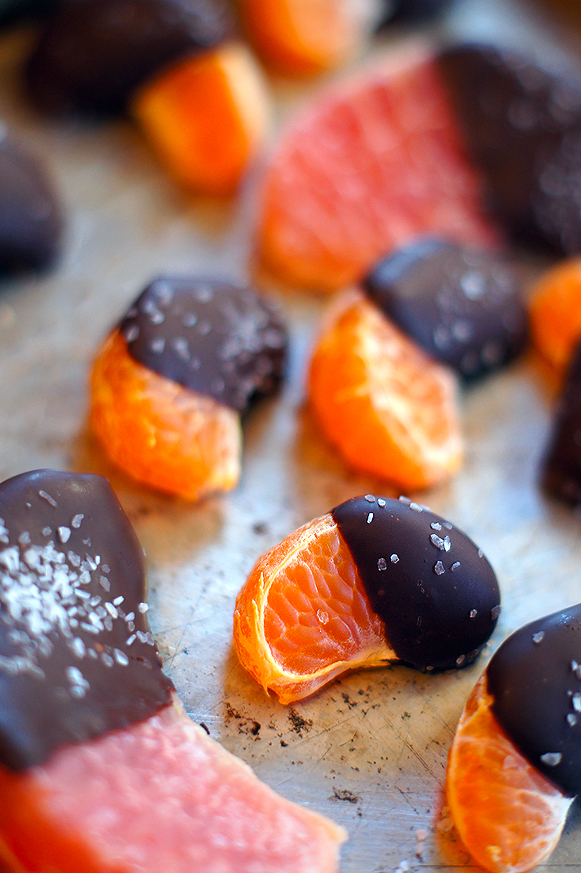 Most nights I will happily have a piece of fruit to quell any late-night sugar cravings, but after having a little taste of the real stuff while on vacation, sometimes that just doesn't do it. (They do say that those sugary and fatty foods are as addictive as heroin.) Thankfully, these are a nicely rounded treat – they have a complex flavor that's salty, sour, sweet, and bitter – and they combine wholesome fruit with sinful chocolate making them a happy medium on the decadence scale. Just enough to cure those cravings. I also love how adding coconut oil to the chocolate adds just a hint of coconut flavor that's almost a nod to an almond joy bar.
I am obsessed with the grapefruit version (but I love grapefruit anything! I regularly peel and eat them like an orange.), while my husband much prefers the mandarin oranges. If you do go the grapefruit route, make sure to get as much of the pith as you can – it's very bitter!
Weighing in at a full 8 ounces of chocolate in the whole batch, obviously these are not a low calorie treat, but they're certainly lower than the sorts of chocolate-based alternatives I'd reach for instead. Plus, you're getting all the vitamins in the citrus fruit, so they're not quite as nutritionally empty as, say, an Oreo. 🙂
Anyway, they are SO good. Spring is just around a corner, so you need to give them a try while citrus season is still here!!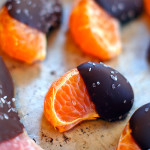 Salted Chocolate Dipped Grapefruit and Mandarin Oranges
Ingredients
4-5

mandarin oranges

1

ruby red grapefruit

1

cup

dark or semisweet chocolate

2

tsp

coconut oil

optional

Kosher or sea salt
Instructions
Peel fruit and remove any excess pith. Divide into sections, taking care to preserve the membrane.

Line a jelly roll pan or sheet tray with parchment or waxed paper.

Melt chocolate and coconut oil in a microwave or double boiler, stirring often. Dip citrus sections into the chocolate, place on the prepared pan, then sprinkle with salt.

Place tray in a refrigerator or freezer to harden chocolate before serving.
Recipe Notes
Inspired by Vegetarian Times Magazine - January 2004 Issue