We've gotten much better at purchasing just the right amount of produce for the week (even when it's Costco sized), but somehow I once again found myself with a couple of overripe bananas, and once again, my husband barred me from freezing them for later. I don't know what he has against having an entire freezer full of brown bananas, but something tells me that it might have something to do with the fact that every time he suggests I not freeze the bananas, they turn into some sort of banana related deliciousness. Just another reason why we're a good pair – he keeps my banana hoarding in check. 😉
I love banana soft serve (who doesn't?) so I attempted to make those healthy Shamrock Shakes that have been floating around everywhere over the last few years, but somehow I ended up with something that reminded me of banana mouthwash. (even Chocolate Covered Katie's recipe, and I love everything else she makes!) Has anyone had luck with those? Tell me your secrets!
After the Shamrock Shake failure, I figured I should go with something I knew would be amazing – banana bread! And, since we had some leftover citrus items from our recent brunch, it was the perfect time to put a twist on it.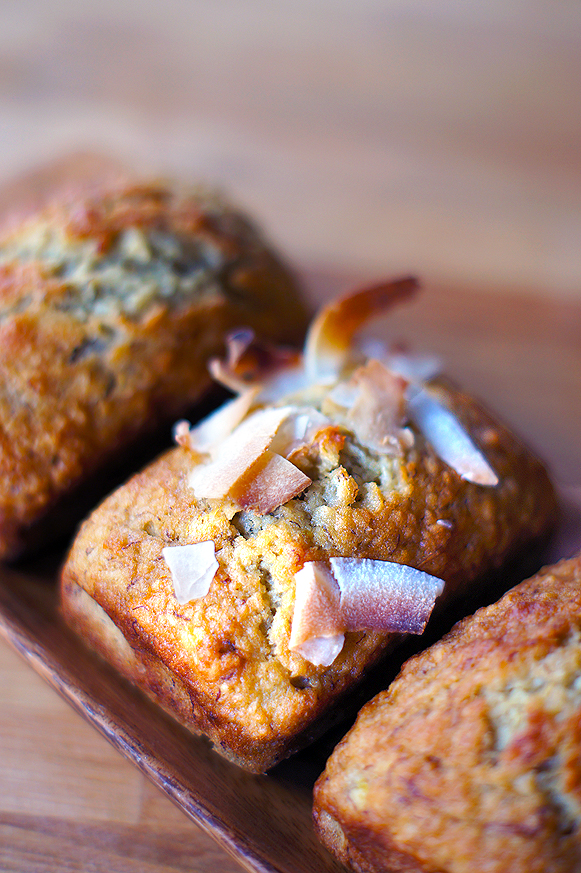 These are given the tropical monicker because in addition to banana, they also feature orange (juice and zest) as well as coconut (in the bread and on top!) and on some of the muffins, a light sprinkling of pineapple! Delish! I absolutely loved the orange zest, and while subtle, the coconut adds another dimension to the flavors, as well as a nice texture.
I made these in a petite loaf pan (and lined them with parchment paper – one strip lengthwise, one widthwise. So easy!) then wrapped them individually and gave them to friends. The tiny loaves were adorable on their own, but once I put them in cellophane bags they were truly delightful. I love giving 'just because' treats, and these were absolutely perfect for that.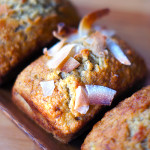 Tropical Banana Bread
Ingredients
2

cups

ultragrain flour

3/4

cup

granulated sugar

1/2

cup

salted butter

softened

2

eggs

large

1

tablespoon

freshly grated orange zest

1

teaspoon

baking soda

1

teaspoon

vanilla extract

1/2

teaspoon

salt

1/4

cup

orange juice

2

large overripe bananas

mashed

1

cup

unsweetened shredded coconut

1

tablespoon

unsweetened flaked coconut

optional

1/2

cup

pineapple tidbits

optional
Instructions
Combine flour, sugar, butter, eggs, orange zest, baking soda, vanilla extract, and salt. Beat at low speed until well mixed.

Add orange juice and bananas. Beat, scraping bowl often, until well mixed. Stir in shredded coconut.

Spread batter into greased 9x5" loaf pan, lined petite loaf pan, or lined cupcake tin. Sprinkle with flaked coconut or pineapple bits.

Bake at 350 until toothpick inserted in center comes out clean (approximately 20 minutes for petite loaf or cupcake, 60 minutes for a full sized loaf.) Cool completely before serving.
Recipe Notes
Recipe adapted from landolakes.com