If you follow me on Instagram, you may have noticed a post about the fantastic pastry I made for brunch a couple of weekends back.
At some point on a Friday I decided I wanted to host friends for brunch on that coming Sunday, and shortly after issuing the invitation our list grew to a solid 10 guests. Since it was so last minute, I figured the best way to make it look like I had my act together was to bake a pastry that would appear as though it came from a fancy bakery, and then when someone asked where we bought it I could claim the glory. Everyone would think I'm Martha Stewart junior!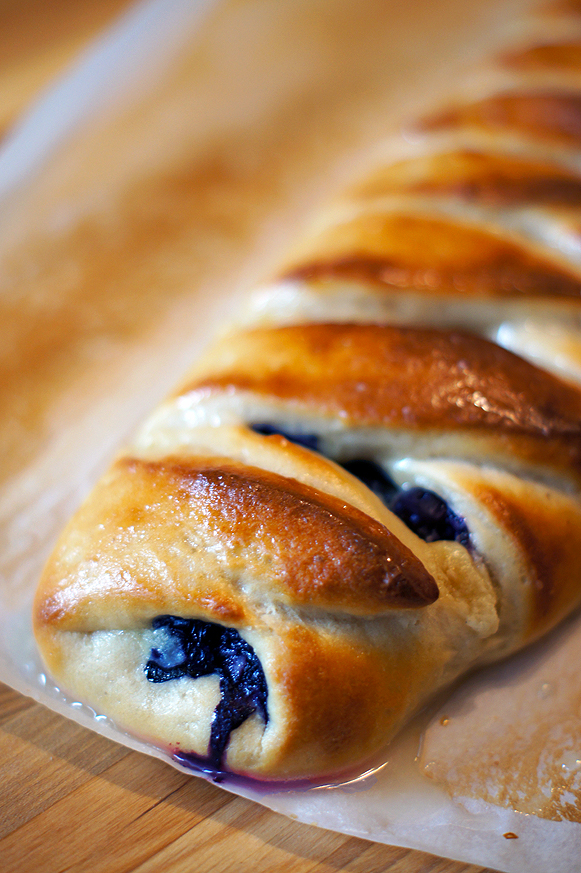 Yep. Mission accomplished.
Everyone loved this thing,  it honestly looked and tasted like it came from a high-end bakery, and yes, someone asked where we bought it! The glazed bread has a lovely texture, and the filling was sweet, but not sickening. Several folks came back for seconds, and unlike the store bought pastries on the table, we didn't have any leftovers of this one!
I was initially a little intimidated by the thought of making something like this, but it was SO EASY. The dough is yeastless, and really comes together quickly in the food processor. I'd say the most challenging part of the entire thing is that the dough is initially very sticky, so getting it out of the food processor and onto the work surface for kneading can be a little tricky. I'd definitely recommend flouring your hands and utensils until it has been refrigerated, but once that's done it should be smooth sailing!
I'm already dying to make this again. Wouldn't it be fabulous for Easter??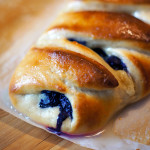 Blueberry Cheese Danish
Ingredients
Dough
3/4

cup

cottage cheese

I used 1%

1/3

cup

sugar

1/3

cup

I used skim

1/4

cup

canola oil

1

teaspoon

vanilla extract

2

cups

all purpose flour

2

teaspoons

baking powder

1/2

teaspoon

salt
Filling
4

ounces

cream cheese

1/4

cup

granulated sugar

1

egg

separated

1

teaspoon

lemon zest

1

teaspoon

vanilla extract

1

cup

fresh blueberries

frozen should work too!

1

tablespoon

water
Glaze
1/2

cup

powdered sugar

2

teaspoons

lemon juice
Instructions
In a food processor, process cottage cheese until smooth. Add sugar, milk, oil and vanilla and process until smooth. Combine flour, baking powder and salt, then add to cheese mixture. Process until dough forms a ball.

Turn dough out onto a floured surface (dough will be sticky) and knead 5 times. Place in a large bowl, then cover and refrigerate for 30 minutes.

After 30 minutes, turn dough onto a large piece of parchment paper, roughly the size of a half-sheet baking sheet (18x13"). Roll dough into a 16-in. x 12-in. rectangle. Transfer with paper onto a baking sheet.

In a large bowl, beat cream cheese and sugar until smooth, then beat in the egg yolk, lemon zest and vanilla extract. Spread cream cheese mixture in a 3 1/2" strip lengthwise down the dough, then sprinkle with blueberries.

On each side of the cream cheese stripe, cut 1" wide strips about 3 3/4" into the center, stopping about a half inch from the cream cheese. Fold alternating strips at an angle over the cream cheese and berries. Seal each end by pinching and turning under. Beat egg white and water then brush over dough.

Bake at 400° for 20-22 minutes or until golden brown, then place on a wire rack to cool.

Combine glaze ingredients and drizzle over warm pastry.
Recipe Notes
Recipe adapted from Light & Tasty Magazine, June 2001