So, you may remember that last year I crowned my Pumpkin Spice Cupcakes with Brown Sugar and Cinnamon Frosting, like,  the queens of fall. The end-all be-all of autumn related cupcakes. The autumnest of the autumn. The epitome of fall in a paper wrapper.
Well, as it turns out, I was wrong.
I know. How is that even possible? All of the key autumnal staples were represented. Pumpkin. Nutmeg. Ginger. Allspice. Cinnamon. Brown sugar. What could be wrong with that? What could possibly be missing?
Well, here's a simple two word hint: salted caramel.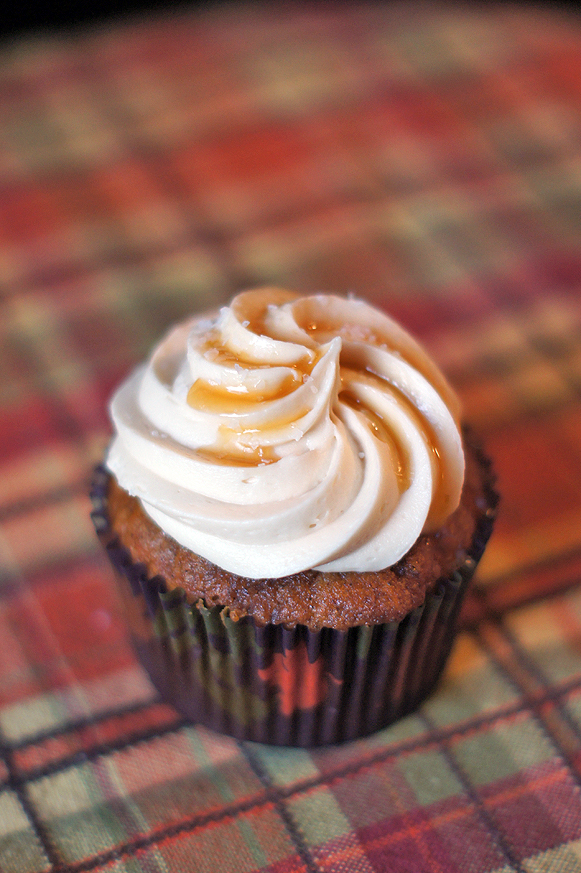 Seems obvious now, doesn't it?
When a favorite coworker's birthday rolled around this year, I thought for sure that as a fellow pumpkin spice enthusiast, she would want a pumpkin spice treat. Want to know what she said? Tough as it is to repeat, she told me that salted caramel had stolen her heart, and that pumpkin spice was in second place! Unbelievable.
I'm going to be honest here – my world has been turned upside down by this. For years now, apple has been OUT, and pumpkin and pumpkin related products have been IN as the flavor for fall. Now all of a sudden everyone is salted caramel crazy?! Don't get me wrong, I love it as much as the next girl, but what did pumpkin do to deserve this?
So, not wanting pumpkin spice to feel left out, but knowing salted caramel was on its way up, I did what any food blogger who values their repins would do – I combined the two!
I'm sure I'm going to regret saying this, but, you know what? THESE are the kings of autumn. The most autumnly of the cupcakes. Fall in a festive seasonal paper wrapper. …..at least for 2015, anyway. 😀
The cupcakes are amazing in their own right – super moist and dense, very muffiny. I hear over and over again that these are the best pumpkin cupcakes people have ever tasted. Even pumpkin haters (like my husband) are in love with these. The icing is the perfect complement – sweet, with just enough of a hint of that nice caramel flavor, and then rounded out with salted butter and a sprinkle of coarse salt. It pairs amazingly with the pumpkin cupcakes, but the idea of putting it on chocolate cupcakes has me drooling.
Pumpkin Spice Cupcakes with Salted Caramel Frosting
Ingredients
Pumpkin Cupcakes
2

c

all-purpose flour

1

tsp

baking soda

1

tsp

baking powder

1

tsp

coarse salt

2

tsp

ground cinnamon

1

tsp

ground ginger

1/4

tsp

ground nutmeg

1/4

tsp

ground allspice

1

c

brown sugar

packed

1

c

granulated sugar

1

c

salted butter

melted and cooled

4

eggs

large

15

oz

pumpkin puree
Salted Caramel Frosting
1

c

salted butter

2/3

c

caramel sauce

store bought is OK, I used Kittencal's recipe

1

tsp

vanilla extract

5

c

powdered sugar

Coarse salt

garnish
Instructions
Pumpkin Cupcakes
In a medium bowl, combine flour, baking soda, baking powder, salt, cinnamon, ginger, nutmeg, and allspice; set aside.

In a large bowl, mix brown sugar, granulated sugar, butter, and eggs. Add dry ingredients, and mix until smooth. Stir in pumpkin puree.

Divide batter into lined cupcake tins, filling each about halfway. Bake at 350 for 20 to 25 minutes or until test done with toothpick.
Salted Caramel Frosting
Cream together butter, caramel sauce, and vanilla. Gradually add powdered sugar until desired consistency is reached. Pipe onto cupcakes. Sprinkle with coarse salt.

Yields 24 cupcakes.