My neighborhood is home to a fabulous nonprofit called The Cookie Cart. It was started back in the 80s by a nun as a way to engage teens in our neighborhood. She'd bake cookies with the kids, help them with their schoolwork, and get to know them, while hopefully keeping them out of trouble.  These days, the Cookie Cart has grown into a full scale bakery that focuses on employing at-risk youth and teaching them important job skills, particularly the art of good customer service. Their secondary focus is probably officially something else wonderful related to helping the community, but I like to think it's actually making amazingly tasty cookies, because their cookies are so good that I can't imagine it not being a core focus area. Seriously.
The Cookie Cart's bakery and retail location is reopening today after being closed for renovations for several months. As part of their grand opening celebration, they've graciously shared their recipe for Chocolate Chocolate Chip Cookies with the community, and I'm so excited to pass it on to you!
The Cookie Cart's menu focuses on the classics like chocolate chip, m+m, snickerdoodle, and oatmeal raisin. No gimmicks. What they lack in flair, they make up for by doing a bang-up job on each of their classic varieties, and these chocolate chocolate chip cookies are certainly no exception. The cookies are soft, chewy, chocolatey, and just downright delicious. Oh, also, for those of you who aren't soft cookie fans, these are rolled in sugar before baking, so they also have a nice little crunch on the outside. The best of both worlds!
My only complaint?  The fact that I needed to actually walk to their bakery was more or less the only thing keeping me from eating cookies for breakfast every day. I'm not proud of how many of these I've eaten with coffee over the last couple of days, but sharing the curse with you guys makes me feel slightly better. 😉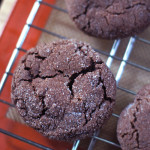 Chocolate Chocolate Chip Cookies
Servings or Yield
:
48
cookies
Ingredients
1 1/4

c

butter

softened

2

c

sugar

2

eggs

large

1

tbsp

vanilla extract

1 1/2

tsp

baking soda

1

tsp

salt

2

c

flour

3/4

c

cocoa powder

2

c

semi-sweet chocolate chips
Instructions
Mix butter and sugar on low speed for 1 minute—scrape down sides of bowl and repeat.

Add eggs, vanilla, baking soda and salt and mix on low just until incorporated (15 sec) then speed up slightly for 1 minute. Scrape down sides of bowl and mix again for 1 minute.

Add flour and cocoa powder and mix on low until incorporated (15 sec) then speed up slightly for 1 minute. Scrape down sides of bowl and mix again for 1 minute.

Add chocolate chips and a little bit of love. Mix on low until incorporated. Scoop, roll in sugar. Bake at 385° for 9-11 minutes or until cookies are barely done but still soft and chewy.
Recipe Notes
Recipe courtesy of The Cookie Cart
If you're ever in Minneapolis, definitely pay the Cookie Cart a visit!
---
Linked at:
Much Ado About Monday (No. 78}
Hump Day Happenings #29
Tasty Tuesday
Awesome Things Tuesday: Week 7
Tickle My Tastebuds Link Party
Do Tell Tuesday #42
Share It Link Party #133