You guys. It's the second most wonderful time of the year!
PUMPKIN SPICE SEASON
Last year I bought the Costco pack of organic pumpkin puree, and based on how September has gone thus far, I'm going to need to stock up again this year. I know a lot of folks think this whole pumpkin spice thing is overrated, overdone, overblown, but I just can't help myself. As soon as the air gets crisp and the leaves start to crunch, the pumpkin obsession stirs within me and there's nothing I can do about it.
…OK maybe it's not quite that bad. But it's close. I knew I was ready for fall when I went through and sniffed the entire autumn themed line of wax melt air fresheners at the hardware store. Twice. Three times on the Pumpkin Pie and Spiced Cider varieties.
Lucky for me, one of my coworkers shares my pumpkin love, and requested a pumpkin spice treat for her birthday, so I didn't even have to think of an excuse to make these.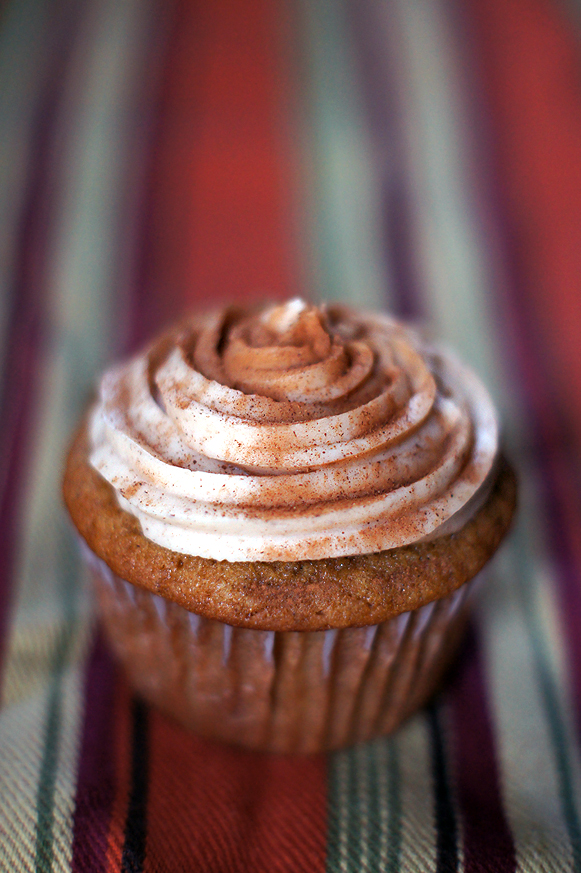 These are basically autumn in cupcake form – cinnamon, nutmeg, ginger, allspice, brown sugar, maple syrup, and pumpkin – all in one cupcake. If I could work apples in there we'd be set! I don't want to toot my own horn, but one of my coworkers IMed me to say " THIS IS THE BEST CUPCAKE I HAVE EATEN" and I believe her, though I may amend it to best autumn cupcake.
The cake recipe has been one of my go-tos since I found the recipe in the Martha Stewart Halloween Special Edition back in 2004. Does anyone else keep those? I recycle most of my magazines, but there's just something about Martha that makes me keep hers around! It really bums me out that they don't publish Halloween special editions anymore, they were so great! The Christmas ones too!
Anyway, enough about Martha. Back to the fabulous cupcakes – they're dense and moist, almost a little muffiny, with a distinct pumpkin spicecake flavor.  They could easily go without icing, or even just a light dusting of sugar, but I went full-autumn (that's a thing now) and made a lovely cream cheese frosting. The predominant flavor in the icing is cinnamon, with just a hint of pumpkin pie spice and brown sugar to complement the spicecakiness of the cupcakes. I garnished these with a generous sprinkle of saigon cinnamon, but festive sprinkles or perhaps a tiny marzipan pumpkin would look adorable as well.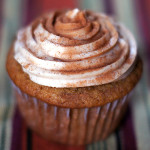 Pumpkin Cupcakes with Cinnamon-Brown Sugar Icing
Servings or Yield
:
24
cupcakes
Ingredients
Pumpkin Cupcakes
2

c

ultragrain flour

1

tsp

baking soda

1

tsp

baking powder

1

tsp

coarse salt

2

tsp

ground cinnamon

1

tsp

ground ginger

1/4

tsp

freshly grated nutmeg

1/4

tsp

ground allspice

1

c

packed light-brown sugar

1

c

granulated sugar

1

c

salted butter

melted and cooled

4

eggs

large

15

oz

pumpkin puree
Cinamon-Brown Sugar Icing
8

oz

cream cheese

at room temperature

1/2

c

salted butter

softened

1/4

c

brown sugar

1

tsp

vanilla extract

1

tsp

ground cinnamon

1/2

tsp

pumpkin pie spice

1

tbsp

maple syrup

4-6

c

powdered sugar
Instructions
Pumpkin Cupcakes
In a medium bowl, combine flour, baking soda, baking powder, salt, cinnamon, ginger, nutmeg, and allspice; set aside.

In a large bowl, mix brown sugar, granulated sugar, butter, and eggs. Add dry ingredients, and mix until smooth. Stir in pumpkin puree.

Divide batter into lined cupcake tins, filling each about halfway. Bake at 350 for 20 to 25 minutes or until test done with toothpick.
Cinamon-Brown Sugar Icing
Cream butter and cream cheese until light and fluffy. Beat in brown sugar, vanilla, spices, and maple syrup until fully incorporated. Gradually add powdered sugar until desired consistency is reached.
These were much more successful than my previous baking excursion at the new house. I honestly think part of the problem was that I was so stressed out and distracted that the quality of my baked goods suffered, but everything is better now that I can see the light at the end of the tunnel! The old house will be on the market as of this weekend, and then we can start getting settled and back to some semblance of normalcy.
Speaking of, anyone want to buy my house? She's a beaut! ^_^

---
Linked at:
Much Ado About Monday (No. 78}
Hump Day Happenings #29
Share It One More Time – #6
Social Media Mixer #17
Tasty Tuesday
Lou Lou Girl's Fabulous Party # 25
Awesome Things Tuesday: Week 7
Wake Up Wednesday Link Party #35
Fall into Fall – It's a Party #187
Wow Us Wednesday Link Party
Whimsy Wednesdays 134