A couple of years ago my husband, his parents, and I went on a cruise to the Bahamas. At one the ports, my in-laws came back with a Tortuga Rum Cake. I'd never had one before, but they promised me I was in for a treat. A few weeks later I got to sample it, and gosh were they ever right!
Fast forward to Father's Day this year, and while the cake was long gone,  fond memories of it definitely remained for all involved! I knew that if I could make something that was even half as good as the real deal everyone would be over the moon. 🙂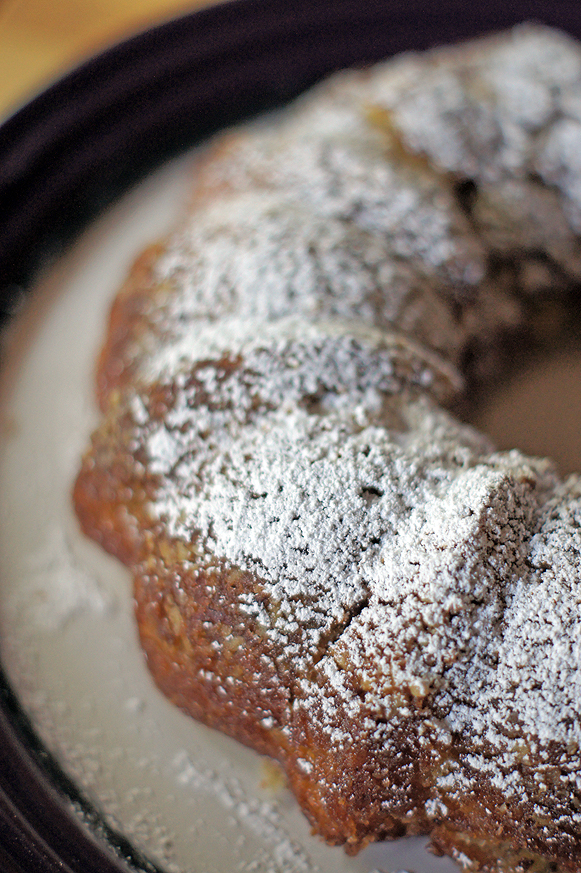 If you've never had a Tortuga rum cake, the best way I can describe it is a buttery bundt cake that's soaked in rum until it's velvety smooth. It's like a dessert and a cocktail all in one! 😀
When I set out to make a copycat version, I assumed someone would've already done the work for me. Sadly, just about everything I found was made with boxed cake mix, instant pudding, or both.   I had neither of those item on hand, and it seemed a little crazy to run out to the store when I should have everything necessary to make the cake from scratch. Well, everything except a recipe!
Thankfully, a few folks had done the initial legwork for me. It still took a little experimentation, and a lot of luck, but I think I got darn close on this one. The cake has that lovely buttery flavor with the velvety smooth, nearly pudding-like texture, and of course, that little kick!
This recipe uses a homemade pudding mix from Alejandra at Always Order Dessert, which is absolutely fabulous. It adds all the moisture a boxed mix would, but without having to run out and buy mix. You will end up with some extra, but trust me, you'll have no trouble at all finding a way to use it. If you'd rather not make the homemade mix, I would imagine boxed pudding would work just fine.
This is also a little unique in that there will be plenty of batter here to make two cakes – I brought this cake to both Father's Day celebrations, but only used once recipe, and there was plenty of cake to go around at each location. You could definitely make it in one Bundt pan, it will just be a larger cake than the typical Tortuga.
Enjoy! I hope this brings a little of the Caribbean home to you! 🙂
Rum Cake (Tortuga Copycat)
Ingredients
Cake
1/4

cup

pecans or walnuts

ground

1 1/2

cups

granulated sugar

1/2

cup

butter

softened

3/4

cup

pudding mix

recipe below

2

cups

all purpose flour

2

teaspoons

baking powder

1

teaspoon

salt

1/2

cup

vegetable oil

1/2

cup

half and half

4

eggs

large

1/2

cup

spiced rum

1

tablespoon

vanilla extract
Pudding Mix
Ingredients

3/4

cup

nonfat dry milk powder

3/4

cup

cornstarch

1

cup

granulated sugar

2

whole vanilla beans

1

teaspoon

coarse salt
Rum Syrup
1/2

cup

salted butter

1/4

cup

water

1

cup

granulated sugar

1/2

cup

spiced rum

1/4

cup

dark rum

1

teaspoon

vanilla extract
Instructions
Cake
Grease Bundt pan(s) (cake can be made in one large pan or two smaller pans) and sprinkle with ground pecans. In a mixing bowl, cream butter and sugar. Add remaining ingredients and beat until mixed. Pour into the prepared pan(s), and bake at 325 until the center tests done and the edges begin to pull away from the pan. Leave cake in pan, do not turn out.
Pudding Mix
Combine all ingredients in a mason jar and shake to mix. Scrape seeds from vanilla beans. Add beans and shake until well distributed.
Rum Syrup
Add all ingredients to a saucepan and bring to a rolling boil. Cook until sugar is dissolved. Slowly pour over the cake, continuing until the entire mixture is absorbed.

Allow cake to sit several hours, then just before serving, turn pan out onto a plate or cake stand. Sprinkle with nuts or powdered sugar to garnish if desired.
Recipe Notes
Recipe and photos from Mayhem in the kitchen. Pudding recipe adapted from Always Order Dessert. Cake recipe adapted from Always Order Dessert, King Arthur Flour, and Food.com