Oh my goodness you guys, it has been weeks! I have a pretty good excuse, though – we just got back from an amazing trip to Italy!! We had a fantastic time visiting Rome, Milan, Venice, and Florence. We saw awe-inspiring sights, enjoyed incredible food, and met some lovely people….but more on that later, let's get down to business. 😉
My travel hero Rick Steves says (in jest, I think) that you should set aside a specific budget for gelato when you're in Italy, and we did just that. I haven't counted how many cups we consumed, but we enjoyed some darn near every day, and gosh was it glorious! These cookies were my first baking project when we got back home, and were inspired by two very specific cups of gelato. One that we enjoyed in Rome – cioccolato (chocolate) and one that we enjoyed in Milan – amaretto.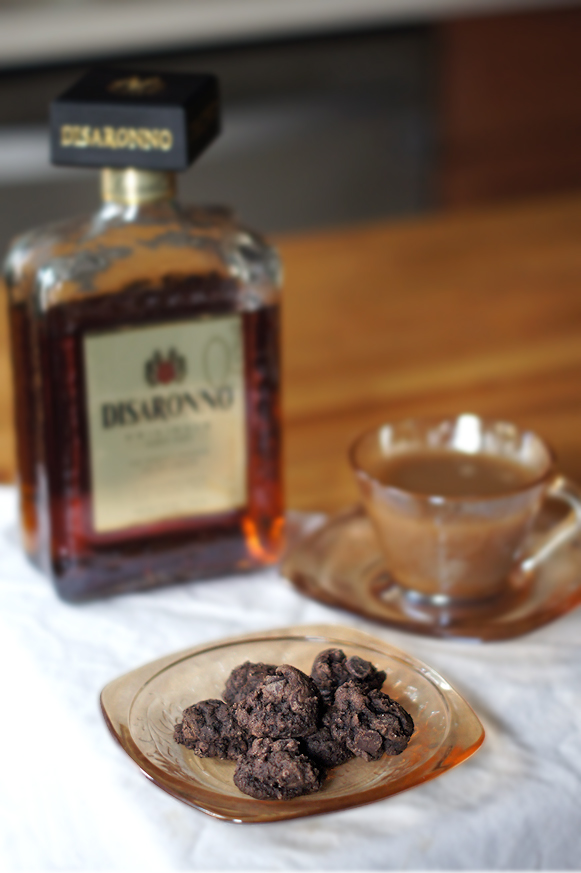 The two gelato cups these were inspired by couldn't be more different – the cioccolato was a fascinating dark brown color, so dark it was nearly black,  and tasted so chocolatey it was almost more reminiscent of a fudge or ganache than an ice cream! The amaretto was an off-white with (what I have to assume were) little amaretti cookie crumbs, and flavor that was dominated by sweetened amaretto liqueur, with the cookie crumbs giving it the occasional crunchy burst of extra sugary sweetness.
These cookies have all of the dark chocolate fudge of the cioccolato gelato, combined with the sweetened liqueur of the amaretto gelato. Simply put, they're heaven. 🙂
I don't know about you, but for me, when it comes to chocolate cookies, I'm team fudge. Plain chocolate cookies, like Oreos, are OK, but you're never going to catch me saying "man, I could really go for an Oreo right now!" So, needless to say, true to that inspiration-gelato, these are super duper fudgey! The amaretto is well represented, but the chocolate is the star of the show. With that in mind, I already have plans to sub out the amaretto – imagine Cointreau (orange) or Kahlua (coffee) or Rumple Minze (peppermint)!
The other thing that makes these a little different is that I used my teeny tiny cookie scoop to make them perfectly bite-sized. If I'm being honest, there was no reason for this except, well, they're super cute! After they were done, I realized that using the mini scoop meant that they were almost like a little truffle, making them perfect as a sweet little bite to go with coffee. I brought these to my office, and everyone agreed that it was much easier to justify eating a few because they're so tiny. Ha!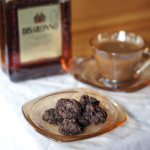 Chocolate Amaretto Cookies
Ingredients
1

cup

semi-sweet chocolate chips

2

tablespoons

salted butter

1

cup

+ 3 tablespoons all-purpose flour

3

tablespoons

dark cocoa powder

1

teaspoon

baking powder

1/2

teaspoon

salt

1/2

cup

granulated sugar

1/4

cup

+ 2 tablespoons light brown sugar

packed

2

eggs

large

2

tablespoons

half and half

1/2

teaspoon

vanilla extract

1

teaspoon

almond extract

2

tablespoons

Amaretto liqueur

1

cup

semi-sweet chocolate chips
Instructions
In a double boiler or microwave-safe dish, melt together chocolate chips and butter. Set aside. Whisk together dry ingredients in a medium bowl and set aside.

In a large bowl, combine sugars, eggs, half and half, extracts, and liqueur. Gradually add dry ingredients, and mix until just combined. Fold in melted chocolate mixture. Add chocolate chips and gently mix until well distributed.

Line a baking sheet with parchment paper or a silpat. Drop dough onto the baking sheet using a mini cookie scoop or 1/2 Tbsp measuring spoon. Bake at 300 until edges are set, approximately 10-12 minutes, and allow to cool completely before serving.
So on to our trip – I know I can't cover it all, nor would I bore you with the details, but omigosh it was absolutely incredible! We visited all of the major museums, more churches than I can count, several ancient Roman archaeological sites, and the 2015 World's Fair! Everyone has asked about my favorite sights, and it's hard to choose, but I think I can narrow it down to Saint Bernardino Alle Ossa (a church in Milan with an incredible chapel decorated in human bones), Palazzo Doria Pamphilj (a beautiful Palazzo turned museum), the Capitoline Museum (a huge museum in Rome near the Colosseum) and the EXPO Milano (2015 World's Fair – this year's theme was food!)
The food was incredible, but a little challenging for a vegetarian. As a result, I found myself eating the same few things a lot, but that wasn't so bad, because the two common options, Cacio e Pepe (cheesy and peppery pasta) and Pasta alla Arrabiata ("angry pasta" – pasta in a spicy tomato sauce) were both fabulous. When we were in Rome we stumbled upon a lovely vegetarian restaurant just a few blocks from our hotel called Origano which was a wonderful surprise.
Speaking of hotels, the one in Rome was fabulous, but our favorite hotel by far was Ca'Sagredo in Venice – it was an old palazzo turned hotel, right on the grand canal, complete with a lovely restaurant, and elegant breakfasts in an old ballroom!! Five words: all you can eat grapefruit! LOL  🙂 The location was perfect, and the ambiance was wonderful. I've already decided that we absolutely have to stay there again someday.
Overall, every bit of it was absolutely fantastic. I'd go back in a heartbeat. Well, once our wallets recover, that is. 🙂