If you're anything like me, mid-December is ridiculously over-the-top crazy hectic! Between parties, gift giving, shopping, cooking, and decorating, it feels like there's seldom a single moment to spare.
Last weekend it was another double party weekend for my husband and me – Friday was my office holiday party, and on Saturday our neighborhood threw its annual progressive dinner (progressive as in, we move to different houses as the dinner progresses – appetizers at one house, main course at another, dessert at another!) It's potluck style, so to make sure there were some veg*n options, I made both a vegetarian appetizer, and a vegan dessert. You know, because I didn't have enough to do. 🙂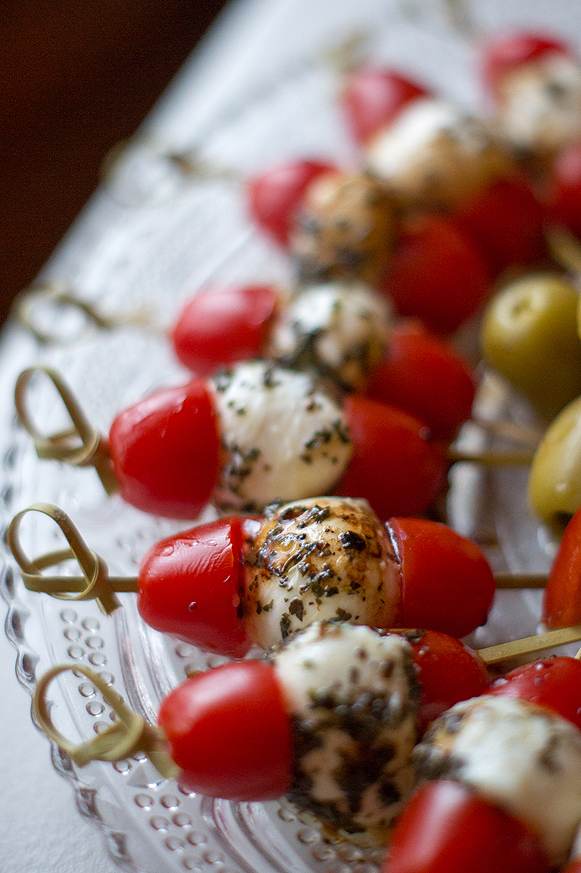 Since our schedule was so packed, I really wanted to avoid making a run to the grocery store. We live just a few blocks from a regular supermarket and a mile from the nearest health food store, but somehow switching gears and going to the store seemed like a terrible idea.
In hindsight, I'm not sure why fretting over how to use what's in the fridge is a better use of time than just going to the darn store, but it made sense at the time. Thankfully, we did have a few nice-quality fresh ingredients left over from our friends Thanksgiving – specifically one container of mini mozzarella balls, and a handful of grape tomatoes.
Mozzarrella balls and tomatoes made caprese salad the obvious choice, but we were entirely out of fresh herbs. After spending a couple of weeks in Italy, the idea of making caprese salad without fresh basil felt like a sin, but desperate times called for desperate measures, and I made it work with what I had in the spice cabinet. When we got to the party I tiptoed to the dining room and snuck my platter onto the buffet table so as not to claim it.
Want to know the crazy part? People raved over these, dried basil all. I'll never be the one to suggest dried herbs over fresh, but these are fabulous in a pinch!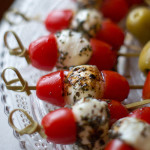 Caprese Skewers in a pinch
Ingredients
2

Tbsp

olive oil

1

tbsp

basil or Italian herb blend

8

oz

mini mozzarella balls

1

pint

cherry or grape tomatoes

Skewers or toothpicks

Balsamic vinegar
Instructions
Combine olive oil and herbs in a small bowl and let sit for at least 30 minutes to allow the herbs to soften. Drain mozzarella balls, then toss them in the olive oil mixture. Slice tomatoes in half.

To assemble, place one half of a tomato on a skewer, followed by a mozzarella ball, followed by another half of tomato. Arrange skewers on a tray, and drizzle with balsamic vinegar.