Are you ready for Christmas? Less than two days to go! I'm not sure whether I'm super excited or super stressed, but for the purposes of happy blogging, we're going to go with super excited.
I made this French Silk Pie for a holiday party a few days ago, and although I'm crazy busy, I simply couldn't wait to share it with you. It's based off of my regular recipe, but to amp things up a little, I added coffee and peppermint to make it what I'm calling a Peppermint Mocha French Silk Pie. Sounds amazing, right?! 😀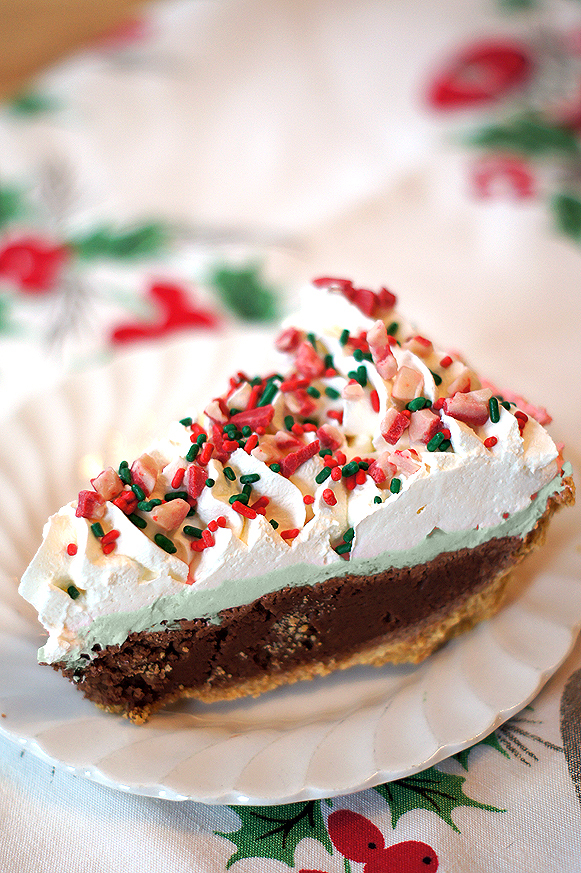 After having the courage to play with this recipe a little, I'm excited to play with other variations! Chocolate pairs so well with so many flavors – I can imagine just about any fruit working well here, or nutty flavors, or perhaps a little bit of booze?  Let me know what you try, and I promise I'll do the same!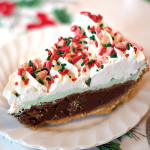 Peppermint Mocha French Silk Pie
Ingredients
Graham Cracker Crust
1 1/2

cups

finely ground graham cracker crumbs

1/3

cup

granulated sugar

1/3

cup

salted butter

melted
Chocolate Mocha Pie Filling
4

ounces

semi-sweet baking chocolate

1

cup

salted butter

softened

1 1/2

cups

granulated sugar

1

teaspoon

vanilla extract

1/8

teaspoon

coffee extract

optional

4

eggs

large
Peppermint Whipped Topping
2

tablespoons

sugar

1

cup

heavy whipping cream

1/8

tsp

peppermint extract
Instructions
Graham Cracker Crust
Mix ingredients until well blended . Press mixture into a 9 inch pie plate.

Bake at 375 degrees for 7 minutes. Allow to cool before using.
Chocolate Pie Filling
Melt chocolate and allow to cool. Place butter and sugar in a large bowl, then beat with an electric mixer until fluffy. Drizzle cooled chocolate over the butter/sugar mixture.

Switch to whisk attachment. Add extracts and beat until combined. Add eggs one at a time at five minute intervals, beating continuously on medium speed for 20 minutes total. Pour filling into the cooled pie shell and smooth the top. Chill for at least 2 hours.
Whipped Topping
Chill a metal mixing bowl and whisk attachment in the freezer for at least 10 minutes.

Place sugar, cream, and extract into the bowl. Whisk just until the cream reaches stiff peaks. If desired, separate out 3/4 cup of whipped cream and add food coloring.

Top pie (first with the colored whipped cream in a thin layer, then the plain) and serve immediately, or chill whipped topping until ready to serve and beat for 10 minutes before topping the pie. Garnish as desired with seasonal sprinkles or chocolate curls.
Also, if we don't talk before then, I hope you have a happy holiday! ❤️💚❤️ Here's our annual "grinning like fools" Facebook profile pic. 🙂