You'd be hard pressed to find a bad chocolate cupcake. Well, unless of course you're talking about vegan cupcakes. Even those styrofoam Hostess ones are somewhat palatable, but vegan cupcakes taste like sawdust! 😉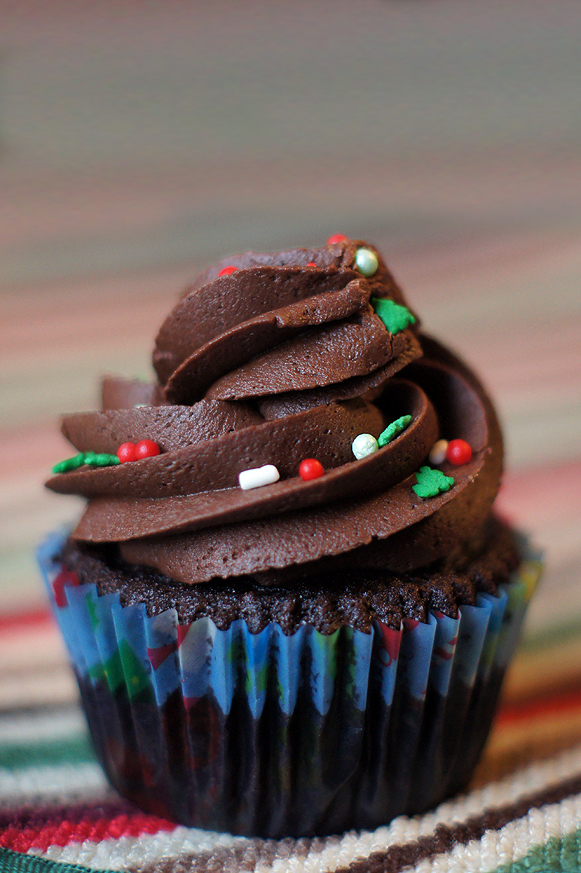 …. just kidding, of course!
I made these for a neighborhood dessert potluck, and was faced with a dilemma – they're vegan, so I could do my fellow veg*ns a favor and label them accordingly, or I could simply put them out and let the omnivores devour them, completely unaware what they were eating was cruelty-free.
Ultimately, I decided to make a teeny tiny sign that said they were "vegan, but super yummy and omnivore approved" in hopes that some guests would either ignore the sign, or give this rabbit food a try.
Shockingly, even with a dozen other desserts on the table, many brave souls ate vegan cupcakes, and, dare I say it, enjoyed it!
These are really fantastic – moist, chocolatey, and a little bit fudgey. Everything you want in a chocolate cupcake, plus the bonus of a clear conscience!
I've made these for everything from birthdays to Easter to Christmas, and they've been a hit each and every time. If you're looking for a chocolate cupcake that both vegans and omnivores will be raving over you absolutely can't go wrong with these! 💖 💖 💖
Vegan Chocolate Cupcakes with Chocolate Frosting
Ingredients
Cupcakes
1

cup

plain coconut milk beverage

1

tsp

apple cider vinegar

3/4

cup

granulated sugar

1/3

cup

canola oil

1

tsp

vanilla extract

1/2

tsp

almond extract

1

cup

all-purpose flour

1/3

cup

cocoa powder

3/4

tsp

baking soda

1/2

tsp

baking powder

1/4

tsp

fine sea salt
Frosting
1/4

cup

vegan margarine

1/4

cup

shortening

Spectrum Naturals

1/2

cup

cocoa powder

2 1/2

cups

powdered sugar

3

Tbsp

coconut milk beverage

1 1/2

tsp

vanilla extract
Instructions
Cupcakes
Preheat oven to 350F and place paper liners in a cupcake tin.

In a large bowl, whisk together milk and vinegar, then set aside to curdle. Add sugar, oil, and extracts, and beat until foamy. In a separate bowl, sift together the remaining ingredients. Add the dry ingredients to the wet ingredients in two batches, and beat until no large lumps remain.

Fill liners 3/4 full. Bake 18 to 20 minutes, until a toothpick tests clean. Cool completely on a wire rack before icing.
Frosting
Whip together all ingredients. Cover with a damp cloth while decorating to prevent crusting.

Yields 12 Cupcakes
Recipe Notes
Adapted from Vegan Cupcakes Take Over the World