When one of my coworkers sent me to her Pinterest board for birthday treat inspiration, she mentioned that I'd quickly notice a theme – "chocolate, peanut butter, and goo" – I laughed and assumed she was joking, but after looking through her pins, I found inspiration for a birthday treat that would tick all of those boxes – Crockpot Lava Cake!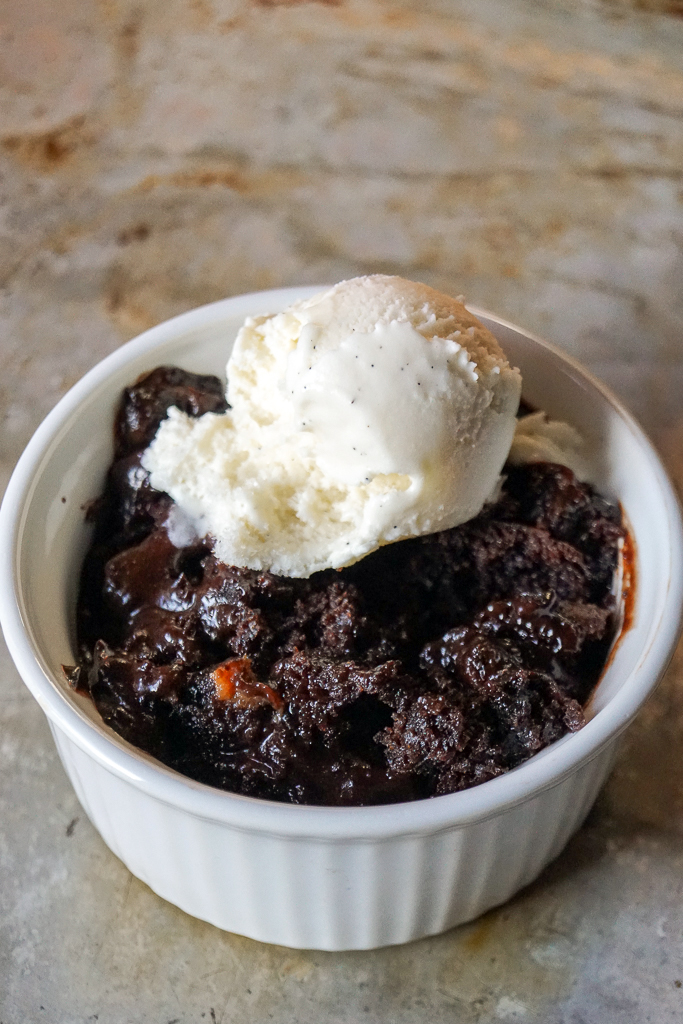 This was my first foray into the slow cooker cake world, and I was disappointed to find that most people were using cake mixes. I definitely see the appeal (dump it in and be done!), but since I don't keep cake mix on hand I would need to make a special trip to the store, and then it's not saving me any time at all.
After digging through what felt like hundreds of recipes, I was able to find a lone scratch recipe from Southern Living magazine.  I was pretty nervous about it, especially with a birthday deadline looming, but after a few hours I peeked under the lid, and sure enough, it was cake-like! When I brought it in to work I served it with vanilla ice cream, and it was an instant hit. 🙂
I'm thinking the next time I make this it will be for a summer barbecue – it seems perfect, not only do you not need to babysit it, but it won't heat up the house!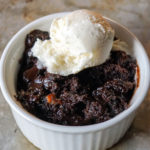 Crockpot Lava Cake (without cake mix!)
Ingredients
Cake Batter
1/3

cup

salted butter

1/4

cup

semisweet chocolate chips

1

cup

all purpose flour

2

tsp

baking powder

2/3

cup

granulated sugar

3

Tbsp

cocoa powder

2

Tbsp

vanilla extract

1/4

tsp

kosher salt

1/3

cup

half and half

1

egg yolk

1/4

cup

peanut butter chocolate chips
Liquid Layer
1/3

cup

cocoa powder

1/3

cup

granulated sugar

1/3

cup

brown sugar

packed

1 1/2

cups

boiling water
Instructions
Line a slow cooker with parchment or grease well. Melt butter and stir in chocolate chips until melted. Combine melted chocolate and the rest of the Cake Batter ingredients in a large bowl, and stir until just combined, then pour into the prepared slow cooker. Mix together Liquid Layer ingredients, then pour over batter layer but do not mix together.

Cover and cook on high until set, about 2 hours.

Allow to cool slightly before serving. Top with whipped cream or ice cream.
Recipe Notes
Adapted from Southern Living Magazine