Last night we were cleaning out our refrigerator in preparation for veering off of our regular meal plan for the long holiday weekend, when I came across a handful of organic cherries. They were still perfectly good, but didn't look quite as plump as they once did, so I figured they'd be a good candidate for baking with. Initially my imagination went wild with thoughts of a nice pie or perhaps even cherries jubilee, but once I had them pitted I was only left with a half cup of fruit.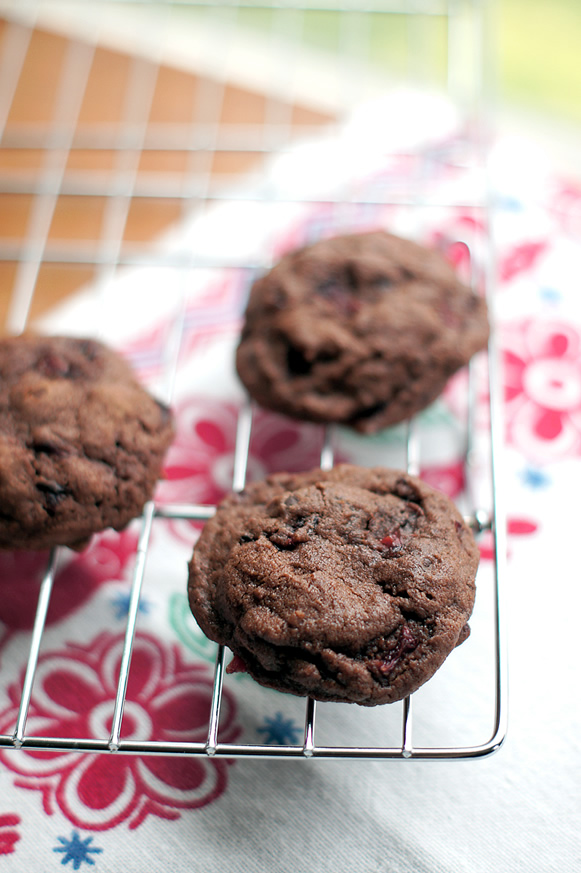 After searching through cookbooks it became abundantly clear that I was going to need to quarter a recipe to make anything cherry-focused with what I had. Instead, I decided to do my own thing and create a cookie that combines three of my favorite dessert components: fresh cherries, chocolate, and almond extract. These turn out to be really fudgey and cakey – they truly melt in your mouth, and the chocolate-cherry-almond combo is absolutely delightful.
Be forewarned that the fresh cherries add a lot of moisture to the recipe, so they will take longer to bake than most cookies, and I wouldn't recommend storing them in an airtight container or they'll just be too moist. I found this to be a great way to use up the last few wrinkly cherries at the end of a bag, but you could use maraschino cherries as well. Dried cherries would be tasty too, but the texture will be less fudgey, and I would watch them closely as the bake time will shorten dramatically.
Chocolate Cherry Fudge Cookies

Print recipe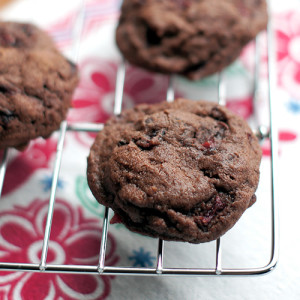 Ingredients
1/2 cups salted butter (softened)
1 cup granulated sugar
1 egg (large)
2 teaspoons almond extract
1 cup ultragrain flour
1/4 cups cocoa powder
1/2 teaspoons baking soda
1/4 teaspoons salt
1 cup chocolate chips
1/2 cups cherries (pitted and diced)