Since subscribing to The Fresh 20 meal planning service last summer, I've made a point of trying to embrace the idea of expanding my culinary palate. As a result, some recipes I never would have touched again on my own have become a base with which to experiment.  A few weeks ago, our menu included a basic egg salad recipe.
I'm a huge fan of meals that require minimal cleanup, and in that respect egg salad makes a convenient lunch or weeknight dinner – a pot for boiling the eggs and a bowl to mix it all up in, and you're set. However, I'm not a huge fan of eggs to begin with, and the few times I've had egg salad, it always seemed a like it was little more than mashed eggs.
When egg salad was included on our Fresh 20 menu I decided that this time around, rather than skipping it, I would try to amp it up a little. The result was a spicy egg salad that has a nice kick and a bit of a Mexican flair.
We served it with arugula and pita bread, but you could change up the greens, put it in a wrap, or go the traditional route and serve it as a sandwich.
Jalapeño Egg Salad

Print recipe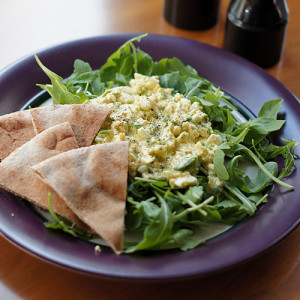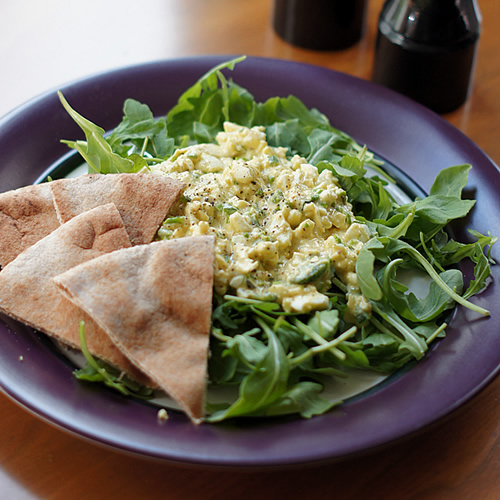 Ingredients
6 eggs (large, hardboiled and peeled)
1/4 cups chives (or green onions, chopped)
1 jalapeño (seeded, diced)
3 tablespoons olive oil
2 tablespoons lemon juice
2 tablespoons dijon mustard
1/8 teaspoons cumin
salt (to taste)
black pepper (to taste)
cayenne (to taste)