Similar to Mother's Day, my husband and I were lucky enough to spend Father's day morning at my folks' place for breakfast, and the evening at his folks' place for dinner.
Plans for a Glam Doll Donut breakfast for my dad were thwarted by a line that went around the block AND torrential rains, but thankfully my mum planned ahead with homemade blueberry muffins and some tasty, albeit less unique, donuts from the grocery store bakery. For lunch, she whipped up the taco pie from our trusty church cookbook.
For my father-in-law, my husband put together a menu of grilled pork tenderloin (Gardein chicken with some reserved marinade for me), roasted baby red potatoes (tossed in avocado oil and savory), wilted Napa cabbage with nectarines from the Fresh 20, and a strawberry Belgian ale, while I prepped individual peach crisps for dessert.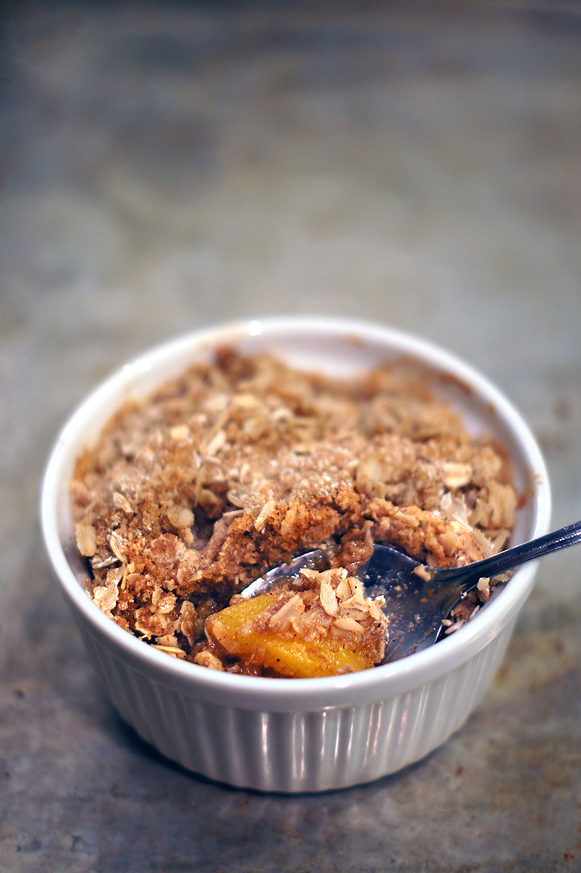 I actually assembled these the morning of, and it took about 15 minutes, which, combined with a very simple ingredient list, makes these a great choice for a dinner party or a special weeknight dessert. You could easily prep them in the morning before work and then just toss them in the oven while enjoying a glass of wine with your dinner companions!
My mother-in-law has gone gluten free, so these use alternative flours, but I promise it doesn't taste like it – coconut flour and oat flour are a natural fit for the streusel, so you won't miss the traditional wheat flour in any way. I actually made the oat flour myself and it was super easy, just pour some regular oatmeal into a food processor or coffee grinder and pulse until the oats turn into a flour-like powder! I liked the choice of oatmeal flour as I associate an oatmeal flavor with streusel, but I think any nut flour would work well in it, almond flour in particular sounds like a winner. You could also sub in a different fruit for the filling, canned pears seem like an obvious choice.
We served this right out of the oven and topped it with vanilla frozen yogurt – the cinnamon and peach go wonderfully together, and the brown sugar bubbles up into a lovely caramel-like sauce. Heaven in a bowl!
Quick Peach Crisp

Print recipe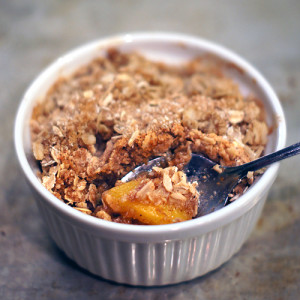 Ingredients
Peach Filling
29oz sliced canned peaches (drained)
2 tablespoons oat flour
3/4 teaspoons cinnamon (ground)
Streusel
7 tablespoons oat flour
1 tablespoon coconut flour
1/4 cups brown sugar
3/4 teaspoons cinnamon (ground)
1/2 cups oatmeal
1/4 cups salted butter (cut into small pieces)