Omigosh you guys, it feels like it has been an eternity since I've made cupcakes.
In reality it has only been like two months, but, let's be honest – that's two months too long!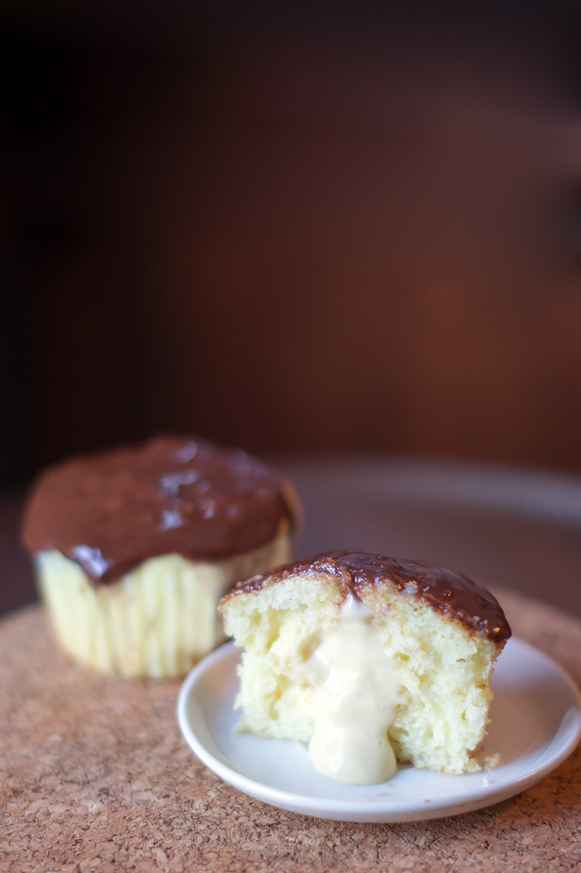 I baked these for an office birthday when I felt the urge to do something a little different. Chocolate cupcakes are always a solid choice, but there just isn't a lot of oomph, you know? They're wonderful, but they're basic.
These definitely have that oomph. They have everything we love about Boston Cream Doughnuts – creamy custard, and a delicate chocolate frosting – with impossible-to-go-wrong fluffy white cake.
The extra step of making the custard filling is somewhat time intensive, but it is SO worth it. I will admit that I ate the filling with a spoon, and I am not ashamed by it because it was sooo incredibly delicious. Seriously. You could skip the cake on these! Take the filling recipe, drizzle it with the frosting, and serve it as a pudding!
While the custard is the star of the show once you've tasted these, you can't tell just by looking at them that they're filled at all. Wouldn't serving these with zero introduction be great fun? It would almost be like choosing a simple round doughnut from the box thinking it's just frosted on top, only to find luscious custard inside. 🙂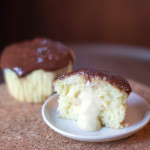 Boston Cream Cupcakes
Ingredients
Custard Filling
2

cups

milk

1/2

cup

sugar

3

Tbsp

cornstarch

Pinch

of salt

4

egg yolks

lightly beaten

4

Tbsp

unsalted butter

2

tsp

vanilla extract
Chocolate Frosting
2

cups

powdered sugar

sifted

1/3

cup

cocoa powder

sifted

pinch

of salt

2

Tbsp

milk

2

tsp

vanilla extract
Instructions
Cupcakes
Prepare your favorite white or yellow cake recipe.
Custard Filling
In a saucepan, bring the milk to a simmer. Meanwhile, in a medium bowl, stir together the sugar, cornstarch and salt. Gradually add the hot milk to the sugar mixture, whisking constantly until smooth. Pour the mixture back into the saucepan, and cook over medium heat, stirring constantly, until the mixture boils and thickens. Whisk in the egg yolks, then cook, stirring constantly until the mixture thickens slightly. Remove from heat, then stir in butter and vanilla and mix well. Strain through a fine mesh strainer or sieve if desired. Refrigerate until cooled.
Chocolate Frosting
Whisk together dry ingredients. Gradually add milk and extract, then whisk until very smooth.
Assembly
Fill cupcakes with custard, then smooth the top and allow to crust slightly. Spoon a small amount of chocolate frosting over the cupcake, allowing it to level before adding more.
Recipe Notes
Custard adapted from Pies & Tarts, by John Phillip Carroll.