You guys, have you seen that huge glowing orb in the sky?!? I forget what it's called, but it's, like, warm, and bright?
It's the weirdest thing, we saw it last week while we were on vacation, too. It's like it's following us…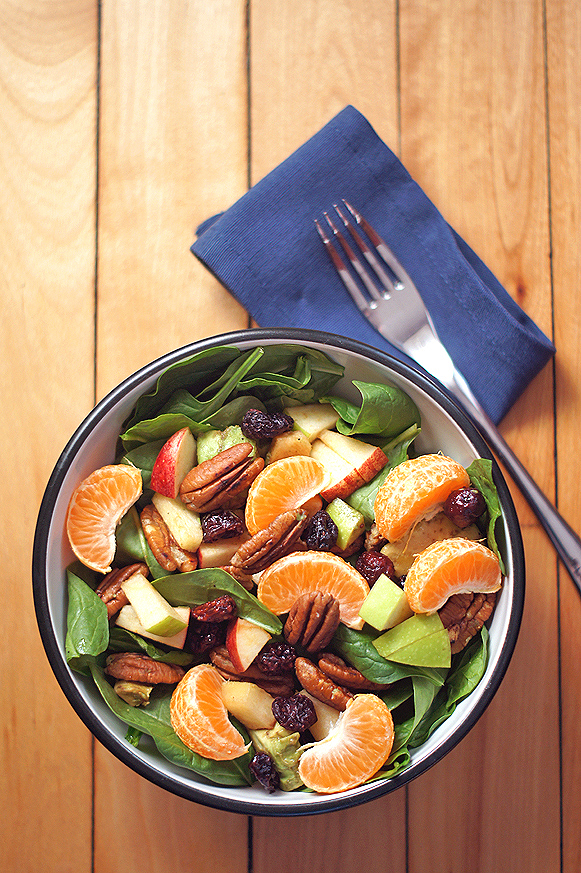 Oh right, the SUN! It had been so long since I'd encountered it, I guess I kind of forgot it existed?
I'm only partially joking. Winter can be a little brutal in the Midwest, and even though this one was more mild than most, I'm thrilled that it seems like we have turned the corner, and spring is upon us.
The most wonderful thing happened, actually – we left for vacation (Florida, Belize, Honduras,  Grand Cayman, and Mexico!) where the weather was pleasant, if not quite as perfect as we would've liked. Then, when we came back it was cold for two days and BAM! Spring.
Having the weather turn so drastically combined with wanting to return to healthy eating after vacation means that we're definitely in salad territory right now.
We regularly do what I can "fridge cleanout" salads – lettuce, with whatever veggies and fruit we have around – but this one is way more intentional. I actually bought things for this one on purpose. 🙂 We brought it over to our friends' place for dinner, and as they put it "why don't we put fruit on our salads?!" Um, right?! We regularly put fruit on our salads, but this one is like, practically a fruit salad? The apples, oranges, and cranberries make it both sweet and tart – way different from your typical salad.
Truth be told, we actually brought this to TWO dinner parties last weekend. We planned to bring it on Friday, and it was so good we brought it to a different place on Saturday! When something is this tasty, why take a chance on making something else that probably won't be nearly as good? 😉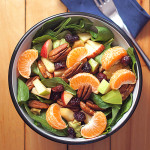 Spinach and Fruit Salad with Balsamic Vinaigrette
Ingredients
Salad
1

lb

baby spinach

1

gala apple

chopped

2

granny smith apples

chopped

8

clementine oranges

peeled

4

avocados

cut into 1/2" squares

1/2

cup

dried cranberries

1/2

cup

toasted pecans
Dressing
3

tablespoons

balsamic vinegar

1

tablespoon

dijon mustard

1

clove

garlic

minced

1/2

cup

olive oil

1/4

tsp

salt

1/2

tsp

black pepper
Instructions
Salad
Remove stems from spinach, wash leaves well, and place in a large serving bowl. Just prior to serving, toss in fruit and avocados, then sprinkle with cranberries and pecans. Drizzle with vinaigrette dressing.
Dressing
Shake together all ingredients 30 minutes prior to serving. Do not refrigerate or the oil will solidify.
So, vacation. Honestly, when we were planning it, it felt like we had just gotten back from Italy and didn't need another vacation yet, but we decided we simply needed to take a trip to commemorate our fifth wedding anniversary! Since the weather was still pretty cold, we figured someplace warm made sense. And, with no more than a week to spend, we didn't want to spend hours and hours on a plane. With those constraints in place, we honed in on the Western Caribbean. We had big plans to spend a lot of time outside, but the weather just didn't cooperate. Instead, we were forced to relax and eat about 8 meals per day! Just terrible, I know. 🙂
Although the weather wasn't on our side we met some really cool people that we hope to keep in touch with. We also stumbled across a super cool historic home on our last day of vacation, and it turned out to be one of our favorite parts of the trip. Just goes to show, sometimes those unplanned moments are the best ones!