OK, it's the Christmas rush. Are you ready for a treat that is tasty, cute, AND will keep the kids entertained for awhile?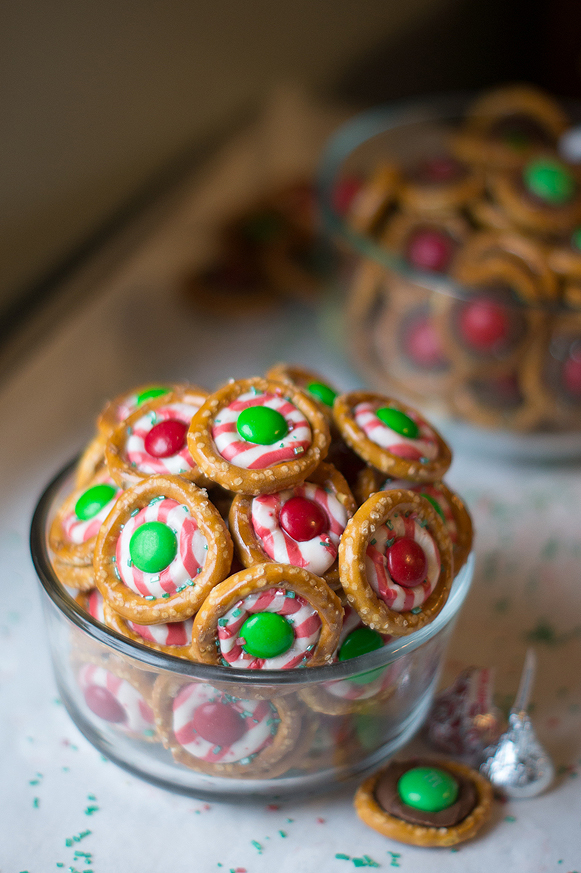 These certainly aren't rocket science, but they're super cute, and the saltiness of the pretzels with the sweetness of the candies really hits the spot. I made these as a supplement to my somewhat bare cookie plate, and the added color alone made them a worthwhile addition to the table!
I usually play it safe and go chocolate on chocolate (plain M&Ms with milk chocolate Kisses) but this year I went a little crazy with a second variety – Candy Cane Kisses and Mint M&Ms. I know. I'm really branching out here! 🙂 All kidding aside, the mint was a fabulous addition. The mintiness added another dimension – sweet, salty, minty – and introduced a flavor that wasn't otherwise represented on my cookie plate this year!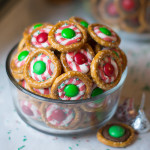 Holiday Kiss Pretzel Treats
Ingredients
1

Bag Round Pretzels

1

Bag Chocolate Candies

Hershey Kisses/Hugs or Chocolate Stars

1

Bag Candy Coated Chocolates

M&Ms

Sprinkles

optional
Instructions
Pre-heat oven to 275. Line a jelly roll pan with parchment paper. Distribute pretzels on the parchment paper in a single layer, then place an unwrapped chocolate candy in the center. Bake for 3-5 minutes, until chocolates are softened, but not fully melted. Remove pan from oven, and immediately press one candy coated chocolate into the tip of the softened chocolate candies. Decorate with sprinkles if desired. Allow to cool completely before removing from the parchment paper.