As I've mentioned about a million times, I do my best to bake something special for all of the birthdays at my office.
This month, we had a particularly special birthday – the [total foodie] co-owner's 50th – and I really wanted to try to hit one out of the park for her big day!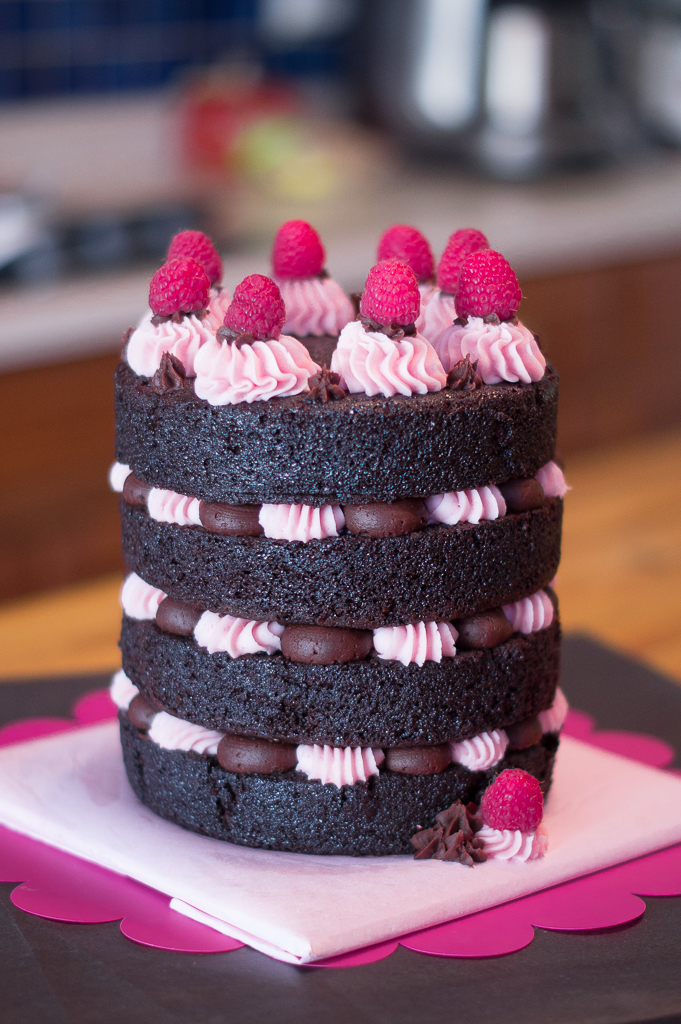 This cake was SO fun to make, but also a little stressful – there's nothing like trying to make something that will look great, taste amazing, travel well, AND impress your boss. 😉
I knew I wanted to make something that looked on-trend, so when I came across this beautiful cake from Rosie's Dessert Spot, I instantly knew I had found my inspiration piece. My methodology differed slightly from hers, but the end result is quite similar.
I had a total blast doing the piping – there was something almost meditative about creating the symmetrical layers. Don't get me wrong – I love creating somewhat haphazard floral cakes – but in this case, piping the consistent pattern was intensely satisfying.
To keep the cake from drying out, I first brushed the cake with a sugar syrup (50:50 water sugar ratio) to lock in the moisture. Then, to create the pattern, I used a large star tip (Ateco #869) and a large round tip (Ateco #809) to pipe large dollops at the edge, and drug them toward the center (pictured below.) Unlike the video above, I did not spread any icing on the layer, and instead relied on the decorative piping to fill the center.
So, enough about how this cake looks, right? How does it taste? Well, what do you think of truffle cake iced with alternating stripes of chocolate and raspberry buttercream?
As classic as this combo is, it actually took me awhile to get there. I knew I wanted to do a great chocolate cake, but I really didn't want to just pair it with chocolate frosting and call it a day. Eventually I came to the idea to do raspberry, but raspberry what? Finally, I remembered back to my grandmother's birthday cake with the jam filling, and we were in business! The cake is incredibly chocoately, rich, and dense, which is the perfect pairing to the raspberry frosting that is, while incredibly sweet, somehow lighter feeling than the chocolate cake. If I'm being honest, the icing is really just basic frosting with some jam, so if you were feeling adventurous, you could totally try other flavors. Chocolate cake with orange marmalade? Almond cake with blueberry preserves? Angel food with strawberry jam? I could go on forever. So many amazing combinations!
Suffice to say, I'm absolutely in love with this cake. It looks cute, tastes amazing, and received plenty of oohs and aahs at the office. If I had it to do over again there's only one thing I'd change – someone stop me one tier earlier! No one needs to drive in rush hour traffic with a cake that's 14 inches tall!!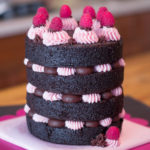 Fancy Naked Truffle Cake with Raspberry Icing
Ingredients
Chocolate Truffle Cake
3

cups

all purpose flour

1 1/2

cup

cocoa powder

3

cups

granulated sugar

1 1/2

tsp

baking soda

1 1/2

tsp

baking powder

1 1/2

tsp

salt

3

eggs

large

1

Tbsp

vanilla extract

1 1/2

cups

sour cream

3/4

cup

oil

1 1/2

tsp

vinegar

1

cup

hot water
Raspberry Icing
1

cup

salted butter

softened

3/4

cup

seedless raspberry jam

2

cups

powdered sugar

Fresh raspberries

embellishment, optional
Chocolate Icing
2/3

cup

salted butter

softened

1/3

cup

cocoa powder

4

cups

powdered sugar

1

Tbsp

vanilla extract

4

Tbsp

half and half

milk, or cream
Stay-Moist syrup
1

cup

granulated sugar

1

cup

water
Instructions
Chocolate Truffle Cake
Grease two 6-inch pans and line with parchment. Preheat oven to 350. In a large bowl, combine dry ingredients and whisk together, then add wet ingredients and mix with a wooden spoon until smooth. Divide evenly between the pans and bake until a tester comes out clean, 30-40 minutes.
Raspberry Icing
Combine all ingredients in the bowl of an electric mixer and beat on high speed until fluffy.
Chocolate Icing
Combine all ingredients except milk in the bowl of an electric mixer and beat on high speed until fluffy. Add milk until the frosting reaches your desired consistency.
Stay-Moist syrup
Combine water and sugar in a saucepan. Boil until the sugar is dissolved. Let cool, then brush over the cake.
Assembly
Allow cake to cool completely. Torte layers if desired. Brush the cakes with the Stay-Moist syrup. Pipe the icing in an alternating pattern using a star tip and round tip.
Recipe Notes
Icing recipe adapted from Grandbaby Cakes. Stay-moist syrup from Hello Cuppies. Cake recipe adapted from Country Living Magazine.