My husband's birthday was last week, and while he's always up for cake, his real idea of a treat is a nice fruit pie. The day of his birthday, I procrastinated a little and planned on heading to the grocery store right after work, but mother nature had other plans and dumped us with 6 inches of snow, so I ended up getting creative and using the fruit I had on hand.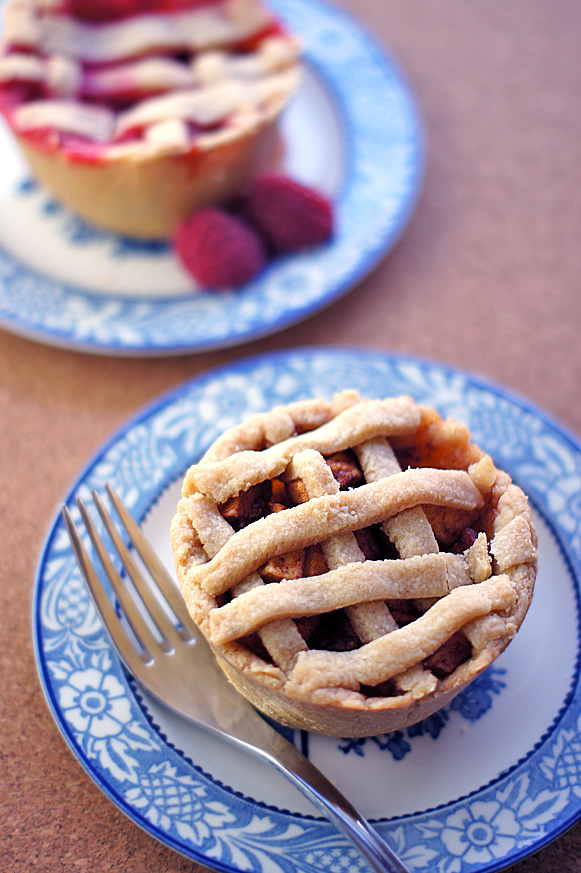 When I checked our fruit selection at home, it was definitely slim pickings: a granny smith apple, some assorted apple wedges I cut up earlier in the week for snacks, a banana, and a few grapefruits. Not an ideal scenario for a pie. Apples would be the obvious choice, but I didn't have nearly enough. Checking the freezer I thought I had hit the jackpot after finding frozen rhubarb and raspberries, but once I measured them out it became clear that I didn't have enough for a full pie. What's a girl to do?
Um, make mini pies of course?! In addition to requiring less filling, mini pies have the added bonus of being undeniably adorable. A Win-Win-Win as Michael Scott would say.
The Apple Pie turns out to be a delicious, albeit a bit uninventive, apple-cinnamon pie. I was short on many of my fall spices, so I focused on cinnamon and sugar, but you could also add some nutmeg if you're looking for something a little spicier. The Rhubarb-Raspberry Pie is tasty on its own, but neither fruit is particularly sweet, so the filling is certainly a bit tart. Fortunately, the perfect solution to a tart pie is serving it with a little vanilla ice cream! 😀
I used a 6-cup muffin tin for mine, but by cutting your crusts a little smaller and reducing you baking time you could definitely use a 12-cup (or even 24!!) cupcake tin. The apple filling would also be a great base for substitution – pear or peach instead of apple? Delish.
Mini Pies: Apple and Rhubarb-Raspberry

Print recipe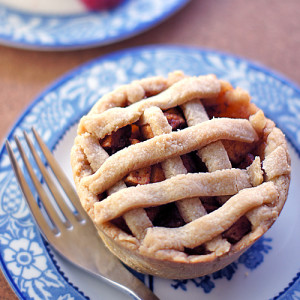 Ingredients
Pie Crust
2 1/2 cups ultragrain flour
1 teaspoon salt
1 teaspoon granulated sugar
1 cup unsalted butter (cold, cut into pieces)
1/3 cups ice water
Apple Pie Filling
3 cups apples (diced)
1/2 cups granulated sugar
2 tablespoons salted butter (frozen, grated)
2 teaspoons vanilla extract
2 teaspoons cinnamon (ground)
Rhubarb-Raspberry Pie Filling
1 cup raspberries (fresh or frozen)
2 cups rhubarb (cut into 1/2 inch pieces, fresh or frozen)
1 cup granulated sugar
4 tablespoons salted butter (melted)
2 tablespoons vanilla extract
Directions
Pie Crust
Combine flour, salt, and sugar in the bowl of a food processor and pulse until mixed. Add butter, and pulse until only a few small pieces of butter remain. Add water until dough holds together when compressed.

Place half of the dough into a plastic bag and press the dough together, forming into a disk. Repeat with the other half.

Once ready to bake, roll the dough thin, about 1/4 inch, then cut out into circles to match the size of your muffin or pie tin and press it into the tin.
Pie Filling
Stir together all ingredients. Distribute evenly between muffin tins.
Pie Assembly
Cover with top crust or streusel and sprinkle with sugar. Bake at 350 for about 30 minutes or until the crust is golden and the filling is bubbly. Serve with vanilla or cinnamon ice cream.

Each filling recipe yields six muffin-tin sized pies. The crust recipe yields enough for double crusts on six muffin-tin sized pies or one full sized pie.
Recipe and photographs from Mayhem in the Kitchen!
https://mayheminthekitchen.com/mini-pies-apple-and-rhubarb-raspberry/