Yesterday I needed make something for the Super Bowl party I was attending, but it seemed that all of the major football food groups were already covered – tortilla chips, salsa, guacamole, taco dip, potato chips, ranch dip, onion dip, two kinds of pizza, mini tater tots, little smokies, chicken wings….
Thankfully, there happened to be a gaping hole in that list where the sweets should've been.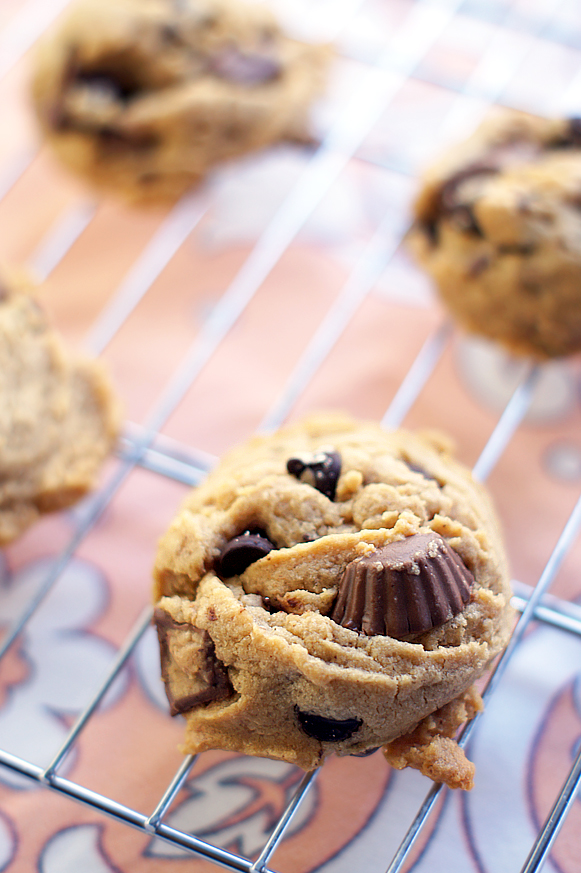 You guys know me and the peanut butter-chocolate combo. Love it, can't live without it, can never have enough. In the spirit of the big game and my peanut butter-chocolate love, I decided to do something crazy and double up – not only would I make peanut butter cookie dough, but I'd toss in chocolate chips AND peanut butter cups.
This is seriously delicious stuff – a soft peanut butter cookie that kind of melts in your mouth while the milk and semi-sweet chocolates do some sort of luscious dance around your tastebuds. I'm drooling just thinking about them, but thankfully I didn't come home with any leftovers!
I'm really partial to the peanut butter cup-chocolate chip combo, but you could also do different mix-ins with these – just chocolate chips, Reese's Pieces, M+Ms, peanut butter chips, peanuts, toffee….
What did you make for the big game? Who were you rooting for? I was pulling for Peyton, but seeing so many former Vikings succeed, Percy Harvin especially, was really a ton of fun.
Peanut Butter Cup Cookies

Print recipe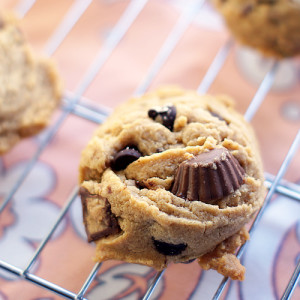 Ingredients
1/2 cups salted butter (softened)
1/2 cups dark brown sugar
1/4 cups granulated sugar
2 teaspoons vanilla extract
1 teaspoon almond extract
3/4 cups natural peanut butter
1 egg (large)
1/2 teaspoons baking soda
1 1/4 cups ultragrain flour
1/2 cups chocolate chips
1/2 cups peanut butter cups (UNREAL or Reese's Mini, roughly chopped)