As part of a double birthday at the office, I made two types of cookies based on the requests of "something lemony" and "something chocolatey" – these lovely lemon (like that alliteration? Me too.) cookies were the something lemony, and they were a huge huge HUGE hit!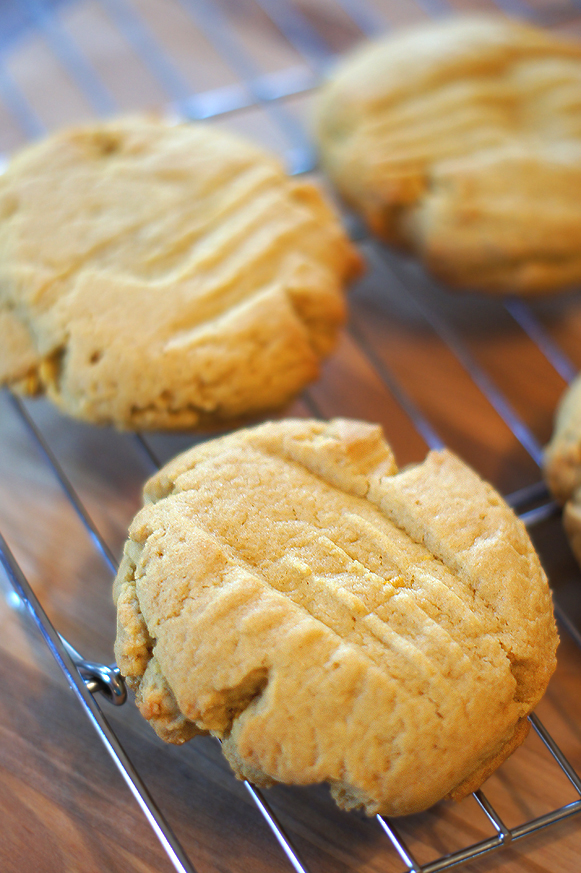 Until now, the only lemon cookies I had ever made were those cake mix cookies that come together super quickly with a box of cake mix, oil and eggs. The problem with those  was that the lemon flavor was simply too mild! Yes, buried beneath the vanilla and cake mix flavor there was some lemon lurking down there somewhere, but enough to call them lemon cookies? I think not.
These though, these are different. They're actually lemony! Not lemon-bar lemony, but lemony enough that I could present them to a lemon-lover and actually feel OK about it. 🙂
Texturally they're my jam, too – both chewy AND a bit dense, the ultimate combo.
I added just a titch of food coloring to these, but I could see them going either way – add a ton more to make them bright yellow, or skip it altogether and surprise the folks who think it's a plain sugar cookie!
Soft Extra-Large Lemon Cookies
Ingredients
1/2

cup

salted butter

softened

3/4

cup

granulated sugar

2

tablespoons

brown sugar

packed

1

egg

large

1

tablespoon

lemon extract

1

teaspoon

vanilla extract

2

tablespoons

lemon zest

1

tablespoon

honey

yellow food coloring

optional

2

cups

all-purpose flour

2

teaspoons

cornstarch

1

teaspoon

baking soda

2

tablespoons

lemon juice
Instructions
Cream together butter and sugars. Add egg and extracts, and beat until fluffy, scraping down the sides as necessary. Add lemon zest, honey, and (if desired) food coloring and beat until well combined. Add dry ingredients, leaving the baking soda for last. Pour the lemon juice directly on top of the baking soda (this will cause it to foam.) Beat until just combined. Using a 1/4 cup disher (cookie baller, ice cream scoop) scoop dough onto a baking sheet lined with parchment paper or a silpat. Flatten dough slightly, then bake at 325 for about 10 minutes or until the tops have just set.
Recipe Notes
Recipe adapted from Averie Cooks