This weekend we celebrated our nephew's 3rd birthday! I love this sort of thing, and was lucky enough to assist my sister-in-law and mother-in-law with the setup! A few weeks before the big day the birthday boy made a couple of basic requests – Mickey Mouse theme, lemon cake with sky blue frosting.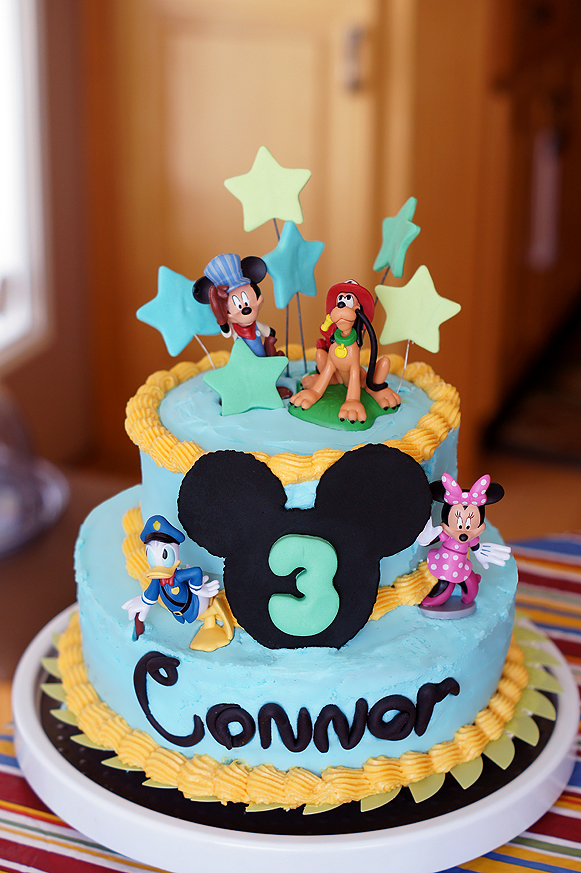 Making his annual birthday cake is a tradition for my sister-in-law and me – we get together the day before the party, ship the kiddo off somewhere fun, and spend the day making a wonderful homemade cake. This year, Mother Nature had other plans, and dumped us with enough snow to trap my MINI Cooper in the alley. Not wanting to waste my day off from work, I made the fondant decorations, the top tier (One Bowl Chocolate Cake III from AllRecipes – he changed his mind on the lemon thing at the last minute), the icing, and whipped up some famous sugar cookies (No Fail Sugar Cookies (NFSC) from Cake Central) while my sister-in-law made the bottom tier (Homemade Lemon Cake from Sally's Baking Addiction)
I snapped her some cell phone photos along the way to allow her to track my progress and give approval: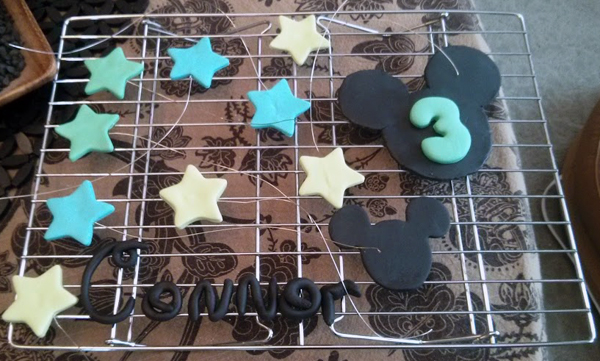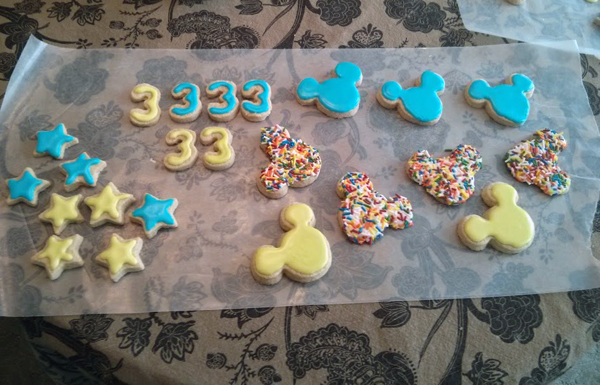 The day of the party the snow melted enough to free me from the garage! We frosted and assembled the cake using a bright blue frosting with sunny yellow accents, stuck on the fondant embellishments, and added Mickey Mouse ClubHouse figurines to complete it.
Just like Mickey, our birthday boy loves hotdogs, so my mother-in-law prepared a Hot Diggity Dog bar featuring a variety of hot dog toppings, and served it with chips and dip. Completely on theme, but super simple and kid friendly!
(I apologize for the photo quality – they had the party in my in-laws awesome lower-level rec-room which has tons of space, but not a ton of natural light!)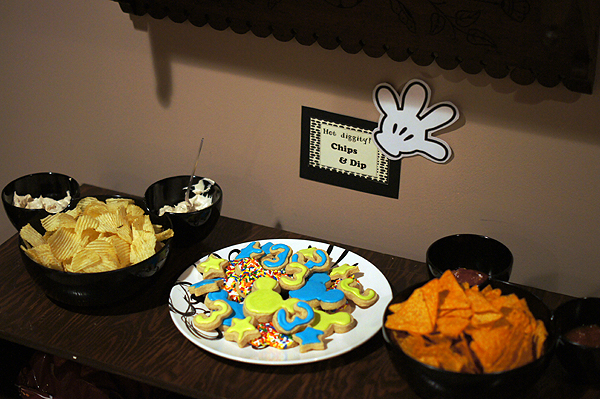 Our family's new 3 year old had a fabulous time! Happy birthday little guy!