First things first: I'm back, I've missed you all terribly, and I can't wait to get back to cooking! Secondly, why didn't anyone remind me how much work it is to move house? Seriously. We've been working nonstop to settle into the new house while simultaneously getting the old house ready to sell, and it feels like there's no time for anything else. I'm not complaining – the new house is beautiful and we're incredibly fortunate to be able to sell the old one at our own pace, but in short, life has been a little chaotic. 🙂
On the bright side, our garden was taking off like crazy during the shuffle, so before we knew it there were all sorts of wonderful veggies ready to harvest. Right now it's primarily cucumbers, summer squash, and zucchini out there, but tomatoes and more peppers are on the way too! I'm really hoping the house sells quickly, and it seems like the neighborhood is on the upswing so I think it will, but if we head into the autumn with it, at least we'll be able to reap the full benefits of our garden.
Things are starting to settle down a little though, and we even had enough time early Saturday morning to sneak away to the farmer's market, so we've been enjoying local onions, potatoes, lettuce, and kale as well!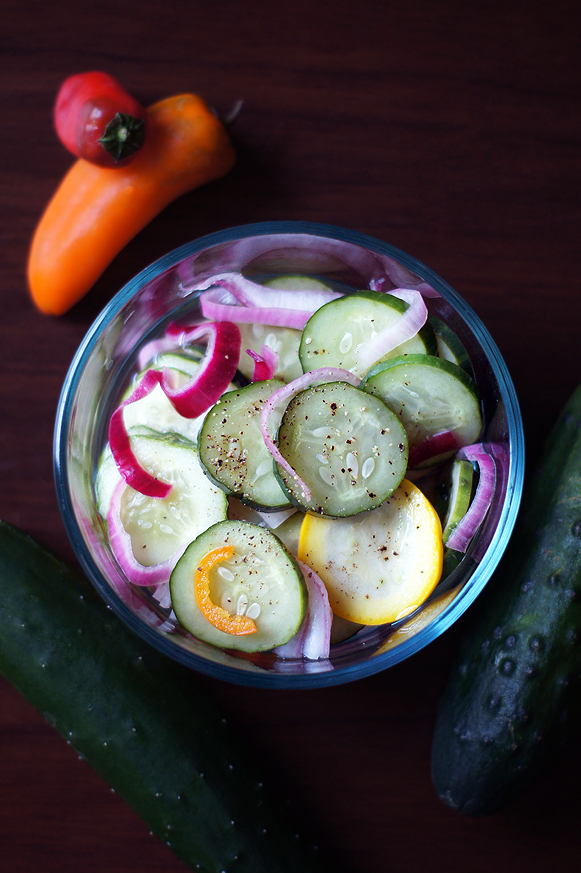 Last night I decided to try to get a leg up on my soon-to-be glut of cucumbers by making a nice cucumber vinegar salad. I started out with just cucumbers and onions and put everything in the fridge to marinade, but after putting together a lettuce salad from the aforementioned garden and farmer's market finds, I still had some yellow squash and sweet peppers left over, and figured I might as well toss those into the cucumber salad! Truth be told, I had never swayed that far from the standard recipe – I'm very much a cucumber salad purist – but it turned out super yummy this way! I think this really is an ideal salad for using those vegetables that crop up in droves this time of year – one can only make so many loaves of zucchini bread, and at some point your coworkers just stop taking the ones you toss on the break room table. 🙂
I've listed my ratios for the dressing in the recipe below, but this is one of those recipes that always needs to be tweaked a little depending on how large your vegetables are and what kind of container you use.  The overall liquid amount is only important for making sure the veggies are fully soaked in it, so I would prepare the dressing from the recipe below, pour it over your veggies, and if they're not fully covered, just make a little (or a lot) extra. Oh, also, when it comes time to serve the salad, put it out with a slotted spoon so you can drain off most of the vinegar before putting it on your plate.  The dressing is delicious, but not when it's soaked into a hamburger bun!!
Zucchini-Cucumber Vinegar Salad

Print recipe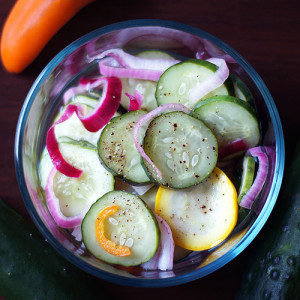 Ingredients
Salad
3 cucumbers
1 zucchini (or summer squash)
1 sweet pepper (optional)
1 red onion
Vinegar Dressing
1/3 cups vinegar (of your choice, I prefer white or apple cider)
1/3 cups warm water
1/2 teaspoons salt
2 tablespoons honey (or sweetener of your choice, white sugar or stevia work well)
1 dash black pepper (ground, to taste)
Oh, and since I've been talking about it so much, here we are on closing day!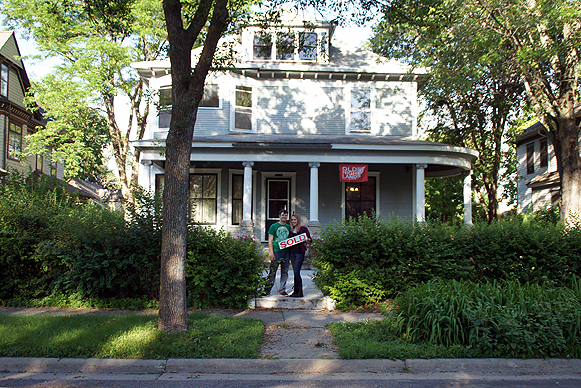 How are you making the most of your garden? Any great must-share recipes? What'd I miss during my brief blogging hiatus? Anyone else in the process of moving?