I absolutely love Mediterranean food, so the other night when I came in from the garden with a bunch of parsley, a big bowl of cherry tomatoes, and no plan for dinner except that vegan felt right, I knew exactly what needed to happen.
Tabouli salad makes a great item to have around for lunchtime (or a quick dinner) – it keeps well,  is simple to make, and can be eaten in a variety of ways. Most of the time you'll see it paired with pita pockets, but it also makes a nice side salad on its own, a dip alongside hummus, a topping for falafel, or an ingredient in a lettuce salad.
After a long day I wasn't up to the task of baking pita bread, so I wrapped mine in a French Meadow (Minneapolis represent!) sprouted grain tortilla, but this stuff is so flavorful that really all you're looking for is a delivery mechanism, so a lettuce wrap would be fantastic too. The best part about this is that it gets better with age – it'll be good right now, but positively divine tomorrow.
Tabouli Salad (tabouleh tabbouleh tabbouli)

Print recipe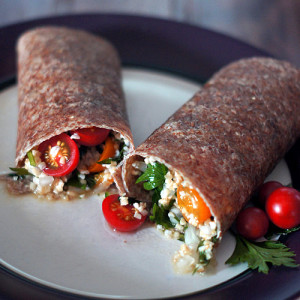 Ingredients
1 cup bulgur wheat
1/4 cups olive oil
1/4 cups lemon juice (I juiced two fresh lemons)
2 garlic cloves (minced or pressed)
1/4 bunches mint (finely chopped)
1 bunch parsley (finely chopped)
4 tomatoes (diced, or 2c cherry tomatoes, halved)
3/4 cups white or green onions (diced)
1 dash salt (to taste)
Optional
1 cup cucumber (diced)
1/4 cups feta cheese
1 can garbanzo beans (drained and rinsed)