Well, it's that time of the year again – we're most of the way through summer and it's zucchini mania. I honestly have a refrigerator full of the stuff. I hadn't even realized there were so many out in my garden until our neighbor pointed out a particularly huge one that she said was perhaps the largest she'd ever seen. I regret not weighing it, but if it gives you any idea, it yielded 8 cups of grated zucchini – enough that I was able to double this recipe and still freeze enough for 4 more loaves!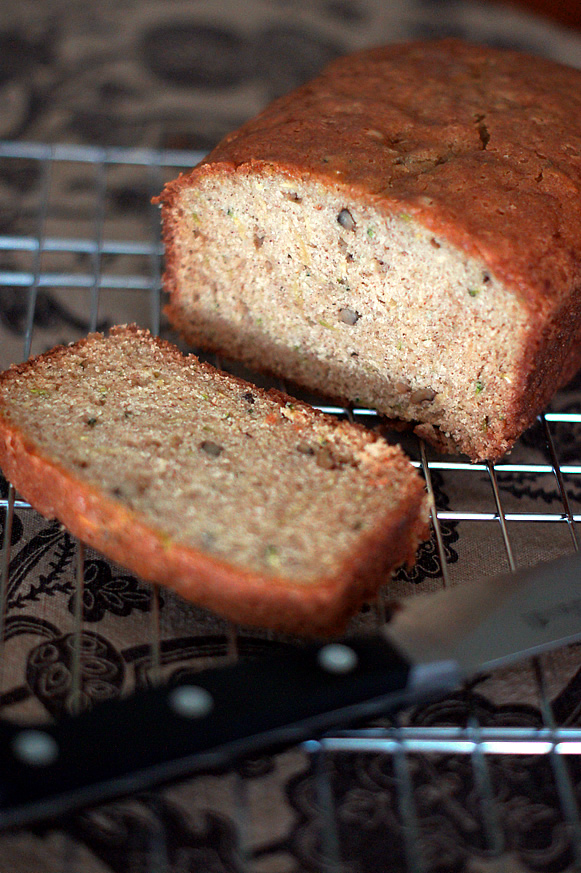 Perhaps if my first reaction was to make something less yummy with zucchini I'd be more hesitant about planting it year after year. 🙂  Much like the banana bread recipe I shared with you, this recipe came out of my mum's church cookbook, and is the one and only thing I think of when someone says zucchini bread.
I know most of the time people use zucchini bread as a fallback recipe when they're overrun with zucchini like I am, and this can be a great way to use up the larger ones that have been hiding out for awhile, but I'd recommend patting or squeezing out some of the moisture as the high water content in the big ones can make the bread a little sticky. It's up to you whether to peel the zucchini before grating it, but I rather enjoy the green color …. well, and how low-effort it is to just run them through the grater plate on the food processor without any additional prep. Your secret is safe with me if you tell everyone it's for the color and the fiber but omit the part about the laziness.
The original recipe called for all granulated sugar, but I was running low, so I subbed in 1/4c brown sugar. Of course I'm always looking for ways to sneak in whole grain, so 1/3 of the flour is whole wheat flour rather than the white flour suggested. There was also no specification on what kind of nuts to use, so I went a little old fashioned with it and broke out the black walnuts. We don't usually have raisins in the house, but you could toss in a handful of those, or of any dried fruit, really.
So far this week we've had roasted zucchini, zucchini bread, zucchini stir fry, zucchini chips, and zucchini tots, and there are still a half dozen of them in the fridge, with more on the way. Yikes. Any ideas?
Zucchini Bread

Print recipe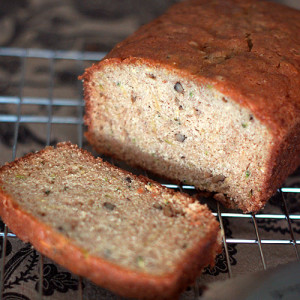 Old fashioned zucchini bread. Perfect for when your garden won't stop producing them!
Ingredients
3 eggs (large)
1 3/4 cups granulated sugar
1/4 cups dark brown sugar (packed)
2 cups zucchini (grated, peeling optional)
1 cup oil (of your choice)
1 tablespoon vanilla extract
2 cups ultragrain flour
1 cup whole wheat flour
3 teaspoons cinnamon (ground)
1 teaspoon salt
1 teaspoon baking soda
1 teaspoon baking powder
Optional
1/2 cups nuts (of your choice)
1/2 cups raisins