A couple of weekends ago I traveled down to the Iowa Great Lakes for some family time and much needed R&R. My husband's family spent their summers at Lake Okoboji growing up, and thought it would be fun to get the entire family together to relive those fond memories.
We spent most of the weekend enjoying the lakes, walking around the amusement park, antiquing, and of course, eating! Like any resort town, food is a big focus – it seemed there was an ice cream shop or restaurant on every corner. Unfortunately for me, it being smack dab in the rural Midwest, whole food vegetarian options were few and far between. My normal strategy for coping with this is to modify an existing entree – perhaps remove the chicken from a salad – but I couldn't bring myself to do that when our server was already juggling our rowdy table of 20.
Cue the nachos.
Oddly enough, every restaurant we visited, from the amusement park concession stand to the steakhouse, offered a meatless nacho option. This was a tough decision for me at the first restaurant, as there are usually very few redeeming qualities to nachos (well, beyond how ridiculously delicious they are, obviously) but the alternative was being the weirdo who asks if they could serve the broccoli from the steak dinner as a main course.  At that moment, I came to a strategy I would use again and again that weekend: order those sinful sounding nachos as my main course, and hope to god that ordering a side salad would keep me from eating the entire platter. #YOLO
Of all the nachos I ate that weekend, the real stand-out was Maxwell's Beach Cafe and their Italian Nachos. These aren't the typical Mexican inspired nachos with tortilla chips and nacho cheese that I was getting everywhere else. Instead, Maxwell's went with a base of fried wonton chips covered with melted asiago cheese,  topped with basil, onions, tomatoes, black olives, and topped off with a drizzle of honey-balsamic.
Heavenly.
I've been thinking about trying to make these for days, but once I finally set out to recreate them, I just couldn't bring myself to go full Okoboji with it, and opted to lighten them up a bit. Don't be mistaken – these are still 100% terrible for you, and 100% delicious – but a a slight modification on the wonton chips saves you the cleanup (and guilt!) of using your deep fryer. When I prepared these I used whole wheat flour and  organic ingredients, but Maxwell's used white flour and conventional produce, so I know it'll be delicious that way, too! For those of you who are gluten free, I'd be anxious to hear how this turns out if you substitute Gluten Free on a Shoe-String's All-Purpose Gluten-Free Flour Blend for the whole wheat flour!
So there it is, probably the least healthy way to vegetarianize a meal, but gosh was it ever delicious! What's the silliest way you've addressed your dietary restrictions while eating out?
Italian Nachos inspired by Maxwell's Beach Cafe of Spirit Lake, Iowa

Print recipe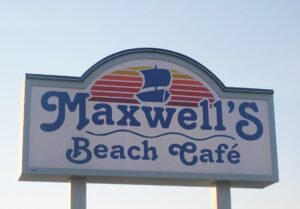 Baked whole-wheat wonton chips covered with melted organic asiago cheese, sprinkled with basil, onions, tomatoes, black olives, and topped off with a drizzle of honey-balsamic.
Ingredients
Wonton Chips
2 cups whole wheat flour
1 Large egg
dash sea salt (or kosher salt)
2 tablespoons water (more as needed)
Topping
2 roma tomatoes (diced)
1/2 red onion (minced)
1/2 cups black olives (sliced)
6-8 basil leaves
1/2 cups pickled peperoncini (optional)
Honey-Balsamic Drizzle
2 tablespoons balsamic vinegar
1 tablespoon honey
Asiago Cheese Sauce
1/4 cups whole wheat flour
2 cups milk (of your choice, I used organic skim)
1 cup asiago cheese (grated)
Directions
Wonton Chips
In a medium bowl, whisk together egg, salt and water. Stir in flour, adding more water as needed to form a stiff dough.

Knead for 1 minute, then roll onto a lightly floured surface until very thin.

Cut into 3 1/2-inch squares, and then in half into triangles.
Spray wrappers with olive oil and spread evenly on a baking sheet. Bake at 400 for 8-10 minutes or until crispy and golden.
Asiago Cheese Sauce
Place flour in a medium, heavy saucepan and gradually whisk in milk until blended.

Cook over medium heat until thick, stirring constantly.

Remove from heat and add cheese, stirring until melted.
Assemble Nachos
Place half the wonton chips on a platter, and drizzle with half the cheese sauce.

Place the rest of the woton chips on the platter, and drizzle with remainder of the cheese.

Sprinkle tomatoes, onions, olives and peppers over cheese.

Whisk together honey and balsamic, then drizzle over toppings.

Chiffonade basil and sprinkle over the top.
Recipe and photographs from Mayhem in the Kitchen!
https://mayheminthekitchen.com/