I've mentioned before that we moved into a new house last summer. Overall, I love everything inch of the new place – the location, the size, the interior, the exterior. I do, however, have one major complaint, and that is the lack of a sunny spot for a proper vegetable garden!Over the years I've grown accustomed to having a bumper crop of tomatoes and zucchini year after year, and at this house, that just isn't happening. 🙁
Thankfully, the farmer's market has my back! Of course, I always go overboard, and thus this salad/dip was born.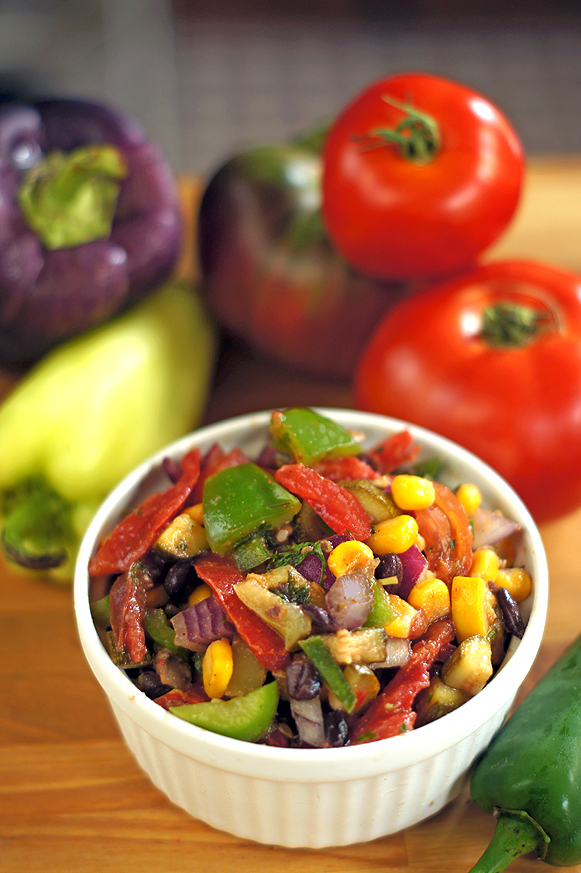 Our last run to the farmer's market was a real monster – zucchini, cilantro, tomatoes, corn, jalapenos, bell peppers, red onions, carrots, plums…. the list goes on. After a few days some of the veggies were no longer at their peak freshness, and I knew I needed to act if I wanted to use them to their full potential.  After reviewing my ingredients, something Mexican-inspired seemed like a no brainer.
So, I chopped up my veggies, made a vinaigrette, and ate it two ways — first, as a dip with tortilla chips, somewhere between salsa fresca and cowboy caviar. Then, after it had marinated for awhile, I made a bed of chopped lettuce, and topped it with the dressed veggies, along with some sour cream, cheese, and diced avocado for a lovely taco-salad style dinner. Two amazing dishes in one!
The quantities in this recipe are definitely fluid – you may find that you want to double or triple the dressing recipe depending upon the size of your veggies. I would start by making the base recipe, tossing your veggies with it, and going from there.
This is such a lovely summer supper AND appetizer. I'm in love, and hope you will be too!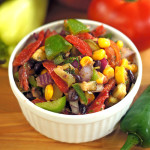 Vegetarian Mexican Salad (or Cowboy Caviar Dip)
Ingredients
Dressing
1/2

cup

lime juice

2

tablespoons

maple syrup

2

tablespoons

olive oil

1

teaspoon

cumin

1

teaspoon

garlic powder

1

teaspoon

chili powder

1/2

teaspoon

onion powder

1/2

teaspoon

cayenne pepper

1/2

teaspoon

black pepper

1/2

teaspoon

salt
Salad
3

zucchini

diced

4

large tomatoes

chopped

2

bell peppers

chopped

1

jalapeno

diced

1

red onion

diced

1

cup

sweet corn

1

cup

black beans

1

tablespoon

cilantro
Instructions
Combine dressing ingredients and mix or shake until well blended. Chop vegetables. Mix dressing and vegetables until well coated.

Serve as a salad over lettuce, and dress with sour cream and cheese. Serve as a dip with tortilla chips.