On my mum's side of the family, it has recently become a tradition to celebrate Christmas together in early January. Everyone is so busy with their nuclear families on the actual holiday, and as an extended family, our primary reason for getting together is reconnecting with one another, so the date can be a little flexible. Last year I brought an Easy Egg Nog Cake because I needed something quick due to being ill for the entire week prior. Like clockwork, this year I was struck down by the flu early in the week and once well, was faced with a similar predicament: bake something extravagant, or do something simple and still have enough energy remaining to clean up?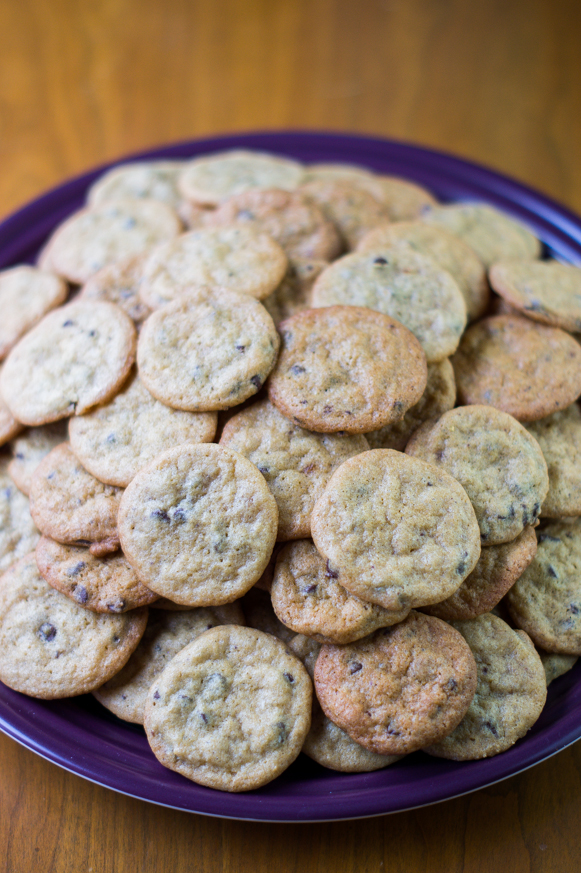 I decided I would go simple, but when I checked the pantry, I realized my Christmas cookie baking had left my cupboard a bit bare. I had just enough flour for a batch of chocolate chip cookies, but that seemed like a total cop-out. Then, I remembered that I was the lucky recipient of a 1/2 Tbsp scoop for Christmas! Regular things made tiny are automatically more festive and more impressive. Problem solved!
I'm really excited to play more with the 1/2 Tbsp scoop, but chocolate chip cookies were a great kickoff. At under 2″ in diameter, these come out perfectly bite sized. They're a hit with kids, and at about 40 calories apiece, they're tiny enough that New Year dieters can sneak a couple guilt-free.
Mini Chocolate Chip Cookies

Print recipe
Ingredients
3/4 cups salted butter (softened)
1 cup dark brown sugar (packed)
1/2 cups granulated sugar
2 eggs (large)
2 tablespoons vanilla extract
1 teaspoon baking soda
1/2 teaspoons salt
2 cups ultragrain flour
1 cup mini chocolate chips
Directions
Cream butter, sugar and brown sugar. Add eggs and vanilla extract, then mix thoroughly.

Slowly add dry ingredients until thoroughly blended. Fold in chocolate chips with a spatula.

Use a very small (1/2 Tbsp) cookie scoop or measuring spoon to create very small dough balls, about the size of a marble. Drop onto baking sheet lined with a silpat. Bake at 350 for 8-10 minutes or until slightly golden around the edges. Yields about 96 very small cookies.

Recipe and photographs from Mayhem in the Kitchen!
https://mayheminthekitchen.com/mini-chocolate-chip-cookies/
Have you had a nice start to 2014 thus far? After cancer, my mother-in-law decided that she wasn't going to wait to start living any longer – this year, that meant she was going to ring in 2014 right, so we did New Year's Eve in Las Vegas!  We've been out to Vegas quite a few times, but never on New Year's Eve, and never with something as fantastic to celebrate as her being cancer-free! In addition to the typical Vegas Strip type stuff, we also made a few side trips – the most memorable being to Death Valley. Gorgeous!