My mum invited the whole family over for brunch last weekend, and even though she said I shouldn't bring anything, and even though we've been super busy with home renovations, I still couldn't take no for an answer. Everyone really likes the coffee cakes I perfected during the Quest for Brunch Excellence, but when I came across Marina's Apple Coffee Cake on Pinterest, I knew it was time to try something new.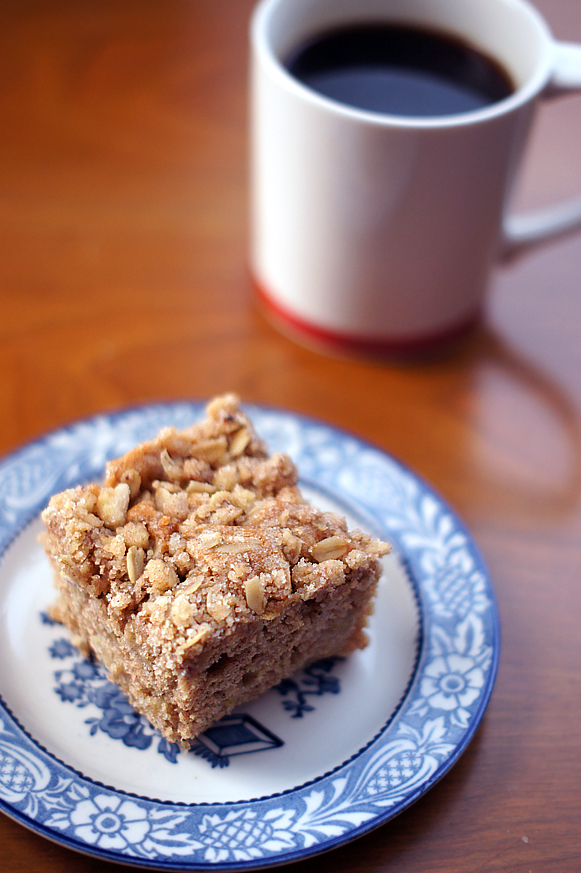 This is a great coffeecake – the apples make it nice and moist, it's really easy to make, and yields enough to serve a crowd. Plus, can you ever really go wrong with streusel?!? (Hint: no!)
My only complaint is the time of year I decided to make it – the apple and cinnamon combination is really a flavor most appreciated on a crisp fall day, so it felt a bit out of place at the start of spring. The cool thing though is that it's super versatile – next time I think I'll go a little more seasonally appropriate and try the source recipe from Barbara Bakes which features lemon and blueberries, or perhaps omit the cinnamon and toss in some strawberries instead.
Apple Cinnamon Coffee Cake

Print recipe
Ingredients
Coffee Cake
4 apples (peeled and diced)
1/4 cups ultragrain flour (for apples)
1/2 cups salted butter (1 stick, softened)
1 cup granulated sugar
1/2 cups milk
2 eggs (large)
2 teaspoons vanilla extract
1 3/4 cups ultragrain flour (for batter)
1 1/2 teaspoons baking powder
1/2 teaspoons salt
1 teaspoon cinnamon (ground)
Streusel
1/2 cups granulated sugar
1/4 cups oatmeal
1/4 cups ultragrain flour
3 tablespoons salted butter (melted)
1 teaspoon cinnamon (ground)
Directions
Streusel
Combine all ingredients and mix until crumbly. Refrigerate while preparing Coffee Cake.
Coffee Cake
Grease and flour a 9x13 baking pan.

Peel, core, and dice apples. Coat in 1/4c of flour.

Cream butter and sugar. Stir in milk, eggs, and vanilla. Gradually add dry ingredients and mix until just combined. Gently fold in apples. Spread evenly in prepared pan. Sprinkle with Streusel.

Bake at 350 for about 30 minutes or until tests done.
Adapted from Let the Baking Begin!

Recipe and photos from Mayhem in the Kitchen!
https://mayheminthekitchen.com/apple-cinnamon-coffee-cake