The other night I wanted something nice to set out for some last-minute visitors, but I was short on time, so I went with my tried and true method for making anything more awesome: make it tiny!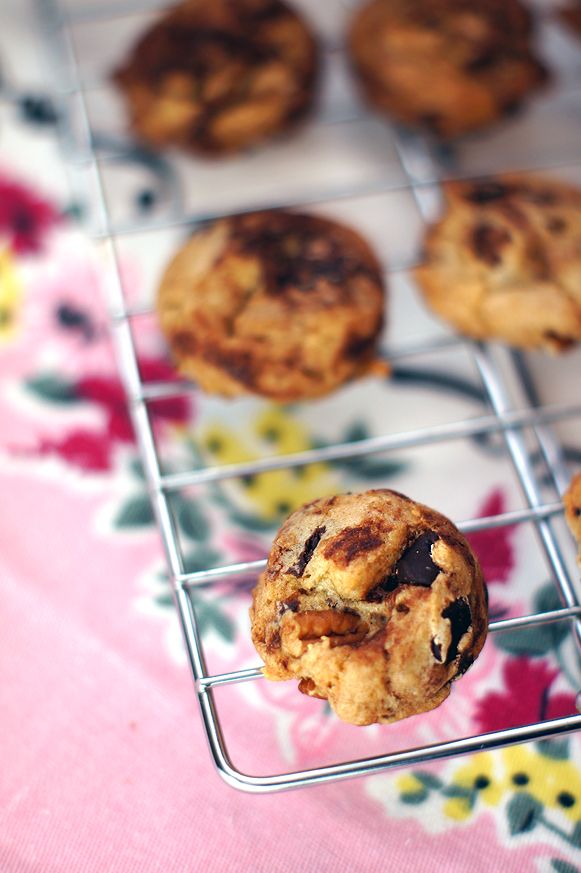 I actually put my husband in charge of selecting a recipe from Foodgawkeer while I picked up around the house a bit and he decided on this great Brown Sugar Pecan Cookies recipe from Wanna Come With?. I didn't have her exact ingredients which necessitated some adjustments, and as part of the aforementioned Make More Awesome Initiative, I used my tiny cookie scoop to make them adorably bite-sized!
This recipe has you melt the butter and sugar together on the stove, which is something I'd never done for a drop cookie before. It's a little extra work and one more thing to wash, but you're rewarded for your trouble with carmely toffee-like deliciousness that perfectly complements the pecans – and, if like me, you impatiently mix in chocolate chips while the sugar is still warm, your dough will be streaked with delightful chocolate ribbons. Killer.
I'm SO happy these have already been devoured, or I know right now I'd be typing with one hand while the other reaches into the cookie jar… 😉
Mini Toffee-Pecan Chocolate Chip Cookies

Print recipe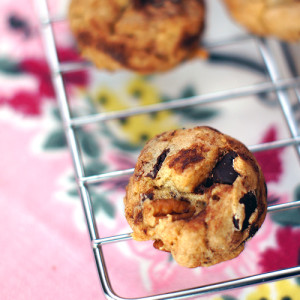 Ingredients
1 1/4 cups ultragrain flour
1/2 teaspoons baking soda
1/8 teaspoons salt
1/2 cups salted butter
1 1/4 cups dark brown sugar (packed)
1 teaspoon vanilla extract
1 egg (large)
2/3 cups pecans (chopped)
2/3 cups chocolate chips
Directions
Whisk together dry ingredients and set aside.

In a medium saucepan, melt butter over low heat. Remove from heat. Add brown sugar and stir until dissolved. Add vanilla and egg and stir until smooth.

Transfer sugar mixture to a mixing bowl. Add dry ingredients and mix until just combined. Gently fold in chocolate chips and pecans, allowing chocolate chips to melt into the dough slightly, but not completely.

Drop onto a baking sheet using a 1/2 Tbsp cookie scoop. Bake at 350 for 12-14 minutes or until edges are golden.

Yields 48 mini cookies.

Adapted from Wanna Come With?

Recipe and photos from Mayhem in the Kitchen!
https://mayheminthekitchen.com/mini-toffee-pecan-chocolate-chip-cookies
---
Linked at:
Retro Re-Pin Party #11