I've briefly mentioned before that we've been working on a ton of home renovations, but what's new as of last week is that we're moving! (Surprise!!) So, items to add to our already overflowing list of house projects: packing, moving, getting ready to list, and selling! More about that in a second.
I'm not one to condone stress-eating, but sometimes, a cookie or two (or three or four…) has the power to make everything just a little better. Last night, in a "what on earth did we just bite off?!" panic, I pulled out my trusty church cookbook (Which isn't packed yet. Color me surprised.) and flipped right to the "Cakes, Cookies, and Desserts" tab for a little sugar-therapy.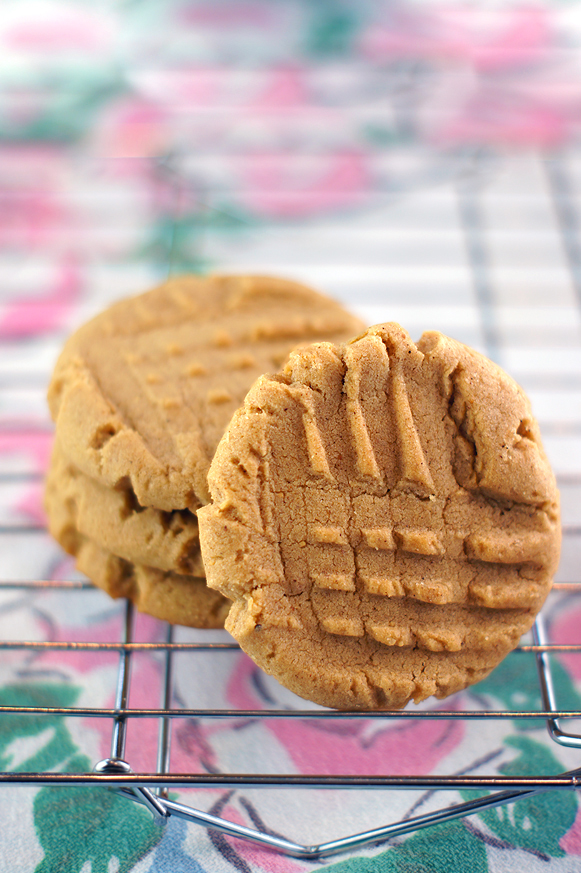 The thing I love most about Midwestern church cookbooks is that without fail, they're full, cover to cover, with awesome recipes. No one wants to be the jerk who submits a crappy recipe to the church cookbook, so every single dish included was tried, true, and hand picked for a reason – it is someone's favorite, best, most loved, most impressive. Sometimes vintage recipes can be hit or miss based on trends or featured ingredients, but my trusty church cookbooks never seem to steer me wrong.
I can guarantee that Adrell Thompson received tons of praise for submitting this recipe! Out of the oven, these cookies are super soft and pliable (I'd definitely recommend that you do some "quality control" right out of the oven. You can thank me later.), but once cooled  they reach a nice chewy texture with some crunch around the edges. The cinnamon gives them just a little hint of something extra that sets these apart from other criss-cross peanut butter cookies, but at only a teaspoon per batch, it's definitely a subtle accent flavor, which allows the peanut butter to take point (the way it should be.)
I made these last night (with my big cookie scoop, so it only yielded two dozen instead of six) and I think we have about five cookies left. There are only two of us. You do the math.
Seriously. Sooo good!
Classic Peanut Butter Cookies

Print recipe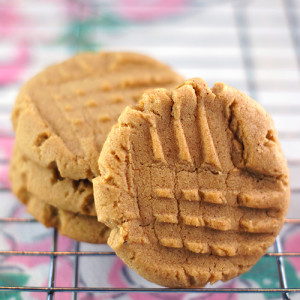 Ingredients
1 1/4 cups flour (I used ultragrain)
1/2 teaspoons salt
1/2 teaspoons baking soda
1 teaspoon cinnamon (ground)
1/2 cups butter or margarine
1/2 cups brown sugar (packed)
1/2 cups granulated sugar
1/2 cups creamy peanut butter (I used natural peanut butter)
1 egg (large)
1 teaspoon vanilla extract
1/2 cups chocolate chips (optional)
Directions
Set oven at 350. Sift together flour, salt, cinnamon, and soda. Combine butter, sugars, peanut butter, egg, and vanilla. Cream for 2 minutes. Add flour mixture; blend in and mix 1 minute. Roll into small balls and place onto a cookie sheet lined with a silpat or greased. Flatten, crisscross with a fork dipped in flour. Stick 3 chocolate chips on top of each. Bake 8-10 minutes.

Makes 6 dozen cookies.

Adapted from recipe by Adrell Thompson in Bless These Foods
Recipe and Photos from Mayhem in the Kitchen!
https://mayheminthekitchen.com/classic-peanut-butter-cookies/
Oh, yeah, house stuff! Long story short, we've been looking for a new place for over a year now, and while we were close in a couple of multiple offer situations, we hadn't managed to get anywhere. We were looking for something pretty specific, so there simply just wasn't much on the market that fit our criteria, which meant long lengths of time between houses we were interested in. Since we'd been waiting for a year and it seemed like it was going to be awhile until we found something, we thought, "what better time to start those renovations we've been putting off on our current home?" First on our list was finishing our basement again after demoing it last year for a drain-tile installation. Sure enough, once we got our basement three quarters of the way framed, we found the perfect house – built in 1905, complete with wrap-around porch, view of the downtown skyline, and a 3 car carriage barn (we need that big garage for the Lincoln!)
More photos later, but here's a not so-great-photo of what she looks like from the outside: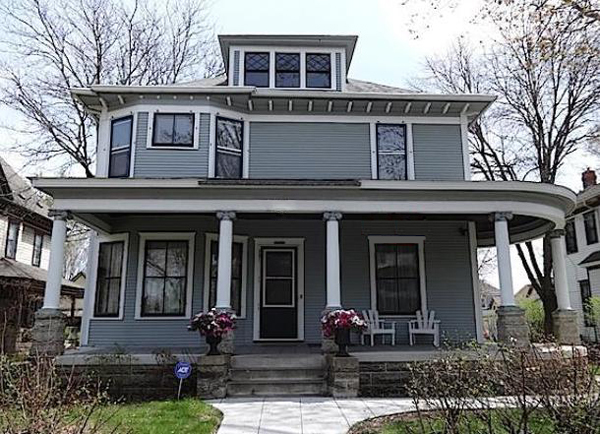 Gorgeous, right?! We're hoping to close June 30th, so please keep your fingers crossed for us! Mayhem in the Kitchen! is still going to be food focused, but I'd anticipate a few more life-related posts while we make the transition to our new digs – hope you guys don't mind! 🙂