Guess what I had for dinner last night? Yep. You know it! Roasted veggies. I'm not going to say I'm addicted to roasted vegetables, but I might be addicted to roasted vegetables. Then again, I could eat my weight in sauteed vegetables too. And, the same applies to raw broccoli and hummus, my favorite snack ever. So, I guess I love just love vegetables; I'm a lover of vegetables, in all forms; I'm an equal opportunity vegetable lover.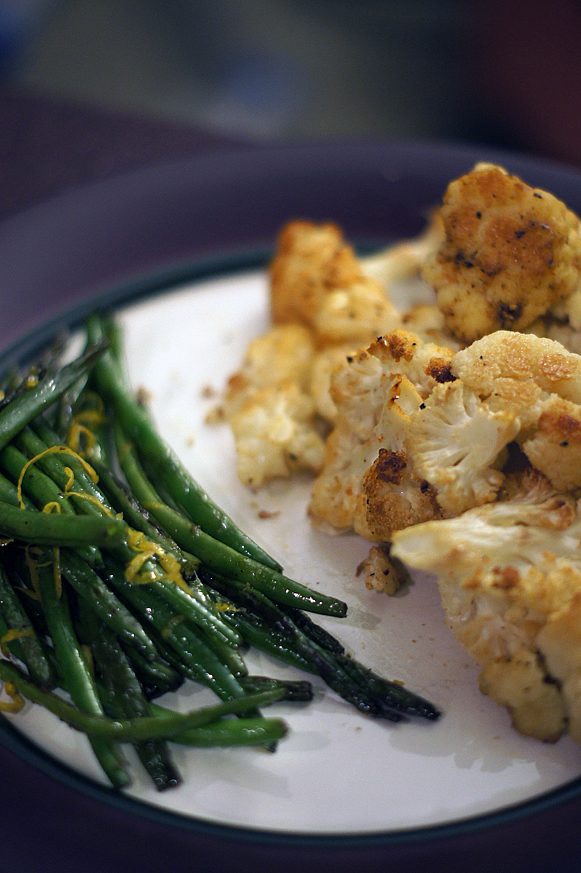 Much like the last time we talked roasted vegetables, providing a recipe for this is silly, but I'm going to do it anyway. If I die tomorrow, I want my obituary to include something about how much I love roasted vegetables. No, seriously.
Normally when I roast veggies I go pretty simple with it – grapeseed oil, salt, pepper, 450, done. This time around I added paprika and cayenne pepper for color and a little spice, but we're still talking 5 minutes of prep time.
BTW – The sauteed green beans in the photo are equally as easy – throw some olive oil in a pan, add your green beans, sprinkle them with some salt and pepper, saute until brown, toss on some lemon zest, devour!
PS – I've gone over roasting vegetables in greater detail here.
Roasted Cauliflower

Print recipe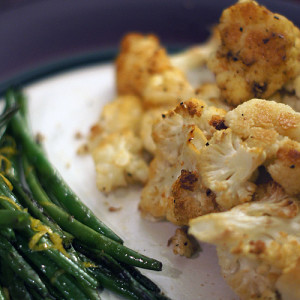 Ingredients
1 head cauliflower (cut into large pieces)
1 tablespoon avocado oil (or grapeseed)
1 teaspoon garlic powder
1 teaspoon paprika
1/2 teaspoons cayenne
3/4 teaspoons sea salt (or kosher salt)
1/2 teaspoons black pepper
Sauteed Green Beans

Print recipe
Ingredients
1 tablespoon olive oil
1lb green beans (stemmed)
sea salt (or kosher salt)
black pepper
Zest 1 lemon
Note
Adapted from The Fresh 20 Meal Planning Service