Anyone else love salads as much as I do? I swear I could eat a green salad 7 days a week, and when we aren't on a Fresh20 day, that's usually what I'm lobbying for! My omnivore partner is a pretty good sport about it, but he needs a little variety in his life, so we've been trying to expand my definition of salad.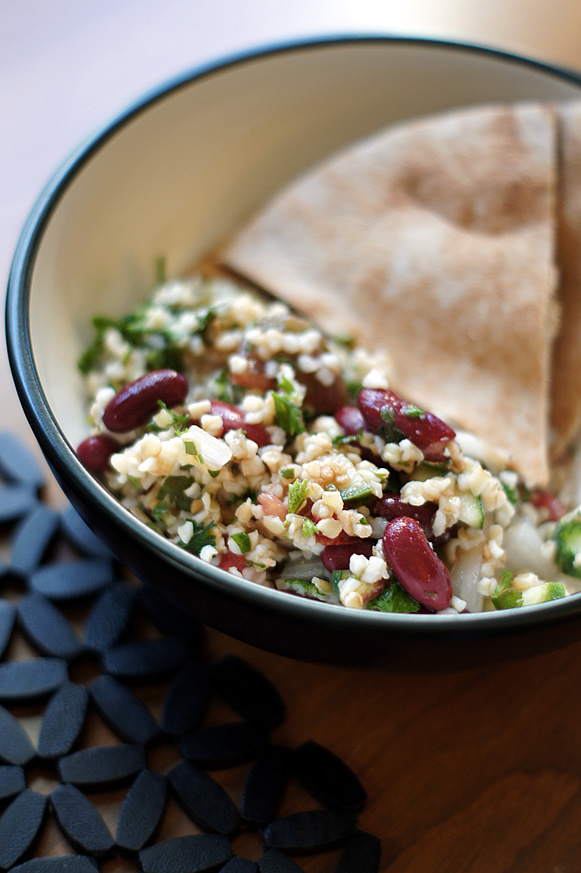 Tabouli is getting dangerously close to too-often territory too, so this is a nice variation on that – more protein, and a larger variety of flavors.  I like it with naan, but pita bread works great too.
For a southwestern twist, serve it on tortillas, throw in some black beans and avocados, and use half lime juice half lemon juice!
Bulgur Salatasi

Print recipe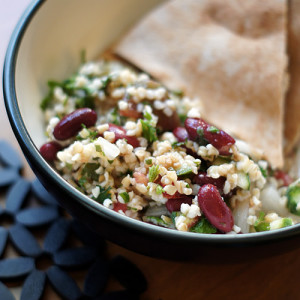 Ingredients
1 cup bulgur wheat
1 cup beans (black or kidney)
4 tomatoes (large, diced)
2 cucumbers (diced)
1/4 bunches mint (finely chopped)
1/4 bunches cilantro (finely chopped)
1/4 bunches parsley (finely chopped)
1 onion (large, diced)
2 tablespoons olive oil
1/2 cups lemon juice
1/2 teaspoons salt
1/2 teaspoons cumin
Optional