Today I'm sharing my recipe for Cowboy Stew, sometimes called Calico Beans or Cowboy Casserole.
My extended family makes the Cowboy Stew from the church cookbook for most holiday gatherings, but since that one contains bacon and beef I've gradually created my own vegan adaptation that has taken on an identity of its own.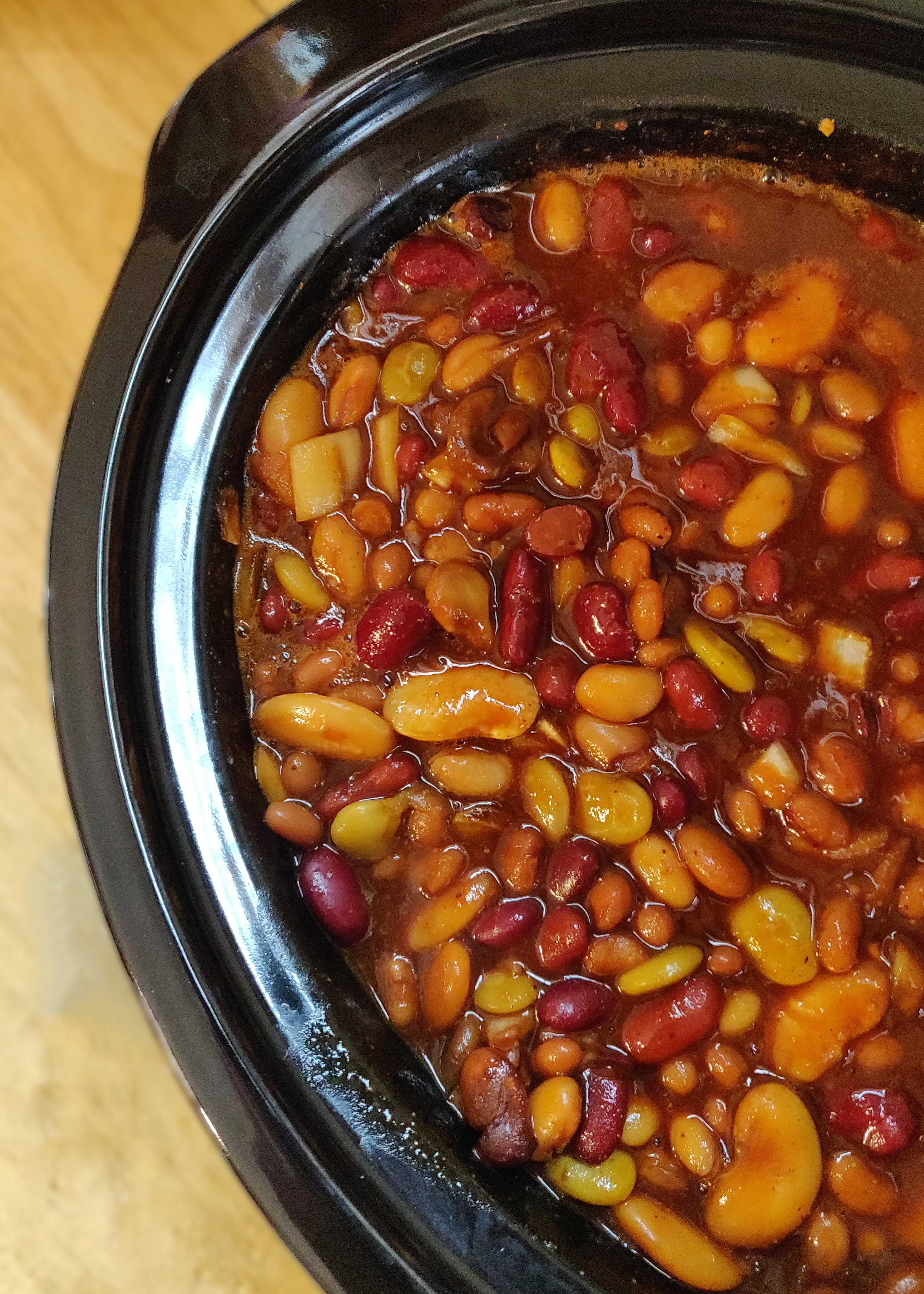 These have a little of everything – sweet, savory, and smoky – making them a real crowd pleaser. Every time I serve these I am shocked by the sheer amount of bean in the crock-pot, and then after the party, I am shocked by how many beans have left the crock-pot. 😂
This is a great recipe for family gatherings when you have a million other things to make because all you need to do is dump everything in the crock-pot and let it simmer for a few hours. If you're feeling ambitious, maybe stir it a few times!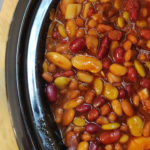 Cowboy Stew
Ingredients
1

15oz can

Light Kidney Beans

1

15oz can

Dark Kidney Beans

1

15oz can

Lima Beans

1

15oz can

Great Northern Beans

1

15oz can

Butter Beans

1

15oz can

Chili Beans

1

28oz can

Vegetarian Baked Beans

1

cup

Diced Onions

1/4

cup

Ketchup

2

Tbsp

Yellow Mustard

1/4

cup

Barbecue Sauce

2

Tbsp

Red Wine Vinegar

1

tsp

Liquid Smoke

2

Tbsp

Molasses

1/2

cup

Brown Sugar

1

Tbsp

Chilli Powder

1

Tbsp

Garlic Powder

1/2

tsp

Dry Mustard
Instructions
Drain and rinse all beans except the Baked Beans and Chili Beans. Combine all ingredients (including juice for Baked and Chili Beans) in a slow cooker. Cook on high for 3-4 hours, stirring occasionally.

It has been my intention to post this for years now, but I've always put it off because in all honesty, it's truly impossible to photograph. Beans just aren't very pretty sometimes. In the last few months I've realized that needing Pinterest-perfect photography has been keeping me from blogging during the time of the year when natural light is sparse (practically October through April in Minnesota!) and I'd rather share a recipe with a mediocre photo than not sharing the recipe at all!