When we were invited over to our friends' place for dinner the other night, I was honestly going to bring that awesome salad and call it a day, but when I found out there wasn't any dessert, I was forced to act. ^_^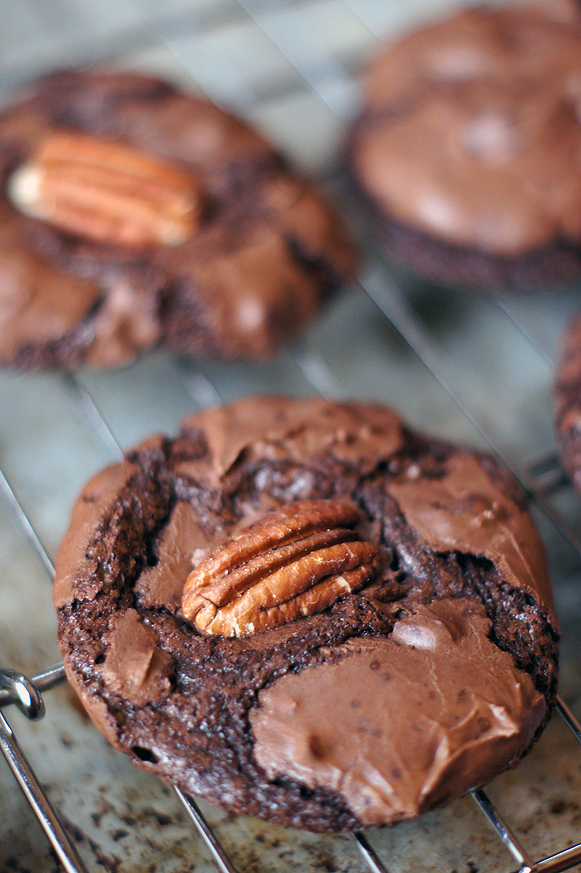 One of our friends doesn't eat gluten or dairy, so a lot of my typical "whip up in a pinch" recipes weren't an option. A vegan recipe would take care of the dairy free, but not the gluten free. A gluten free recipe would take care of the gluten, but not the dairy… I don't have anything in my go-to-fancy-dessert arsenal that spans both. Plus,  I was short on time, and we were going to have a big dinner…
Eventually, I came to the conclusion that cookies would be the perfect little touch of sweetness to round out the meal. Nothing too crazy, but enough to take care of that sweet tooth.
Forgive my small vocabulary, but these cookies are simply *awesome* – you know that crispy crusty coating that forms on the top of brownies? They have that. Plus the chewiness. Plus the chocolateyness. Plus the nuttiness. So, basically they're everything brownie in wafer form, I guess?  But then there's also a touch of chocolate chip cookieness, too…?
Whatever. I love them, our friends loved them, my husband loved them, and you will too! 😀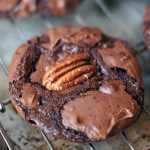 Chewy Brownie Cookies (accidentally Gluten-Free, Dairy-Free)
Ingredients
3

cups

powdered sugar

3/4

cup

dutch process cocoa powder

1

tsp

kosher salt

2

egg whites

large

1

egg

large

3/4

cup

chocolate chips

24

pecan halves

toasted
Instructions
Preheat oven to 350. Combine all ingredients except the chocolate chips and pecans and whisk until smooth. Dough will be thin. Mix in chocolate chips. Using a cookie scoop or teaspoon, drop onto a cookie sheet lined with a silpat or parchment. Place 1 toasted pecan in the center of each cookie. Bake for 14-16 minutes or until the cookies are just set and the tops are puffy and crinkly. Allow to cool before removing from the pan.

Yields 2 dozen medium cookies.

Adapted from Bon Appetit.