A few weeks ago my husband's aunt and uncle were hosting a casual family dinner while my husband's grandmother was in town to visit. They had all of the bases covered from salad, to sides, to beverages, to dessert, but we simply couldn't arrive empty handed!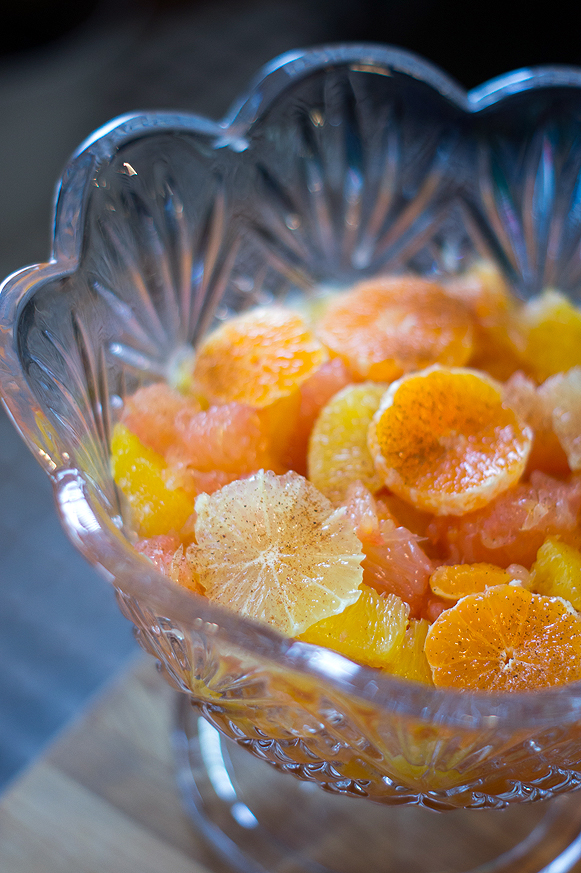 Part of it might be that my husband and I are (just barely!) still in that awkward stage of life where you're definitely adults, but the older folks in your life totally let you act like kids sometimes. At events like this one, that translates to them saying "don't worry about it" when you ask what to bring to a potluck. For people who don't cook, I'm sure that's awesome, but for me, inside I'm screaming "pleasepleaseplease LET ME BRING SOMETHING I'M AN ADULT TOO. I'm a little Suzy Homemaker!" Instead, I just do the rude thing and bring something regardless. 😉
Anyway, I put on my thinking cap and tried to figure out what I could bring that wouldn't have serious overlap with what we already had on the menu. Eventually I realized that fruit wasn't represented at all, and I had an entire fridge full of citrus. Perfect!
Usually in a potluck setting, when someone says "fruit salad" you'll end up with something goopy and coated in Cool Whip (though you'll get no shaming from me on that one – trust me.) so everyone loved that this one was light, tart, and refreshing. The cinnamon and cardamom are also a nice unexpected little twist, and gave the salad just a little more depth.
Plus,  is there anything more wonderful than using in-season produce during the winter time?  Just when winter starts to take its toll and you need a little pick-me-up, here comes citrus season. This would be fabulous with other citrus fruit as well – blood oranges or kumquats or even star fruit would be absolutely beautiful!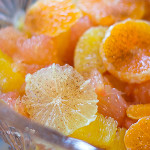 Cardamom Citrus Salad
Ingredients
3

large grapefruits

4

navel oranges

6

mandarin oranges

1/4

cup

maple syrup

simple syrup, corn syrup, or honey

2

Tbsp

lime juice

1/4

teaspoon

ground cardamom

1

lemon

garnish, optional

ground cinnamon

garnish, optional
Instructions
Peel the grapefruit and navel oranges, then peel away the membranes. Drain fruit in a colander and collect any excess juice, then transfer to a serving bowl. Toss in peeled and segmented mandarin oranges.

Pour excess juice into a small saucepan, and add lime juice, syrup, and cardamom. Bring to a boil, then reduce heat to low and simmer for 10 minutes.

Allow syrup to cool, then pour it over the fruit mixture and gently toss to coat. Chill. Before serving, garnish with very thinly sliced lemons and a generous sprinkling of ground cinnamon. Use a slotted spoon to serve.

Adapted from Simply Recipes http://www.simplyrecipes.com/recipes/cardamom_citrus_fruit_salad/