Birthdays at my office have taken a turn for the … extreme. It seems every week there's a new treat vying for the title of "richest, "most over the top", "most decadent", "most likely to give that one guy double-diabetes", so when I saw these on Pinterest, I didn't really have any choice in the matter, I knew it was my duty to make them.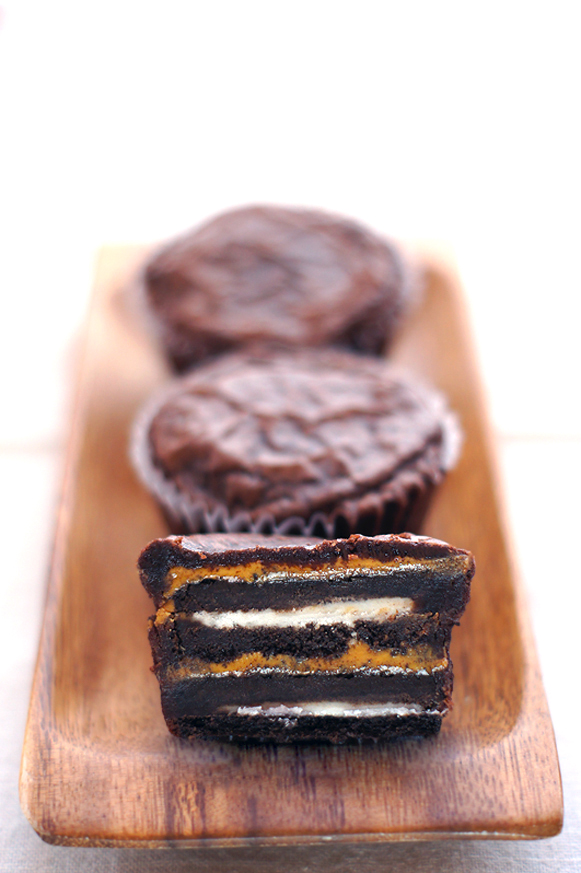 Truth be told, I actually went back and forth as to whether to post about these – I was almost embarrassed that I did it! Heck, the night I was set to bake them, we needed to make a trip to the hardware store, so I actually bought my ingredients there. How's that for "whole food"? Ha!
My preferences aside, these received RAVE reviews, everyone absolutely loved them. I think the only thing my coworkers have ever enjoyed more were those Ben and Jerry's Half-Baked Cupcakes, but it's a real close call. These are a bit tough to eat though, so it's best if you're serving them in a setting where people can use a fork, but if not, they're good enough that I'm sure everyone will make due. 😉
I really did enjoy how easy these were to prepare – slather some peanut butter (natural or regular) over a sandwich cookie (oreo, hydrox, Newman-O, or generic brand from the hardware store!),  pop 'em in cupcake tins, and pour some brownie batter (boxed or scratch, your call!) over it all. SO simple. I'd bet you could do it in a pan and cut it up like bars as well.
Oh, also, my reviewers suggested that (as if these aren't over the top enough) next time I should try them with the special flavored Oreos (birthday cake or peanut butter) or perhaps sub nutella or a fancy nut butter like cashew butter for the peanut butter. The sky's the limit, folks!
Brownie and Peanut Butter Covered Oreo Cupcakes

Print recipe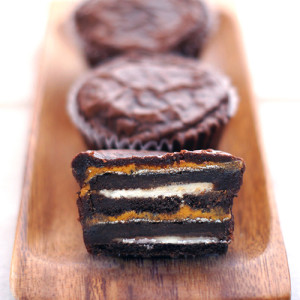 Ingredients
1 batch brownie batter (8x8 pan size, batter prepared according to recipe or package ingredients)
48 chocolate sandwich cookies (such as Oreo, Hydrox, or Newman-Os)
16oz peanut butter
Directions
Preheat oven to 350. Line 2 12-cavity cupcake tins with paper liners.

Prepare brownie mix according to package directions and set aside.

Spread peanut butter over the top of 2 cookies and stack them on top of each other, peanut butter side up. Place cookie stacks, peanut butter up, into the cupcake tins. Repeat until all 24 cavities are filled.

Using a cookie scoop or measuring cup, pour 2 Tbsp of brownie batter over the cookie stacks, taking care not to overflow the liner. If necessary, guide the batter using a spoon or butter knife.

Bake for 18-20 minutes or until the brownie tests done. Allow to cool completely before serving.

Yields 24 cupcakes.

Adapted from picky-palate.com

Recipe and photos from Mayhem in the Kitchen!
https://mayheminthekitchen.com/brownie-and-peanut-butter-covered-oreo-cupcakes/