Some of our favorite neighbors (the chia pudding folks! 🙁 ) moved out to the 'burbs awhile back. We were super sad to lose them as neighbors, but were excited to hear that their house next door sold quickly. The new owners' previous home was just a few blocks away, so they're moving in gradually, which has made introducing ourselves a bit of a challenge – it seems like every time I think they're home, they're not, or they're only there for a few minutes to drop something off! So, much like the recent welcome basket I delivered to another neighbor, I spent some time trying to figure out what I could possibly present to someone I've never met before, and once again I came to the conclusion that chocolate chip cookies are always a good bet. Plus, does trying new chocolate chip cookie recipes ever get old??? (No!)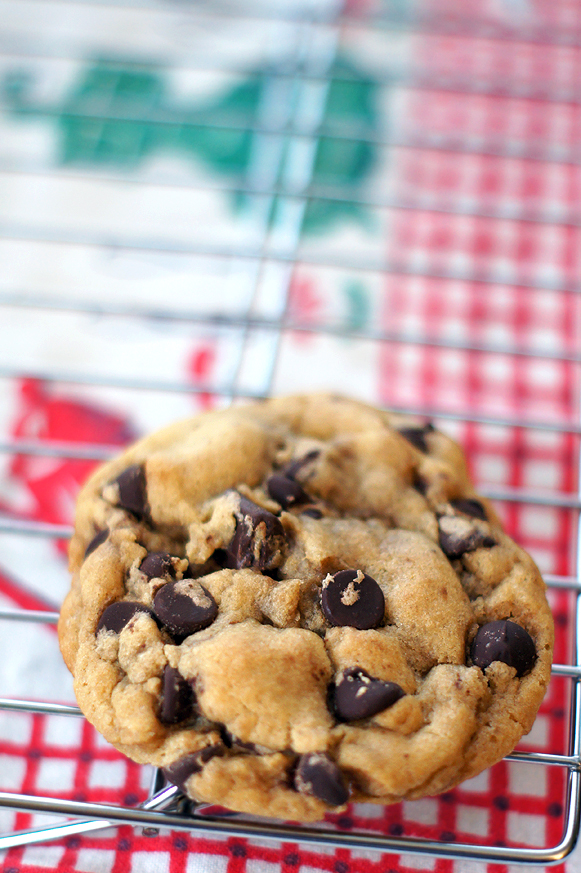 This time around I tried Sally's Baking Addiction's Chewy Chocolate Chunk Cookies –  they're huge, soft, chewy, thick, and, most importantly, chocolatey! My only complaint is that this recipe requires you to chill the dough, not optional, which means you kind of have to plan ahead, but it's totally worth it.
I should also mention that I was entirely underwhelmed by these when they came out of the oven – they were ugly, and the flavor was nothing special. Despite being unimpressed, I kept trying to deliver them warm to the neighbors thinking that'd be a treat, but as it turns out, I was lucky not to! The key to these particular cookies is allowing them to cool completely – they go from mediocre while warm, to amazing when fully cooled.
I used a mixture of half chocolate chips and half chocolate chunks as mix-ins, but you could add just about anything to this recipe – m&ms, peanut butter cups, oreos – use your imagination!
Soft and Chewy Chocolate Chip Cookies

Print recipe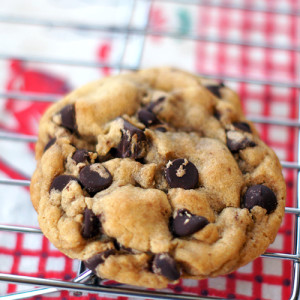 Ingredients
2 1/4 cups ultragrain flour
1 teaspoon baking soda
1 1/2 teaspoons cornstarch
1/2 teaspoons salt
3/4 cups salted butter (melted)
3/4 cups dark brown sugar (packed)
1/2 cups granulated sugar
1 egg + 1 egg yolk
1 tablespoon vanilla extract
1/2 cups chocolate chips
1/2 cups chocolate chunks
Directions
Combine dry ingredients in a large bowl and set aside.
In a medium bowl, whisk together butter and sugars until smooth. Add eggs and vanilla to sugar mixture and whisk together. Gradually add wet ingredients to dry and mix until well combined. Fold in chocolate chips and chunks. Chill dough for at least 2-3 hours, as long as 72 hours.

Remove from refrigerator and allow dough to soften slightly. Roll dough into large cylindrical balls, about 3 Tbsp in size, and form a flat base to allow the ball to stand up straight.

Evenly space 8 balls of dough on a silpat lined jelly roll pan. Bake at 325 for 11-12 minutes. Remove from oven, but leave cookies on the pan for 10 minutes which will allow them to continue to bake. Allow to cool completely before serving.

Yields 16 large cookies.

Adapted from Sally's Baking Addiction
Recipe and photos from Mayhem in the Kitchen!
https://mayheminthekitchen.com/soft-and-chewy-chocolate-chip-cookies