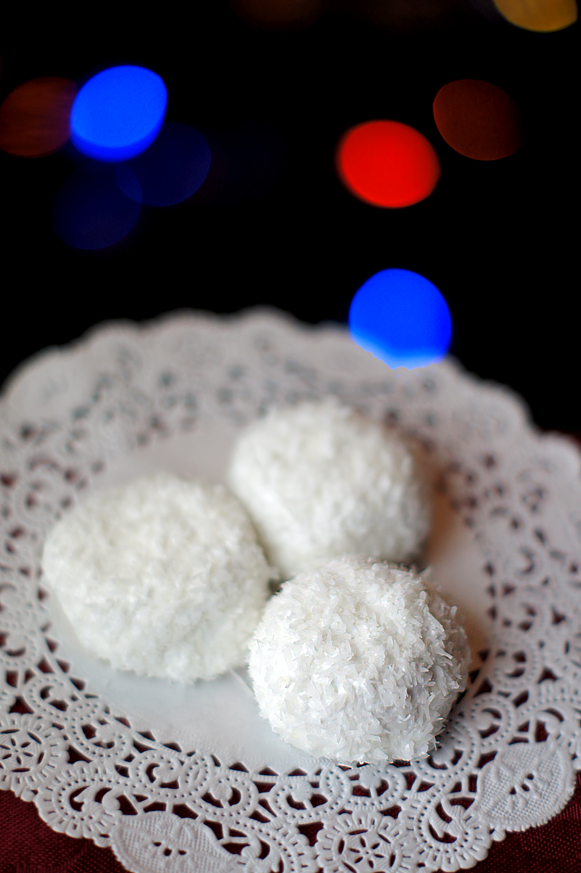 Of all the cookies my grandma made for Christmas, these are one of the most memorable to me. I think it's because they're just so pretty! The bright white frosting combined with the coconut makes for such a delicate, lovely looking cookie, and provides a nice contrast on a cookie tray when placed next to chocolate or gingerbread.
Snowball Cookies

Print recipe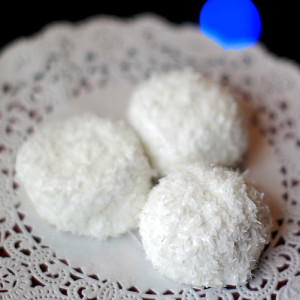 Ingredients
Cookies
1/2 cups salted butter
1/3 cups granulated sugar
1 egg yolk
1 teaspoon vanilla extract
1/4 teaspoons salt
1 1/4 cups ultragrain flour
Fluffy White Frosting
2/3 cups granulated sugar
1 egg white
1/4 cups light corn syrup
2 tablespoons water
1/8 teaspoons salt
1/8 teaspoons cream of tartar
2 1/2 cups coconut
Directions
Cookies
Cream butter and sugar, blend in egg yolk, vanilla, and salt. Gradually add flour and mix until combined. Divide dough into 3 parts. Shape into 10-inch rolls. Cut into 3/4" pieces. Bake at 350 for 15 to 17 minutes until delicately browned.
Fluffy White Frosting
Combine all ingredients except vanilla in double boiler. Cook over rapidly boiling water, beating with an electric mixer until mixture stands in peaks. Remove from heat. Add vanilla and continue beating for 1 minute.

To decorate, coat cookies with frosting, then dip or roll in coconut.

Yields about 3 dozen cookies.

Recipe and photographs from Mayhem in the Kitchen!
https://mayheminthekitchen.com/snowball-cookies/
This post is day 10 in the series Mayhem's 12 Days of Christmas Cookies!