Last year I was ill for the entire week leading up to the Christmas celebration for my mum's family, and while I was definitely feeling better by the time the party rolled around, I was simply too behind on everything else (the driveway needed shoveling, the hamper was overflowing, Mayhem had a strange smell about him…) to think about baking the relatively extravagant layer cake I had planned on making. Not wanting my family to go cakeless, I sought out a festive recipe that I could whip up while doing minimal damage to my freshly cleaned kitchen.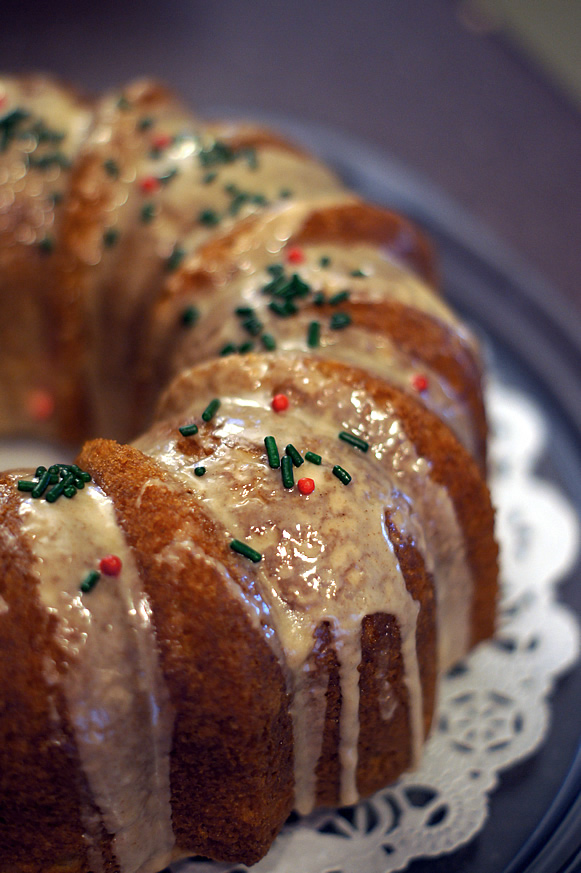 If you love egg nog, you're going to love this. Adding egg nog to the batter gives the cake a really dense and moist crumb, and once baked it retains that unmistakeable festive flavor. I loved it with coffee, while a few family members enjoyed it with a cold glass of Irish Cream.
I was rather hesitant to use a cake mix, (and truth be told, it was a small miracle that I even had one in the cupboard, so perhaps it was divine intervention) but I think you'll find the add-ins really make this a cake that stands on its own. No one is going to guess it was a doctored cake mix, and your secret is safe with me!!
Easy Egg Nog Cake

Print recipe
Ingredients
Egg Nog Cake
1/2 cups salted butter (softened)
3 eggs (large)
1 cup egg nog
1/2 cups spiced rum
1 teaspoon nutmeg (ground)
2 teaspoons cinnamon (ground)
2 teaspoons vanilla extract
1 box white cake mix
Glaze
1/2 cups powdered sugar
1 teaspoon cinnamon (ground)
1 1/2 tablespoons spiced rum
1 1/2 tablespoons brandy (or bourbon)
Linking To: