Last night, I thought I had my entire Saturday morning planned out: wake up around 6, have a cup of coffee, make scones using my favorite recipe, devour scones while having another cup of coffee, head for the farmer's market, share the recipe for those fabulous scones before noon. Instead, we woke up around 10, and never made it to the farmer's market, but I still needed to take care of my sweet tooth. Since our morning was a bit truncated, I skipped the labor intensive scones and opted for a quick batch of cookies to go with late-morning coffee.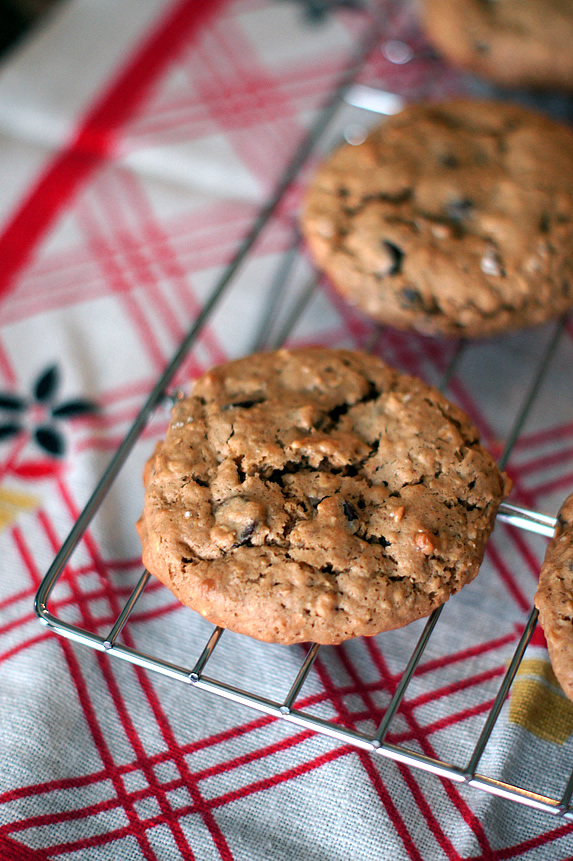 I've had Monique's recipe for Flourless Peanut Butter Oatmeal Chocolate Chip Cookies filed away for quite some time, but I kept holding off on making them because she specifically warns that natural peanut butter just won't do, and that's all we keep in the house. Today I came to the realization that there's no way peanut butter and chocolate could go poorly, and decided I would give them a try anyway.
I started out mixing up the dough as directed, but it was just too sticky to work with. To compensate, I added an extra 1/3 c. of oatmeal, which made it much more manageable. I also used my patented "these ingredients are so yummy it's not possible to add too much" measuring system when adding the vanilla and chocolate chips. I regret nothing!
Since these cookies are flourless, their texture ends up somewhere between a meringue and a macaron, so I would resist the urge to sample them directly off the baking sheet, and enjoy them once they've fully cooled.
These paired wonderfully with coffee, and all of that peanut butter adds tons of protein, so they're pretty much like health food, making them a great option for breakfast. 😉
Flourless Oatmeal Peanut Butter Chocolate Chip Cookies

Print recipe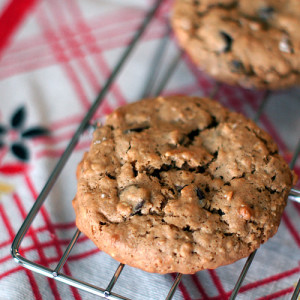 Chewy meringue-like peanut butter chocolate chip cookies without flour for butter.
Ingredients
1 cup oatmeal (gluten free if desired)
1 teaspoon baking soda
1 cup natural peanut butter
2/3 cups dark brown sugar
2 eggs (large)
1 1/2 teaspoons vanilla extract (don't hold back!)
2/3 cups chocolate chips
Note
Adapted from Monique's recipe at Ambitious Kitchen.
Directions
Preheat oven to 350ºF.

In small bowl, mix together the oats and baking soda; set aside.

In a large bowl, beat peanut butter, brown sugar, eggs and vanilla with an electric mixer until smooth, about 3 minutes. Mix in dry ingredients with a wooden spoon, then gently fold in chocolate chips.

Using a cookie scoop, drop dough about 2 inches apart onto a prepared baking sheet

Bake cookies for 9-11 minutes and remove when edges barely begin to turn a golden brown. The cookies may look a little underdone, but they will continue to cook once you remove them from the oven. Cool for 2 minutes on the cookie sheet then transfer to a wire rack to cool completely. Repeat with remaining cookie dough.

Makes 16-20 cookies.

Recipe and photographs from Mayhem in the Kitchen!
https://mayheminthekitchen.com/flourless-oatmeal-peanut-butter-chocolate-chip-cookies/