I spend many of my weekends working a part-time job at a public library. A few weekends ago, I was chatting with one of my colleagues about food, specifically unprocessed food,  and she suggested I check out The Homemade Pantry by Alana Chernila. The cover features homemade pop-tarts, so, basically, I was sold the minute I pulled it off the shelf. Paging through, I found dozens of wonderful recipes, including one of my major vices: cheese crackers. It probably goes without saying that I've maxed out my renewals on this puppy.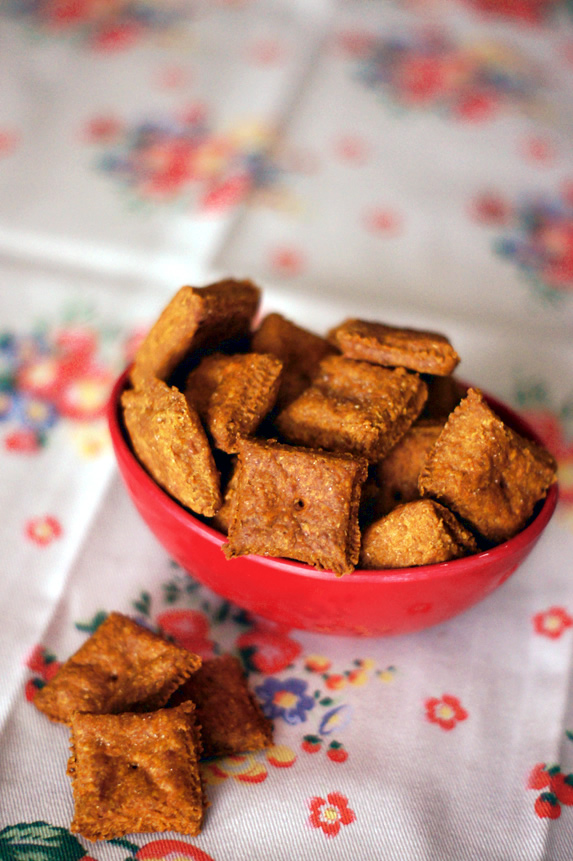 I've mentioned before that over the last two years our household has been making a conscious effort to cut out as many processed foods as we can, but for some reason when it comes to snacking, we still find ourselves trolling the boxed and bagged aisles of the co-op. Sure, those foods are organic, maybe they're whole wheat, and they're probably even lacking some of the conventional nasties like High Fructose Corn Syrup, but that's still junk food, right?
Recently, I came across Michael Pollan's rule #45: "Eat All the Junk Food You Want as Long as You Cook It Yourself." Um, duh? Why didn't I think of this myself? I love french fries and could easily eat them 7 days a week, but am I willing to make them myself 7 days a week? Absolutely not.
Problem solved.
I knew immediately that Alana's Cheese Cracker recipe would be a great way to quell my unyielding desire for cheese crackers, while still following Rule #45, but I decided to take it one step further. When you're craving junk, what's even better (worse?) than those fancy organic whole wheat cheese crackers from Whole Foods? Cheez-Its. I don't know how long it has been since I've had real Cheez-Its, but when I saw Alana's recipe, I knew that's where I had to take it.
I followed the directions exactly as they are written in Alana's book, but modified the ingredients slightly to include whole wheat flour and some additional spices. I also used a pastry wheel to give them that classic Cheez-It shape, and sprinkled them with a little sea salt before baking. The end result are crackers that still taste like junk food, but with zero preservatives and a super short ingredients list made up of real food! It should also be noted that these won't be as flaky as many of the crackers you'll buy at the supermarket, but that makes them perfect for topping with even more cheese or dipping in hummus.
Honestly though, I'm just glad these are a little more work than opening a box, or I might find myself making them several times a week….
Homemade Cheez Crackers

Print recipe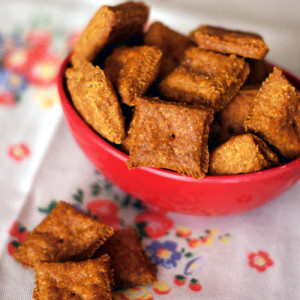 Homemade whole wheat cheese crackers that taste just like Cheez-Its!
Ingredients
3 tablespoons unsalted butter (cold)
1 1/2 cups whole wheat flour
1 teaspoon mustard powder
1 teaspoon paprika
1/8 teaspoons garlic powder
1 teaspoon salt
1 1/2 cups cheddar cheese (grated)
3/4 cups water
2 teaspoons distilled white vinegar
1 ice cube
1 tablespoon sea salt (or kosher salt)
Note
Adapted from the recipe published online, and in Alana's book The Homemade Pantry: 101 Foods You Can Stop Buying and Start Making
Directions
In a bowl of a stand mixer fitted with a paddle attachment, combine butter, flour, mustard, paprika, garlic powder, and salt. Mix on low speed until mixture is crumbly and butter starts to integrate into mixture, about 30 seconds. Add cheese and mix again, on low speed, for a few seconds.

In a liquid measuring cup, combine 3/4 cup water, white vinegar and ice cube and let it sit for a moment to get cold. Add 6 tablespoons of vinegar mixture to dough and mix on medium speed for 20 seconds.

Continue to add liquid, 1 tablespoon at a time, until dough clings in a ball to the beater, then mix for an additional 30 seconds. Mound dough into a ball, wrap in wax paper or plastic wrap and refrigerate dough for at least 2 hours, and up to 3 days. (Dough can be frozen at this point.)

Remove dough from refrigerator 15 minutes before you are ready to roll it out. Preheat oven to 325 degrees and lightly grease 2 baking sheets (or line with parchment paper). Turn out dough onto a lightly floured work surface and press into a flat disc. Using a lightly floured rolling pin, roll out dough until it is 1/8- to 1/4-inch thick. Use a pizza wheel, pastry cutter, or sharp knife and cut dough into 1.5-inch squares.

Using a spatula, transfer crackers to prepared baking sheets, allowing 1 inch between crackers. Bake until crackers are slightly golden, about 30 minutes, rotating baking sheets halfway through baking. Turn off oven and leave baking sheets in oven as it cools, for at least 1 hour.

Store crackers at room temperature in a covered container for 5 to 7 days.

To bake frozen dough, thaw in refrigerator before rolling out. Baked crackers can be stored in a freezer bag for up to 4 months; re-crisp in a 375-degree oven for 5 minutes.

Recipe and photographs from Mayhem in the Kitchen!
https://mayheminthekitchen.com/homemade-cheez-crackers/