A few weeks ago I came downstairs and discovered that my bananas had moved from nicely ripened with brown specks to, um, black. Having wasted more than a couple bananas in my day, I knew I needed to act quickly if I wanted to put them to good use. My initial reaction was to just add them to the bag of banana-bread-ready bananas I have in the freezer, but my husband (rightfully) insisted that the bag was full enough, and that these should get used right away or be tossed into the compost pile. Always the voice of reason, that guy.
I thought about just throwing together some banana bread, but I've made it so many times that I basically have the recipe memorized, so where's the fun in that? Plus, truth be told, with the moving related chaos, we've been eating like garbage lately, and the last thing I needed was another sugary treat on the kitchen counter. So, I set out to make something wholesome that would still take care of my sweet tooth.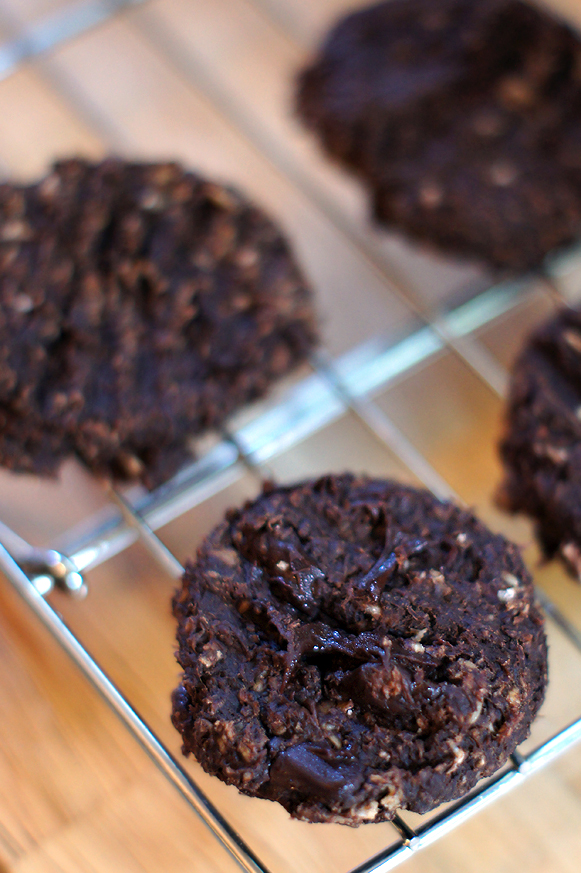 These are super simple, and basically guilt-free – just 6 ingredients, no flour, no additional sweeteners! While these look like cookies, they're actually very soft, with a flavor somewhere on the banana bread spectrum. I've found that they're a good substitute for lots of sugary treats though, particularly granola bars!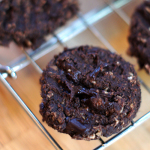 Chocolate-Banana Oatmeal Bites
Servings or Yield
:
18
bites
Ingredients
3

overripe bananas

1/4

c

salted butter

softened

2

tsp

vanilla extract

2

c

oatmeal

1/2

c

cocoa powder

1/4

c

chocolate chips

optional
Instructions
Peel bananas and place in a medium bowl. Using a mixer with paddle attachment, mix bananas until smooth, then add butter and vanilla and mix until well combined. Add oatmeal, cocoa powder, and chocolate chips and mix until just combined. Spoon onto a baking sheet lined with parchment paper or a silpat then flatten with a fork. Bake at 350 for 20-25 minutes.

https://mayheminthekitchen.com/chocolate-banana-oatmeal-bites/